Kenosha apartment fire: 3 dead, cause under investigation
KENOSHA, Wis. - A fire at a Kenosha senior-living apartment building left three people dead Monday night, Jan. 17. 
The fire broke out around 9:30 p.m. Monday at the Saxony Manor Apartments on 22nd Avenue. Neighbors are searching for answers.
"I said 'holy crap' – there's flames coming up," neighbor Geri Smith said. "Couldn't believe it was a fire."
SIGN UP TODAY: Get daily headlines, breaking news emails from FOX6 News
Smith's first thought was for her neighbors across the street.
"Maybe they were on walkers or couldn't get out, I don't know. I just really don't know," said Smith.
Investigators said, upon arrival, the entire building was filled with "toxic smoke" and "consumed with flames." Police helped some residents get out while fire crews used ladder trucks to get two others to safety.
After a half-hour, crews were able to get the fire under control. Two adults were found dead inside. Investigators said one of the two appeared to have died of a medical event before the fire broke out, Kenosha Fire Chief Christopher Bigley said. Five people were taken to the hospital. There, one of the five was pronounced dead – the third fatality related to the fire.
"It was terrible, because it got the bottom and top floor. I hope the heck they check the basement," Smith said.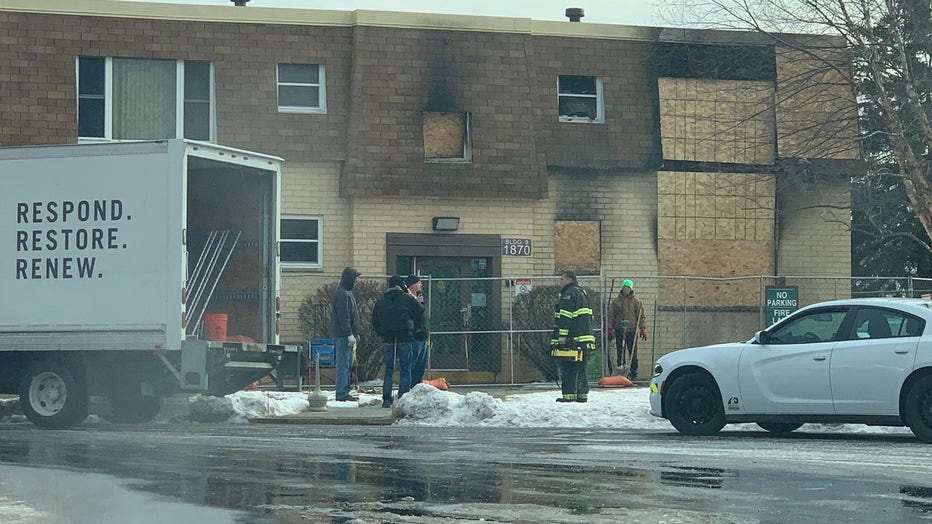 The Red Cross is assisting five people in the 16-unit building who have been displaced by the fire. Meanwhile, the president of Mercy Housing, which oversees the property, told FOX6 News in a statement:
"We're devastated that two of our residents lost their lives due to the fire at Saxony Manor and are praying for the safe recovery of the residents who were injured. We are working closely with authorities as they investigate the cause, and we are taking steps to assist all of the residents who were displaced or otherwise impacted by the fire."
FREE DOWNLOAD: Get breaking news alerts in the FOX6 News app for iOS or Android.
A Kenosha police officer was taken to the hospital for smoke inhalation but has since been released. As of Tuesday afternoon, one resident remains unaccounted for, but investigators do not believe that person was inside at the time of the fire.
The cause of the fire remains under investigation.
A vigil will be held Wednesday, Jan. 19 at 5 p.m.