Brookfield affordable housing, alderman's comments stir controvery
BROOKFIELD, Wis. - It is a rare move to officially reprimand an alderman, but people living in Brookfield debated whether one man's words went too far.
In January, Ald. Kris Seals criticized an affordable housing project proposed for Bishop's Woods.
"What we're trying to do is step down to a West Allis or Wauwatosa. No. We're Brookfield," Seals said. "We don't step down to allow the people who can't afford to live in Brookfield, because then we become West Allis, and then we become Wauwatosa. That's not what Brookfield is. I've been here 60 years. This is not Brookfield."
SIGN UP TODAY: Get daily headlines, breaking news emails from FOX6 News
The housing would be an option for individuals and families with an earned income at 40-80% of the area median income. According to the federal Department of Housing and Urban Development, housing is considered "affordable" when its annual costs do not exceed 30% of an individual or family's annual earned income.
Brookfield's area median income is reported at $107,380 in 2020 dollars per 2022 Census estimates. Using the definition of workforce housing above, workforce housing in Brookfield would be affordable for individuals and families with an annual earned income between $42,952 and $85,904. Affordable monthly "all-in" rents – which includes rent and utlities – would range from $1,073.80 to $2,147.60 per month.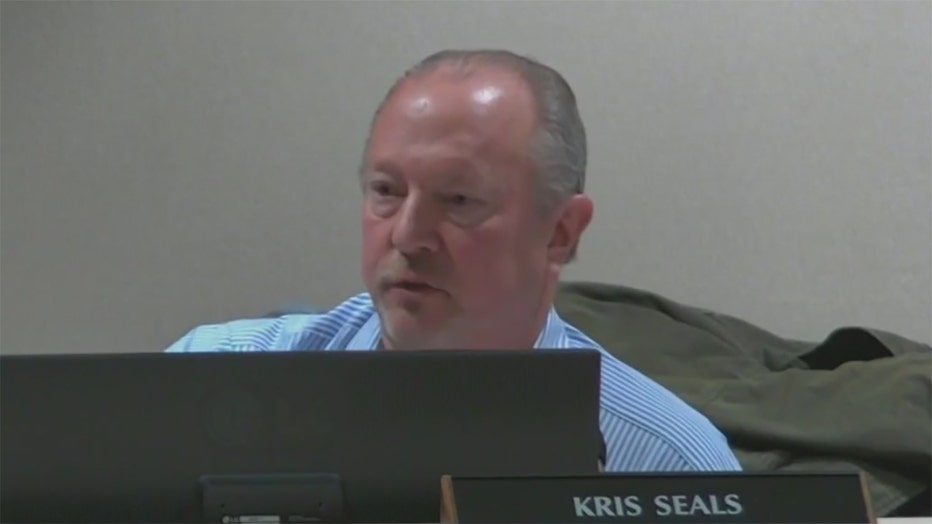 Brookfield Ald. Kris Seals
"Is Bishop's Woods going to become an apartment neighborhood, and then everybody around there is going to have to deal with just a city of apartments?" Seals said. "Apartment cities is for Brookfield Square and down Bluemound Road where the businesses are. That's the purpose of the area. Bishop's Woods is in the center of residential, and it's going to become apartment city if we let this keep going forward."
This week, Ald. Mike Hallquist asked for a vote to officially censure Seals for his words. However, most who spoke during public comment backed Seals.
Jeanine Hoerz: "Ald. Seals and Brookfield and its residents have been presented in an ugly view, and it's beyond sad. This has gotten out of control."
Alan Koenig: "I do not like the idea that a man cannot speak his opinions in a, well, colorful way, if you want to say it. But, he's saying what I believe – that I had to work to get here. And I see no reason why we have to say: 'Oh, you don't have to work to live next door to me, that's OK, the government's going to pick up the tab.'"
Al Metz: "We started in West Allis. Scrapped enough money to move into Brookfield."
Steven Bowman: "I lived in West Allis. I paid my dues. I saw the negative influence that was coming into our neighborhoods that was affecting my children. Because of that, we made a conscious effort to move to Brookfield, to get away from that."
FREE DOWNLOAD: Get breaking news alerts in the FOX6 News app for iOS or Android.
A smaller number spoke in favor of censuring Seals – and of the apartments.
Jason Rasoul: "The type of commentary that we experienced or has been publicized now is sort of an elitist, NIMBY-ideology is something I'm not sure I would want Brookfield to represent…we're talking about making sure Brookfield is a more inclusive and diverse place. This is exactly the type of stuff I don't want to hear from aldermen, that you have to earn your way into Brookfield. That really isn't how it's supposed to be."
Robin Palm: "This is housing for you, for me, for nurses, for police officers, for young families, and folks on fixed income…it's a fantastic place to live. So, should people pull up the ladder behind them? Or should they help the next person have the same opportunities that they once had?"
The resolution to censure died.
Despite the debate, the city already approved apartments for Bishop's Woods. There is one more approval: Bishop's Woods property owners still need to give their OK.