Biden will get COVID-19 booster shot on camera, White House says
President Joe Biden plans to get his COVID-19 booster shot on camera, just as he did with his previous vaccine doses, according to White House press secretary Jen Psaki. 
"He will and he will do so on camera," Psaki said regarding the president's booster shot on Monday. Psaki said there is no specific date set yet for when the president will receive his booster shot, but made a point to note that while the news from the U.S. Food and Drug Administration's panel of advisers on Sept. 17 was a "step forward," there are still a few steps left before the president can get his third dose of COVID-19 vaccine. 
"The steps now is that ACIP is planning to meet based on their recommendation or of course prepare to operationalize on the plan and that includes having the president get his booster shot," Psaki added.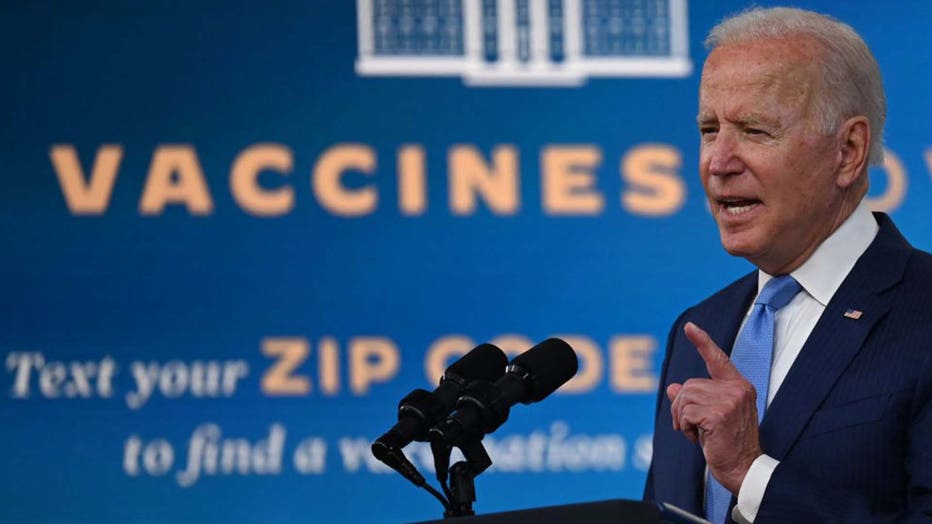 FILE - US President Joe Biden delivers remarks on the COVID-19 response and the vaccination program at the White House on Aug. 23, 2021 in Washington, DC.
RELATED: FDA advisory panel OKs Pfizer COVID-19 booster for 65 and older, votes no for younger 
An FDA advisory panel voted on Sept. 17 to endorse COVID-19 booster shots only for Americans 65 and over or at high risk for severe disease. 
Conversely, the same advisory panel voted to reject a plan to offer a booster dose of Pfizer-BioNTech's COVID-19 vaccine for Americans, saying more data is needed to determine if boosters are safe and effective. 
The vote by the committee of outside experts assembled by the FDA was 16-12, with members expressing frustration that Pfizer had provided little data on the safety of extra doses. Many also raised doubts about the value of mass boosters, rather than ones targeted to specific groups. 
During several hours of vigorous debate last Friday, members of the panel questioned the value of offering boosters to nearly everyone. 
RELATED: US to require incoming foreign travelers to be vaccinated against COVID-19 
"I don't think a booster dose is going to significantly contribute to controlling the pandemic," said Dr. Cody Meissner of Tufts University. "And I think it's important that the main message we transmit is that we've got to get everyone two doses." 
Dr. Amanda Cohn of the U.S. Centers for Disease Control and Prevention said: "At this moment it is clear that the unvaccinated are driving transmission in the United States." 
Panel members also complained that data provided by Israeli researchers about their booster campaign might not be suitable for predicting the U.S. experience. 
The need for boosters and who should get them has been a subject of debate in recent days among scientists inside and outside the government, and the World Health Organization has strongly objected to rich nations giving a third round of shots when poor countries don't have enough vaccine supply for their first. 
RELATED: Pfizer: COVID-19 vaccine works in kids ages 5 to 11, plans to seek authorization soon 
The FDA is also not bound to follow the advice of its independent panel. But if the agency overrules its own experts, that could stoke public confusion Biden and his top health advisers have trumpeted a booster campaign they hoped to begin this week. 
U.S. health officials are urgently looking to shore up Americans' protection against the virus amid the highly contagious delta variant, which has fueled U.S. COVID-19 cases and deaths to levels not seen since last winter. 
To date, 64% of Americans who are eligible for the shots are fully vaccinated, according to CDC data — meaning more than one-third of the eligible population still isn't protected. 
While the U.S. has already approved booster shots for certain people with weakened immune systems, such as cancer patients and transplant recipients, some healthy Americans have also managed to get boosters. In some cases, they have simply shown up and asked for a shot, and health systems already are offering extra doses to high-risk people. 
The U.S. booster plan has also raised ethical concerns about the fate of people in impoverished parts of the world. But the administration has argued that the plan is not an us-or-them choice, noting that the U.S. is supplying large quantities of vaccine to the rest of the globe. 
Kelly Hayes contributed to this report.