Attorney, protesters call for Wauwatosa police changes
MILWAUKEE, Wis. - Kimberley Motley, the attorney representing the family of 17-year old Alvin Cole who was shot and killed by Wauwatosa police officer Joseph Mensah, held a news conference at No Studios in Milwaukee on Friday, Oct. 23.
Motley and several protesters leveled allegations against the Wauwatosa Police Department Friday afternoon, including waits for confiscated property and calls for immediate changes at the department.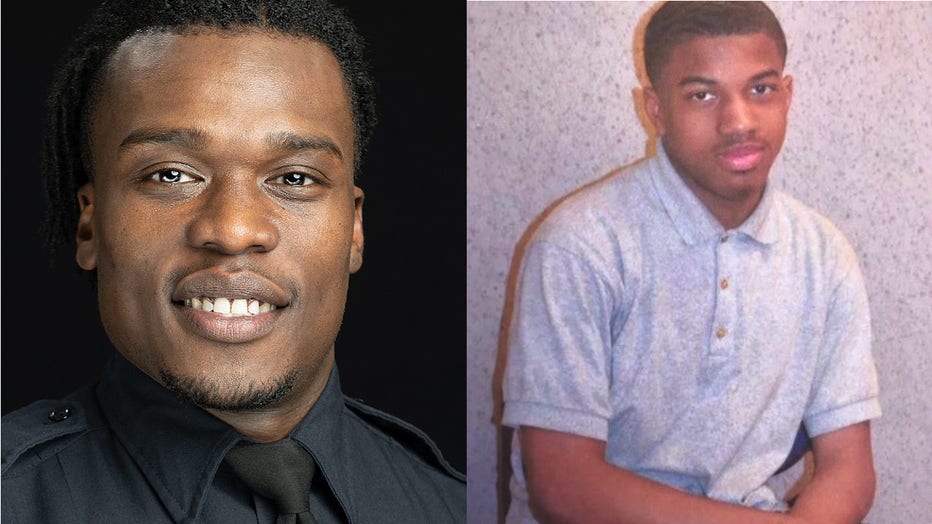 Officer Joseph Mensah, Alvin Cole
The list of changes comes in the wake of protests and unrest in Wauwatosa following the Milwaukee County District Attorney's Office announcement that Mensah would not be criminally charged in the fatal shooting. Members of the Cole family were arrested during demonstrations.
Motley called for Police Chief Barry Weber to fire Mensah for violation of department rules, the Wauwatosa Police and Fire Commission to demote Weber and for citations for non-violent protesters who were arrested for curfew violations to be thrown out.
"I question, why did Mayor (Dennis) McBride find it necessary to have the curfew in place, and also why they felt it necessary to call for the National Guard nearly a week before the decision, with regards to Alvin Cole, was made," Motley said.
Motley said she believes several people were attacked, ticketed and targeted by Wauwatosa police while curfews were in effect.
FREE DOWNLOAD: Get breaking news alerts in the FOX6 News app for iOS or Android.
McBride said allegations of wrongdoing can be submitted to the Wauwatosa city attorney for investigation.
Statement from McBride:
"It is my understanding that after the police told protesters to disperse, most of the protesters were not arrested because they complied with the dispersal order.  Some people were arrested who refused to follow that order.  Some of those arrested had their phones temporarily confiscated for evidentiary reasons.  It is my understanding that most of those phones have been returned.  The others are in the process of being returned.  We are reviewing the other allegations made today.
"I have no information about these rumors. Any allegations made can be submitted to out City Attorney, who will investigate them."
Statement from the Wauwatosa Police Department:
On October 7, 2020,  Wauwatosa Mayor Dennis McBride issued an Emergency Order for the City of Wauwatosa.  As part of that Emergency Order, a curfew was put into effect from 7p-6a until October 12th.  During that Emergency Order, individuals who were in violation of the curfew were arrested and cited by the Wauwatosa Police Department for violation of the emergency order.  Those who were cited had been given lawful orders to disperse and given the opportunity to abide by the emergency order prior to their arrest.  Those that were arrested were cited and released in accordance with departmental policy and procedure.