Acting Milwaukee Mayor Cavalier Johnson sworn in
MILWAUKEE - Cavalier Johnson has been involved in public service since a young age. 
Thursday, at his high school alma mater, Johnson reflected on that – and the challenges ahead – in what is essentially a four-month audition for a role and oath he hopes to recite, again, this coming spring.
Meet the new mayor – whose path in public service was shaped by his predecessor first as a young college student.
"He told me that I was doing more than he was at his age and if I kept it up, I would be mayor," said Johnson. "Well, Mr. Ambassador, you were right."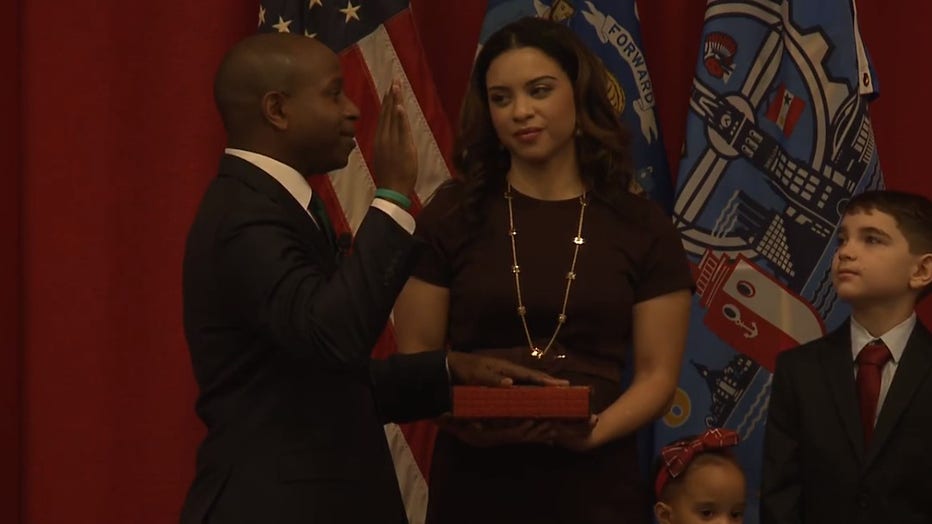 Johnson's own swearing-in ceremony at Bay View High School, several hours after Barrett's was full of ceremony and tributes. One from a former elementary school teacher:
"Be amazing, be strong, and if there is ever a speck of doubt, just remember to always be you," said Linda Schuster-Hake, Cavalier Johnson's 5th Grade teacher. 
To county executive and fellow Bay View alum David Crowley taking time to note Johnson is now the second African American mayor of Milwaukee.
"He understands that that's not what this is about. This is about making sure we can put the City of Milwaukee, Milwaukee County, and all of southeastern Wisconsin, in a position of success," said Crowley.
"My family didn't have much, like many families in 53206, we moved placed to place. It was challenging, but one thing I gained was understanding and an appreciation for the whole city," said Johnson.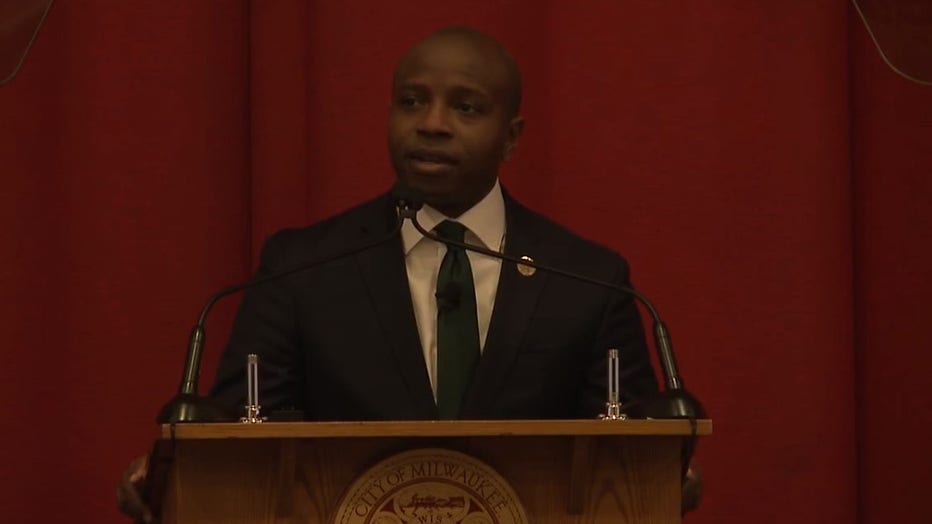 Johnson started his career in service at the YMCA, part of a pre-college scholarship program for low-income MPS Students. He graduated from UW-Madison and came home to work with the now-called Employ Milwaukee and later Mayor Barrett's office.
After several failed aldermanic bids in the second district, Johnson was elected in 2016, ran unopposed in 2020 and then tapped to serve as the common council president.
Now acting mayor, it's a position he hopes to make permanent this spring.
"We have challenges, just like every major city does, but are ready to face them," he said.
His first act in office declared reckless driving a public safety crisis, tasking all departments of the city to address the problem and break down barriers in solving it. Johnson said he plans on announcing a plan in the coming weeks to address gun violence and rising crime he himself has been a victim of.
"That's what I lived, I drive these streets and I got the bullet hole in my car to prove it. This is my lived experience, not my learned experience. It's woven into my DNA," he said.
A DNA that's woven into the fabric of where he once walked as a young MPS student, a trace of his time there still present on the walls 20 years later.
And as time ticks on, Johnson says there's no time to wait.
Marvin Pratt was the first African-American acting mayor after John Norquist resigned. 
Eight people are vying for Mayor Barrett's spot as mayor in the 2022 election.
FREE DOWNLOAD: Get breaking news alerts in the FOX6 News app for iOS or Android