A majority of Californians say Sen. Dianne Feinstein is no longer fit to serve, new poll finds
Nearly two-thirds of registered voters in California feel that Sen. Dianne Feinstein is no longer fit to continue serving as a senator, a new poll released Thursday morning by the UC Berkeley Institute of Governmental Studies found.
"Significantly, support for Feinstein's resignation and the appointment of a replacement by the Governor is greatest among fellow Democrats and liberals, who favor that outcome greater than two to one," the poll found. "By contrast, more Republicans and strong conservatives oppose than support her resignation ostensibly because it would enable Newsom to appoint her successor."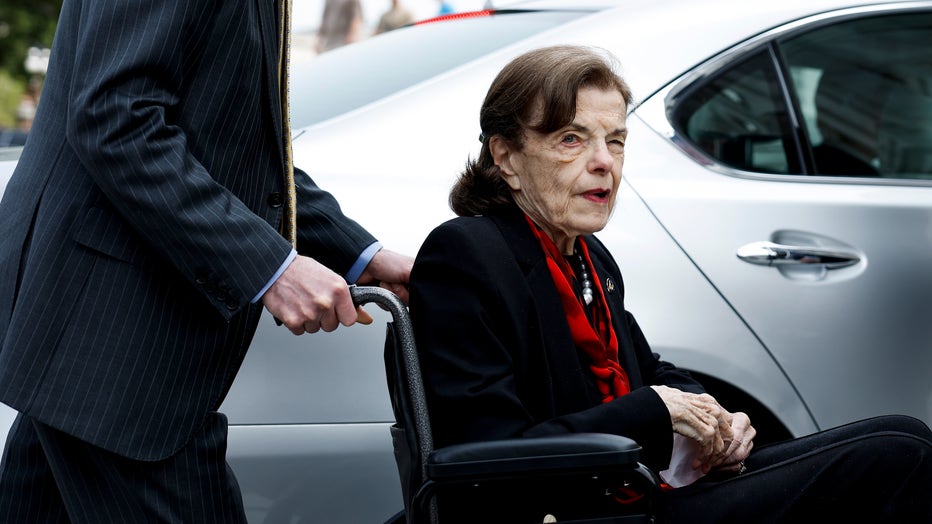 WASHINGTON, DC - MAY 10: Sen. Dianne Feinstein (D-CA) arrives to the U.S. Capitol Building on May 10, 2023 in Washington, DC. Feinstein is returning to Washington after over two months away following a hospitalization due to shingles. (Photo by Anna
However, only 42% believe Feinstein should resign and allow Gov. Gavin Newsom to appoint her replacement. 
The questions surrounding Feinstein's health and her ability to fulfill her senatorial duties stem from her long-term absence from the Senate as she was battling Shingles and from calls from multiple Democratic Party congressional members. Feinstein has already said she will not seek re-election in 2024.
Pollsters asked voters who they plan to vote for to fill Feinstein's seat, a clear winner did not emerge.
Eric Early, an attorney running as a Republican, led with 18%. 
Rep. Katie Porter secured 17%, as did Rep. Adam Schiff. 
Oakland's Rep. Barbara Lee trailed the pack at 9%.
The pollsters asked voters seven questions, with one finding 52% agree that "allowing Governor Newsom to appoint a successor to serve out the remainder of Feinstein's term would benefit the state because a successor could better represent California's interests in the Senate."
The calls for Feinstein to resign stem largely from Rep. Ro Khanna's tweets and statements in early April calling for her resignation due to Feinstein's months-long absence from the Senate, which prevented federal judges appointed by President Joe Biden to be approved. 
Khanna wasn't the only Democrat calling for Feinstein resignation. Rep. Dean Phillips (D-Minn.) and as did Rep. Alexandria Ocasio-Cortez (D- NY).
"Her refusal to either retire or show up is causing great harm to the judiciary - precisely where [reproductive] rights are getting stripped. That failure means now in this precious window [Democrats] can only pass GOP- approved nominees," Ocasio-Cortez said in a May 2 interview with CNN.
Rep. Nancy Pelosi said the calls for Feinstein's resignation are sexist and that she never saw her congressional colleagues call for the resignation of a congressman in a similar fashion. 
However, a majority of Californians disagree with Pelosi, 58% of the voters polled disagreed that "the calls for Feinstein to resign following her absence are rooted in sexism and would not be happening if an aging male senator were facing similar problems."
The poll was conducted from May 17-22 in both English and Spanish and gathered the opinions of nearly 7,500 registered voters.
Read the poll and its entire findings below.
Freddy Brewster is a reporter for KTVU. 
Email Freddy at freddy.brewster@fox.com or call him at 513-379-7522. 
Follow him on Twitter @freddy_brewster