34 Washington County dogs seized, West Bend man charged
TOWN OF WAYNE, Wis. - Russell Quaas, 67, of West Bend, faces 10 misdemeanors after 34 dogs were seized from a Washington County property in January.
The six counts of intentionally mistreating animals, two counts of failing to provide food/water for animals and two counts of intentionally providing improper shelter for animals were filed March 2.
According to the Washington County Sheriff's Office, investigators believe Quaas was operating an unlicensed breeding business of out the property in the Town of Wayne, noting complaints about barking and the living conditions on the property. At the time of those complaints, sheriff's officials said charges could not be substantiated.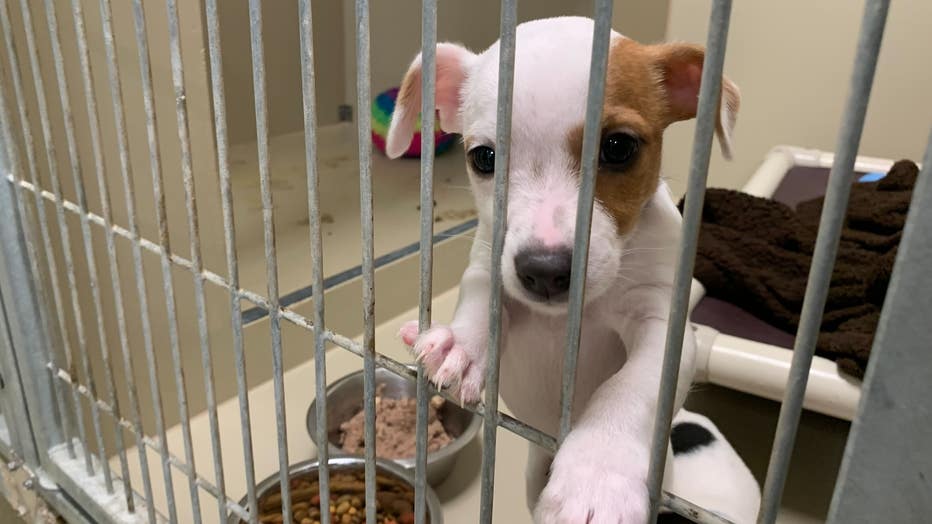 A new complaint came in about dogs being tied to trees and concern about proper shelter for the animals. That complaint led to the animals' seizure in late January. 
"(Jelly Bean) is the littlest one," said Kay Amland, Washington County Humane Society. "They didn't think it was going to make it. It was found in a drawer inside the trailer."
During the investigation, officials say Quaas was warned about having more than the allowed three dogs per town ordinance.
SIGN UP TODAY: Get daily headlines, breaking news emails from FOX6 News
A few days later, Quaas received a letter regarding the alleged violations. It was a day when the temperature happened to be below zero (-14 wind chill). Investigators saw several dogs tied to trees with apparent inadequate shelter, food and water. Prosecutors say a total of 20 dogs were chained up outside. In a trailer, there were 14 dogs, mostly in crates lined with dirty pizza boxes. Prosecutors say a few of the crates had rodent feces on them.
A search warrant was executed, and it was determined there was no running water or electricity on the property, and most of the dogs lived outside, many on short leashes that didn't allow them free movement. Investigators found a small amount of dog food, but sheriff's officials say it's believed the dogs were mainly given leftover pizza and frozen, moldy animal carcasses.
A criminal complaint says one of the dogs had part of a deer carcass and Quaas showed a deputy several deer and raccoon carcasses in a barn with white and green mold on them.
All but one of the 34 dogs seized from the property were Jack Russell terriers.
"The thing that sticks with me is how they were chained around their neck," said Amland. "There's a good chance the hair will never grow back around their neck, and they just have huge, massive amount of hair loss from these chains."
A doctor from the Wisconsin Department of Agriculture, Trade and Consumer Protection determined the animals were not provided proper shelter, food or water per law, the sheriff's office said.
"There was no evidence of them having any water accessible," said Jessie Wermager, Washington County Humane Society. 
Wermager called the case heartbreaking.
"There was various debris all over the property," said Wermager. "It was hard to discern what was housing for the dogs and what was just garbage."
After the dogs were taken to the Washington County Humane Society, it was determined 10 of the dogs had worms and others had infections or mites but all survived.
"Numerous of the dogs have parasites," said Wermager. "Not entirely surprising given the food he was providing, especially the moldy carcasses."
Since the seizure, the dogs have been housed at the Washington County Humane Society, getting fed dog food, playing and going for walks. They got medical treatment and vaccines, shelter and love.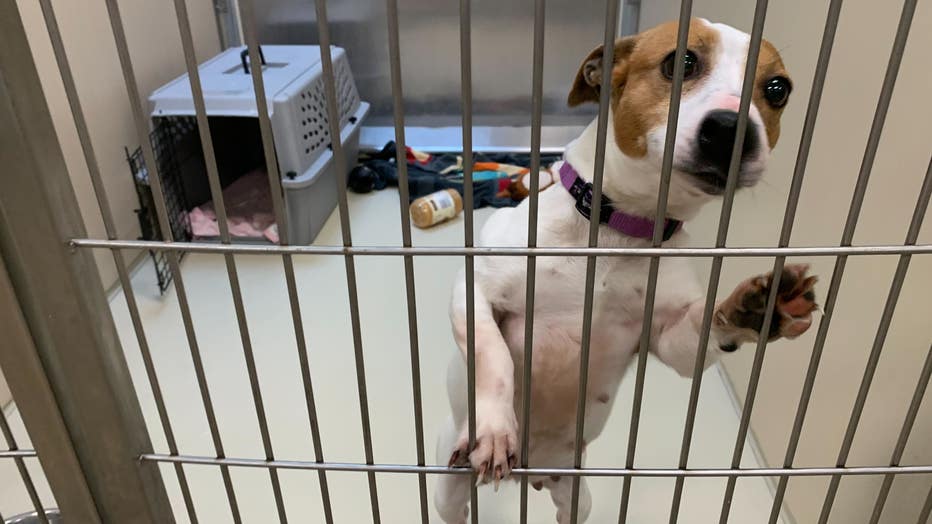 "In the beginning, they were really hard to handle," said Amland. "They were very growly. They were just very upset and unhappy, and now, as you saw there, they're bouncing around their kennels. They're much happier. They're enjoying their treats. They're enjoying walks outside."
"We've really seen a tremendous change in them from when they were on scene, being super reactive, to being quite the little cuddle bugs," said Wermager. "Numerous of them love to get attention. They jump up. They love to hang out with us outside, run around, play with each other. It's quite a beautiful transformation we're seeing from them, as well."
As of Monday, March 6, Cookie Monster and the other 33 dogs were not available for adoption because there are legal steps pending that could lead to the Washington County Humane Society taking ownership. They would then be available for adoption. 
It's the second case involving a large animal seizure in Washington County in less than a year.
In September 2022, nearly 50 dogs were seized in Richfield. Colton Brooder, 34, of Hubertus was charged with three counts of operating as a dog breeder or dealer without an operator license and three counts of mistreating animals – intentional or negligent violation. Prosecutors say he told investigators he was working with Operation Bring Animals Home, a recognized Wisconsin-based nonprofit, but the founder said that simply was not true.
According to prosecutors, he drove the dogs from down south to Wisconsin to sell, later admitting to detectives he was not affiliated with the OBAH nonprofit.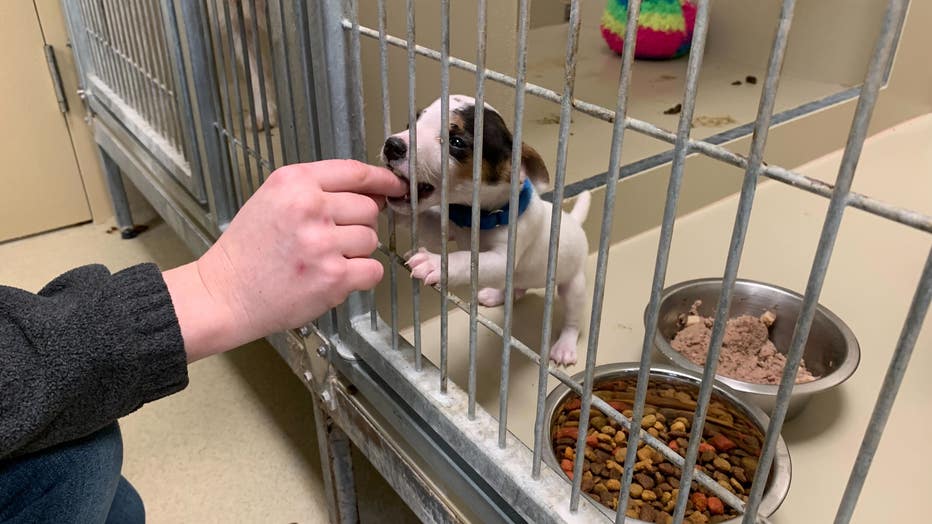 These animals were also turned over to the Washington County Humane Society for examination, and treatment and adoption.