2 Whitefish Bay police pursuits; 3 in custody, 1 vehicle reported stolen
WHITEFISH BAY, Wis. - Three teenagers have been arrested following two separate police chases in the Village of Whitefish Bay.  One of the vehicles involved was stolen from the city of Milwaukee.  
A silver Hyundai fleeing from Whitefish Bay police zips around an intersection  
Police say this all started close to 2 a.m. Monday when an officer reported two suspicious vehicles, the silver Hyundai and a Chrysler minivan with no license plates.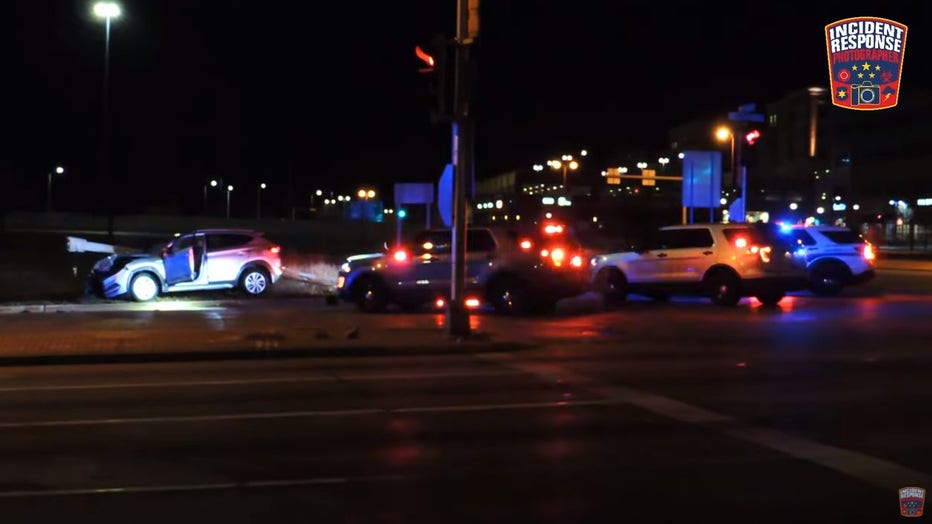 The Hyundai came to a crashing halt near Port Washington and Silver Spring after police used stop sticks. 
The vehicle was reported stolen out of Milwaukee.  
About a month left before the new year and Milwaukee has so far logged just over 9600 motor vehicle thefts. this is already more than double what the city recorded last year. m-p-d says these are the highest numbers since 2005.  
Whitefish Bay police say two 17-year-olds occupied the Hyundai. Both are under arrest.  
A K9 from the Glendale Police Department stopped one of them from getting away on foot.  
As police investigated the stolen Hyundai, other officers remained in pursuit of the Chrysler minivan with no plates. Officers in this incident also used stop sticks. the vehicle crashed near 40th and Hopkins in Milwaukee.
FREE DOWNLOAD: Get breaking news alerts in the FOX6 News app for iOS or Android
"I came out to see what was going on and just see the streets blocked off," said a long-time resident of the neighborhood wishing not to be identified. They said the street was filled with law enforcement.  
Whitefish Bay police say an 18-year-old driver was taken into custody. The department is referring charges to the district attorney's office. 
For more information on crime statistics in Milwaukee County, CLICK HERE.