Snow and rain likely Thursday; highest totals NW
MILWAUKEE - A strong low-pressure system will move just along the Wisconsin-Illinois border on Thursday, February 9th brining rain and snow to the area. The highest impacted locations with the heaviest snow will be in southwestern and central Wisconsin. Southeast Wisconsin will see a mix of snow and a transition into rain closer to the lakefront. Due to the potential for hazardous slick travel and higher snowfall accumulations in some areas, a winter storm watch and winter weather advisory are in effect Thursday morning through Thursday evening.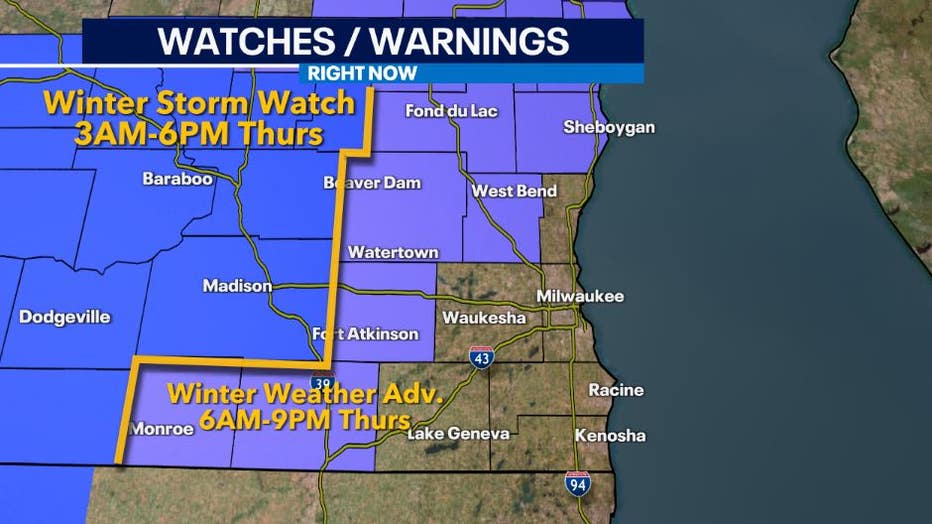 During the pre-dawn hours on Thursday, rain will move in from the south. Rain is going to be the main type of precipitation especially from Milwaukee south towards Kenosha and west near Lake Geneva. There is even the potential for a few rumbles of thunder.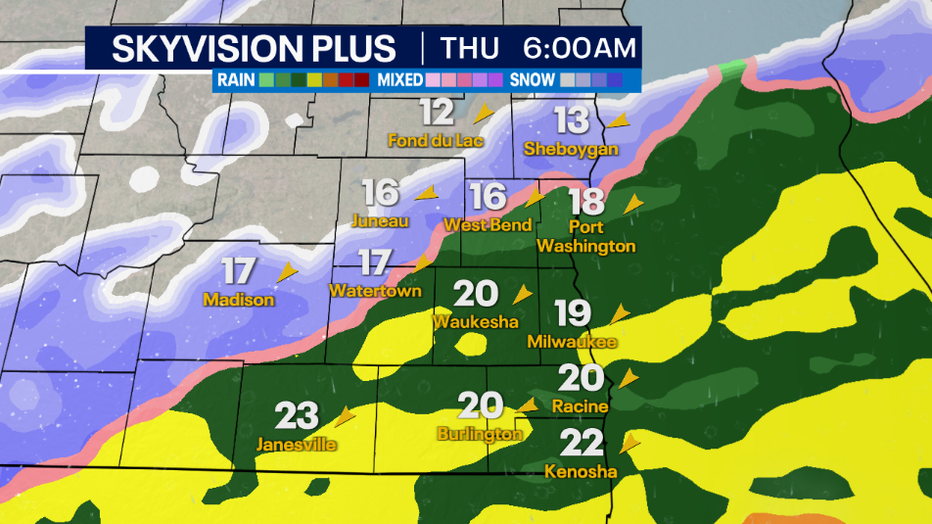 However, as colder air moves and were the freezing line sets up, rain will transition into snow further north early Thursday. Areas that see snow could experience a wet/slushy commute. Periods of moderate to heavy rain early will wash off salt/brine on roadways causing a concern for slippery roads later in the day as rain transitions into snow.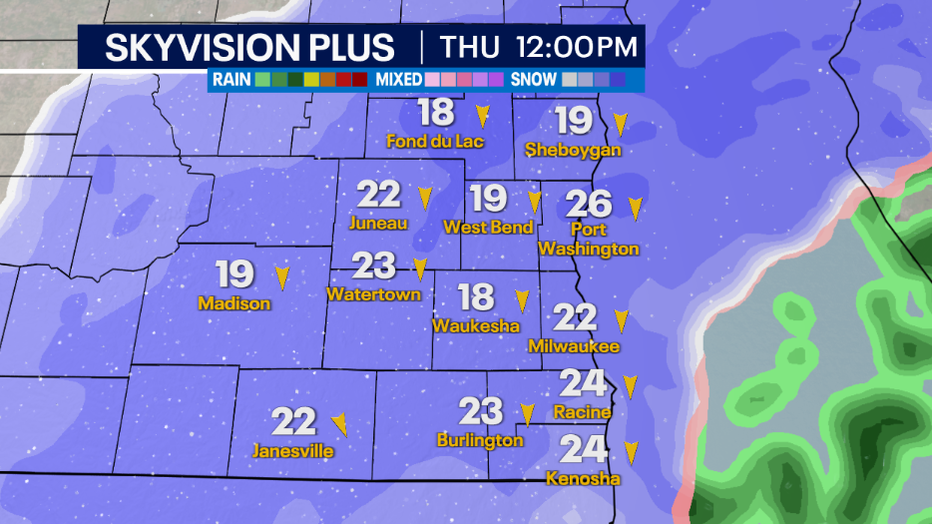 Snow may be heavy at times especially from Fond du Lac-Watertown-Madison line and northwest. Snow is looking to be at a 1:7 and 1:8 ratio indicating that we will have a wet/heavy snow falling during the day.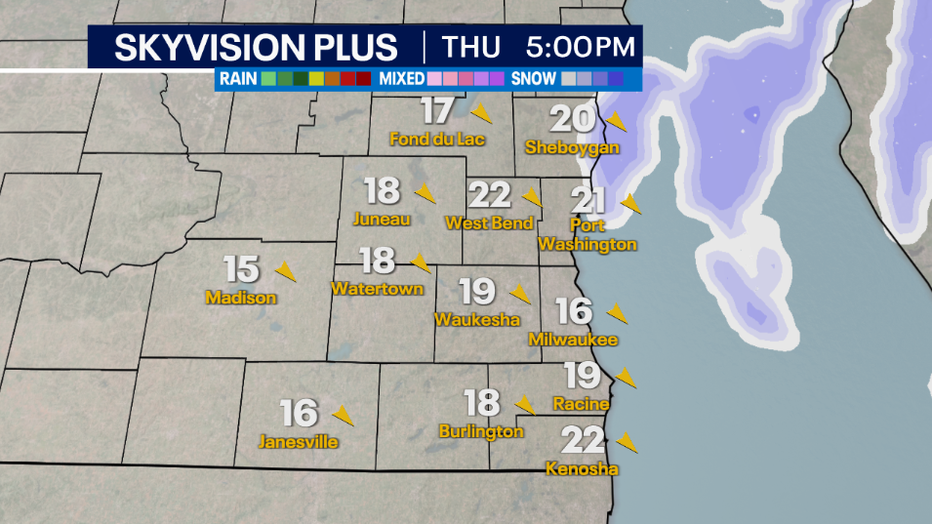 Drier air late Thursday and early Friday will help keep flurries and/or snow showers light if they are around.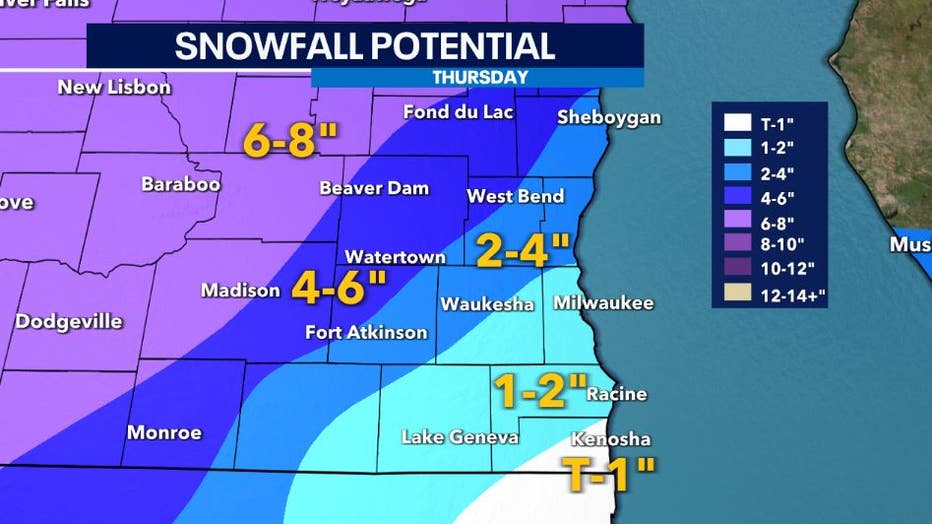 By the end of Thursday, we are anticipating to see the higher snowfall totals near Fond du Lac to Monroe potentially in the 4-6" range. Keep in mind that ground temperatures in some locations are still warm, so this can limit the accumulation on the streets and grass initially, but totals could rack up higher on grassy and elevated surfaces with roads becoming a concern through the day.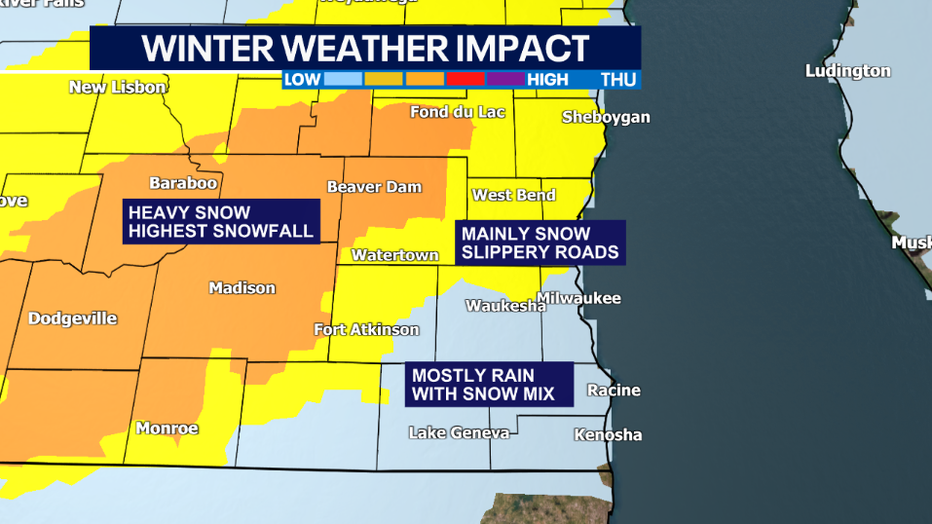 Southeastern locations likely to see the lower amounts due to warmer temperatures and rain. The bigger impact for these areas will be slick/slushy roads by the afternoon/evening. 
 
Rainfall totals, especially from Janesville to Kenosha, could see at least an inch of soaking rain. Expect soggy ground due to snow that melted from our last system and more on the way.