National Weather Service confirms 10 tornadoes in less than 24 hours in Wisconsin
MILWAUKEE -- The National Weather Service confirmed nine tornadoes touched down in Wisconsin from Friday evening, July 19 through Saturday morning, July 20.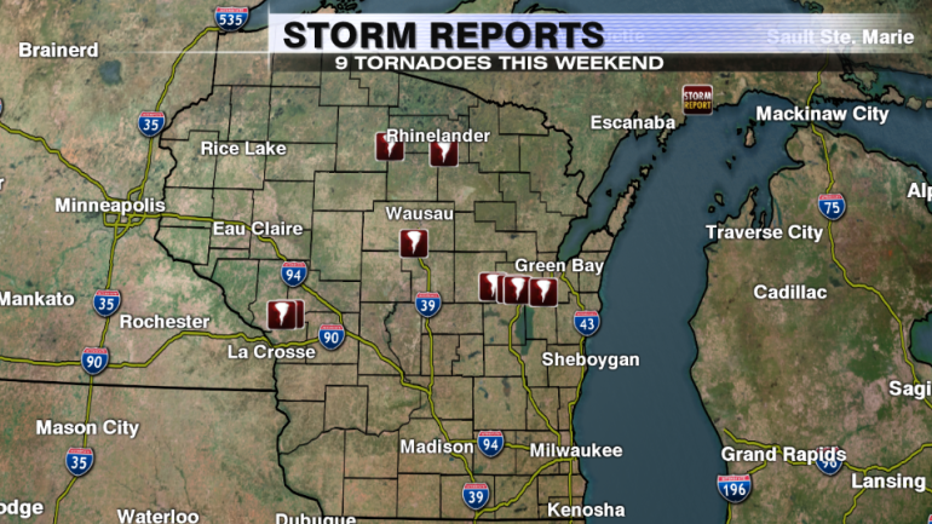 Below is a breakdown of the timing of the storms, where they hit, and the preliminary ratings:

7/19: 7 p.m.
Tripoli/Oneida County
EF1

7/19: 7:45 p.m.
Jeffris/Lincoln County
EF1

7/19: 8:25 p.m.
Mosinee/Marathon County

7/20: 9:10 a.m.
North Bend/Trempealeau County
EF0

7/20: 9:14 a.m.
North Bend/Jackson County
EF0

7/20: 10:55 a.m.
Waupaca/Waupaca County
EF0

7/20: 11:05 a.m.
New London/Waupaca County
EF1

7/20: 11:18 a.m.
Stephensenville/Outagamie County
EF1

7/20: 11:22 a.m.
Greenville/Outagamie County
EF0

7/20: 11:36 a.m.
Kaukauna/Outagamie County
EF0

Heavy rain and fierce winds downed trees, damaged buildings and left tens of thousands of people without power in Wisconsin on Saturday as a heat warning remained in effect for parts of the state. Two injuries were reported in Trempealeau County, and We Energies said it could be days before power was restored to about 70,000 customers in the Green Bay region.

Governor Tony Evers on Sunday declared a state of emergency due to the severe storms.

"I know many people, especially in northern and central Wisconsin have been impacted by the strong storms and power outages," said Gov. Evers in a news release.  "The first responders and utilities have been doing a great job, working non-stop since the storms hit.  I want to make sure all state resources are available to help get the power back on and debris removed."

The governor's declaration directs all state agencies to provide assistance and authorizes Maj. Gen. Don Dunbar, Wisconsin's adjutant general, to activate the National Guard to assist local authorities as needed.