'This is beyond my imagination:' On Giannis Antetokounmpo Day, 'MVP Celebration' held at Fiserv Forum



MILWAUKEE -- The Milwaukee Bucks and Nike scheduled a public celebration of Giannis Antetokounmpo winning his first MVP award -- Sunday afternoon, July 14 at Fiserv Forum -- and it drew a crowd! Sunday was officially declared Giannis Antetokounmpo Day in Milwaukee County by County Executive Chris Abele.

The "Giannis MVP Celebration" took place from 2 p.m. to 5 p.m. on the plaza at Fiserv Forum, giving fans an opportunity to see Antetokounmpo presented with the MVP trophy and to check out his first signature shoe, the Nike Air Zoom Freak 1.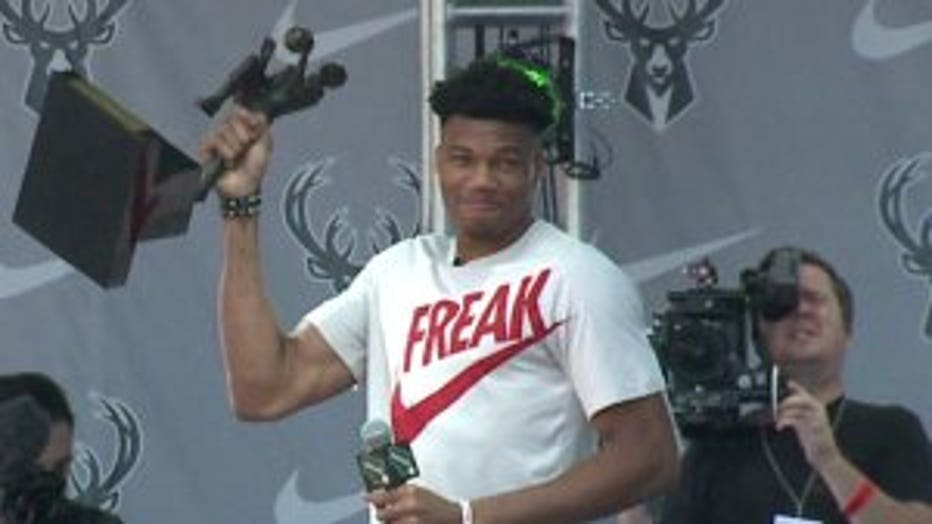 Antetokounmpo was presented with the MVP trophy by Boys & Girls Club kids. Fans went wild when the MVP took the stage. The Greek Freak told the crowd he was thankful for all of the support. He said this was only the beginning, and promised to improve his game and get even better.

"This is amazing. This is beyond my imagination," said Antetokounmpo. "It's unbelievable. I want to thank a lot of people, but I'll start with God. I want to thank God for putting me in this situation, for blessing me with this amazing talent, allowing me to get drafted by the Milwaukee Bucks."

Antetokounmpo thanked the Milwaukee Bucks organization, his teammates, his family, his girlfriend, and the fans.

"I want to thank my teammates. They did an unbelievable job," said Antetokounmpo. "They played hard all season long. They gave everything."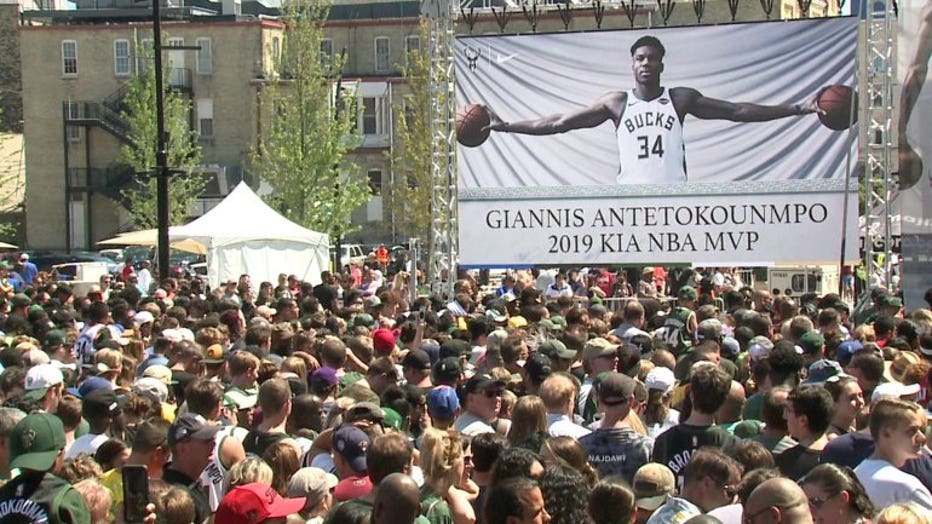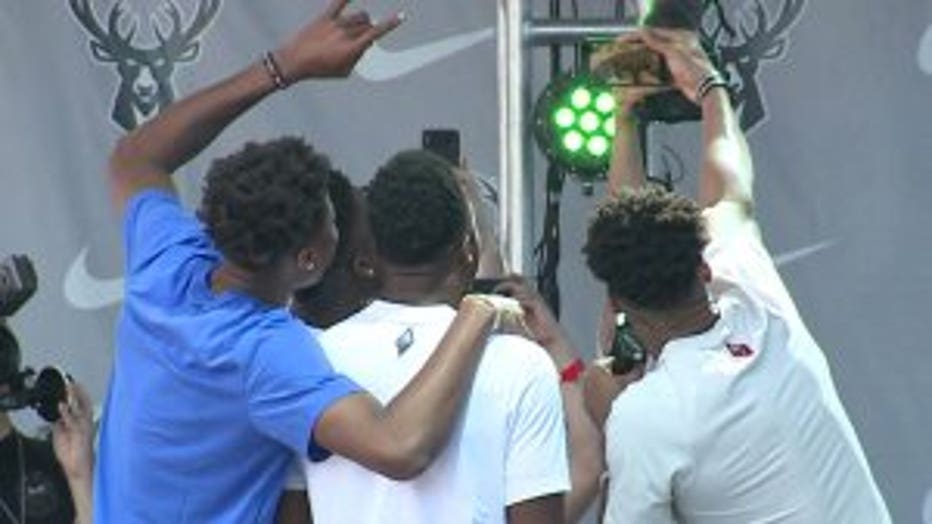 He also asked for three favors:

"One, first of all, after this day, and this comes from the bottom of my heart, if you want us to be great and know how happy we are for having MVPs in this city, to have the MVP and to win the MVP, but from after this day, July 14, please, please, please do me this favor so I can be better, play and lead this team to a championship. Please don't call me MVP. Please don't call me MVP until I win the game next year. From the bottom of my heart, thank you guys. No more MVPs until next year. Second favor, I want you guys to show up at every game. We are gonna win the championship, but we cannot do it without you guys, so show up at every game, show support to the Milwaukee Bucks, support my teammates, and we are going to get it done. Third favor, when I'm done with basketball, and I'm 80 years old and, you know, I'm about to leave this great world, I want to remember this day, so I'm going to call my brothers on stage, and we're going to take an iconic selfie video so I can re-watch it for the rest of my life, so I can remember this day," said Antetokounmpo.




Fans were thankful for the opportunity to show their support.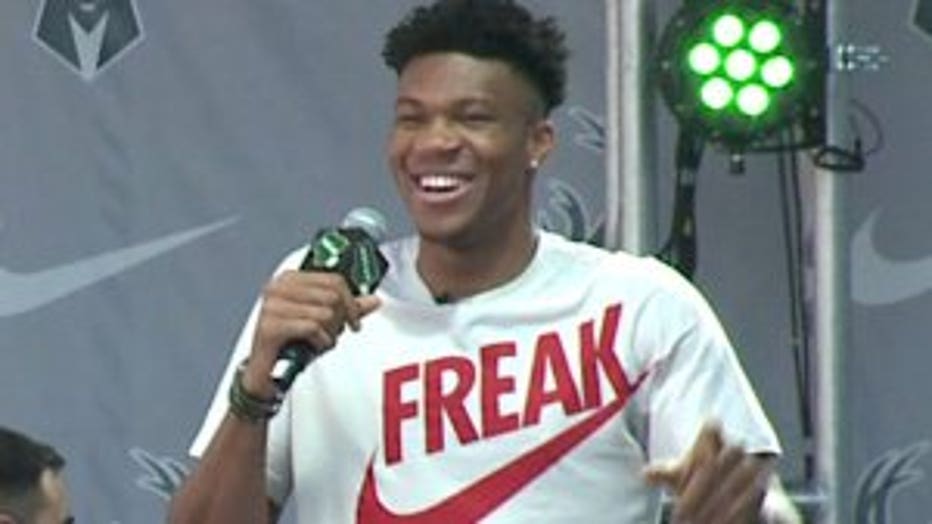 "It's everything," said Donald Smith. "It means a lot to Milwaukee."

"We loved what he did this year," said Rick Truber.

Antetokounmpo promised more greatness to come.

"I want more. I'm not greedy, but I want more, and I want to self improve," said Antetokounmpo.

Sunday's Giannis Antetokounmpo MVP Celebration featured Grammy-nominated record producer and songwriter DJ Tay Keith. Best known for co-producing Travis Scott's "Sicko Mode."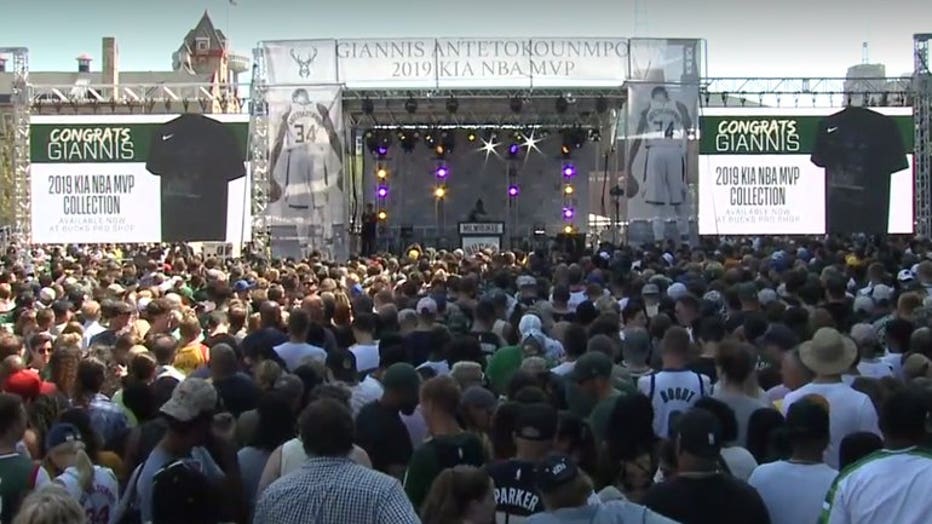 Additionally, fans were able to purchase limited quantities of Antetokounmpo Nike merchandise from the House of Hoops Freakmobile, partake in friendly basketball competitions, or commemorate the Giannis MVP Celebration at different photo stations. Fans also had the opportunity to stop by the Kohl's Court for face painting, and a chance to win big on the Kohl's Cash Wheel. Harley-Davidson was set to be on-site offering free giveaways, and the Bucks Pro Shop inside Fiserv Forum featured new Giannis T-shirts and Giannis MVP merchandise. Food and beverages were also be available for purchase throughout the plaza.