"Thanks for all the love:" Aaron Rodgers posts picture from hospital room after surgery


GREEN BAY  — Aaron Rodgers on Thursday night, October 19th posted a picture on Instagram from his hospital room after he underwent surgery on the broken collarbone he suffered during the game against the Minnesota Vikings.

In the post he says "surgery went well" and  thanks fans "for all the love, support, thoughts and prayers."




The sullen expression that Aaron Rodgers had on his face while being carted back to the locker room at Minnesota proved to be a precursor to the diagnosis that no one on the Green Bay Packers wanted to hear.

Coach Mike McCarthy knew pretty quickly that this was one injury that the two-time NFL MVP could not shake off.

"He'll be out a minimum, a significant amount of time — potentially the season could be over," the coach said on Monday.

Rodgers landed on his throwing shoulder after being taken down by linebacker Anthony Barr during an incompletion on the second drive for the Packers in the 23-10 loss to the Vikings on Sunday.

"We all knew — (quarterback coach Alex Van Pelt) and myself, when we talked to him immediately, I knew he was injured," McCarthy said. "I think he knew right away."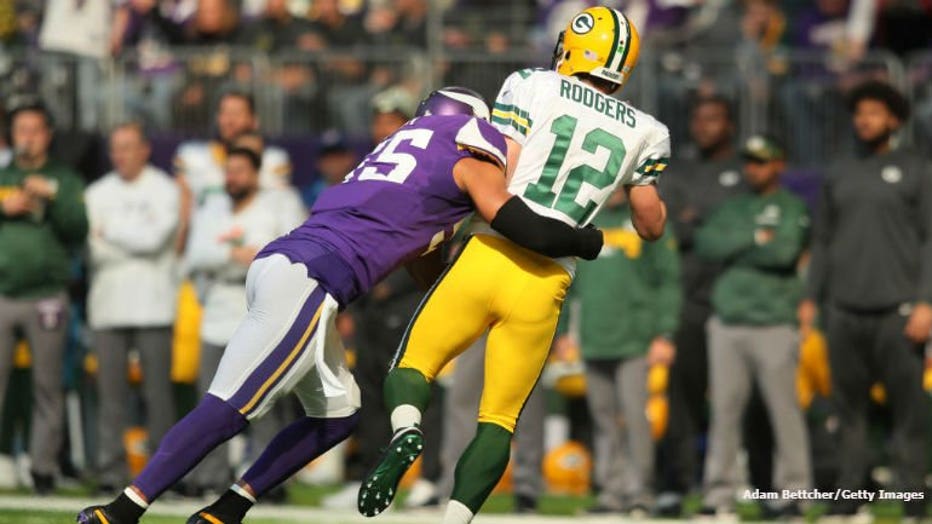 MINNEAPOLIS, MN - OCTOBER 15: Anthony Barr #55 of the Minnesota Vikings hits quarterback Aaron Rodgers #12 of the Green Bay Packers during the first quarter of the game on October 15, 2017 at US Bank Stadium in Minneapolis, Minnesota. (Photo by Adam


Backup Brett Hundley is now the starting quarterback. A fifth-round draft pick of the Packers in 2015, Hundley went 18 of 33 for 157 yards with a touchdown and three interceptions in relief of Rodgers.

The Packers promoted third-stringer Joe Callahan from the practice squad to back up Hundley, placing cornerback Quinten Rollins on injured reserve with an ankle injury to open up a roster spot.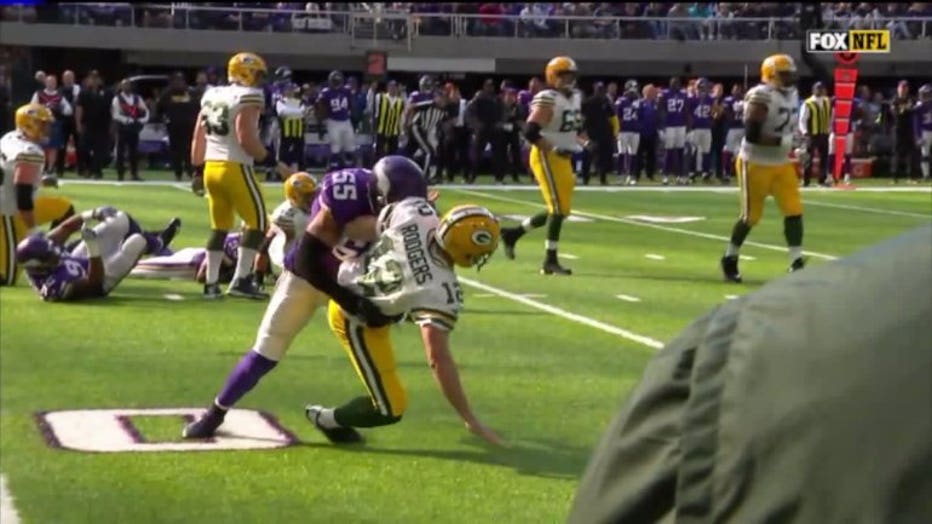 Callahan has had a couple of other stints on the Packers' active roster after joining the team as an undrafted free agent in 2016.

McCarthy said the team's personnel department is looking at some free agent quarterbacks as a way to help in practice.

But do not expect the Packers to bring in former San Francisco 49ers quarterback Colin Kaepernick .

"Did you just listen to the question I just answered?" McCarthy said angrily to a reporter's question about whether the team would look at Kaepernick.

"I've got three years invested in Brett Hundley, two years invested in Joe Callahan. "The quarterback room is exactly where it needs to be, OK? ... We're committed to the path that we're on."

A focused and sometimes feisty McCarthy also voiced his displeasure with Barr's hit on Rodgers, who was outside the pocket at the time.

"He's clearly expecting to get hit. To pin him to the ground like that, I felt it was an illegal act," McCarthy said.

"To sit here and lose any of your players on something like that, it doesn't feel very good," the coach added.

"Yeah, I didn't like the hit. It was unnecessary. Legal, or whatever you want to put it at, but it was totally unnecessary, in my opinion."

In Minnesota, Vikings coach Mike Zimmer said he didn't know why there was scrutiny on the hit. He said he had not spoken to Barr about the play.

"It's unfortunate that (Rodgers) got hurt, but I think everything was above board," Zimmer said. "We'll never be a dirty football team as long as I'm here. We're going to play within the rules, and sometimes things happen."

McCarthy was just as passionate talking about corrections to what he called the team's mental mistakes at Minnesota.

Otherwise, he is trying to quickly switch the focus to the future, moving up the start of players' preparations for the next opponent, the New Orleans Saints, up by two days to Monday. Usually the Packers focus on corrections from the previous game on Mondays.

Maligned by injuries across the team, especially the offensive line, the Packers must get Hundley ready for his first NFL start under already challenging circumstances.

"I'm not going to say it's going to stay the same. It's not going to. But that's part of the deal," center Corey Linsley said.

"When somebody new comes in there, regardless if it's Brett or another offensive linemen or another receiver, whoever it is has to make that adjustment."