Packers' QB Aaron Rodgers signs autographs in support of Salvation Army at Lambeau Field


GREEN BAY -- Green Bay Packers quarterback Aaron Rodgers supported the Salvation Army on Monday, Dec. 18, at the Lambeau Field Atrium -- signing autographs for fans in exchange for monetary donations.

Fans were asked to donate a minimum of $100 per autograph to help the Salvation Army reach its donation goals for 2017. The signing event was limited to 200 people on a first-come, first-served basis.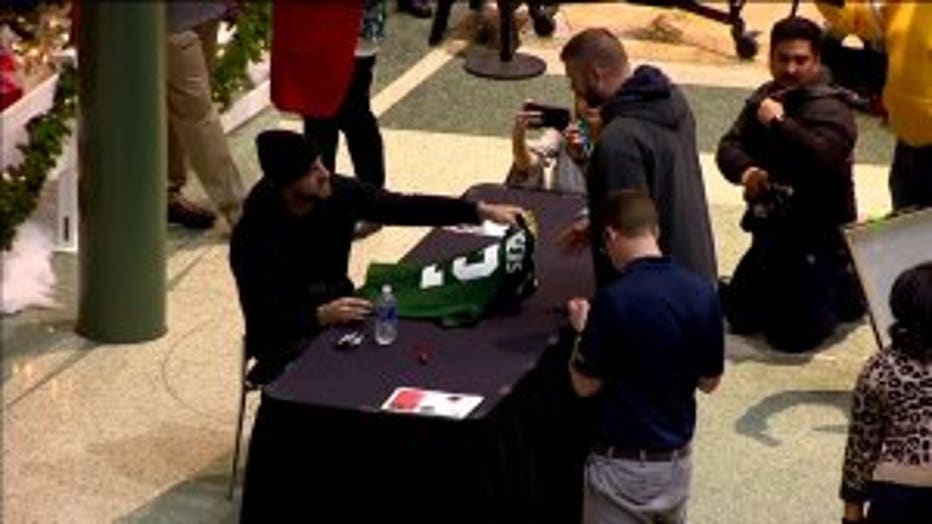 Aaron Rodgers signs autographs for Salvation Army at Lambeau Field


Rodgers has pledged to match each donation made during the weekly Atrium autograph signings this holiday season up to $50,000.

Fans interested in donating to the Salvation Army can also participate in Packers Give Back Day at the Bay Park Square Mall on Tuesday, Dec. 19. Packers employees will spend the day volunteering

by ringing bells at various locations throughout the mall. The Packers organization will be matching the funds raised throughout the day.

All proceeds raised go toward aiding needy families, seniors, and the homeless in Green Bay.

For more information on the Salvation Army of Brown County, visit www.sagreenbay.org.