Only on FOX6: Packers, 49ers meet in a clash of the titans for the NFC Championship
SAN FRANCISCO -- The Green Bay Packers travel west to take on the San Francisco 49ers in the NFC Championship game on Sunday, Jan. 19. It is a game you can see only on FOX6. We'll kick off the excitement at 4 p.m. with a FOX6 News special that takes you to the Fox Sports pregame show at 5 p.m. Then get set for the kickoff at 5:40 p.m.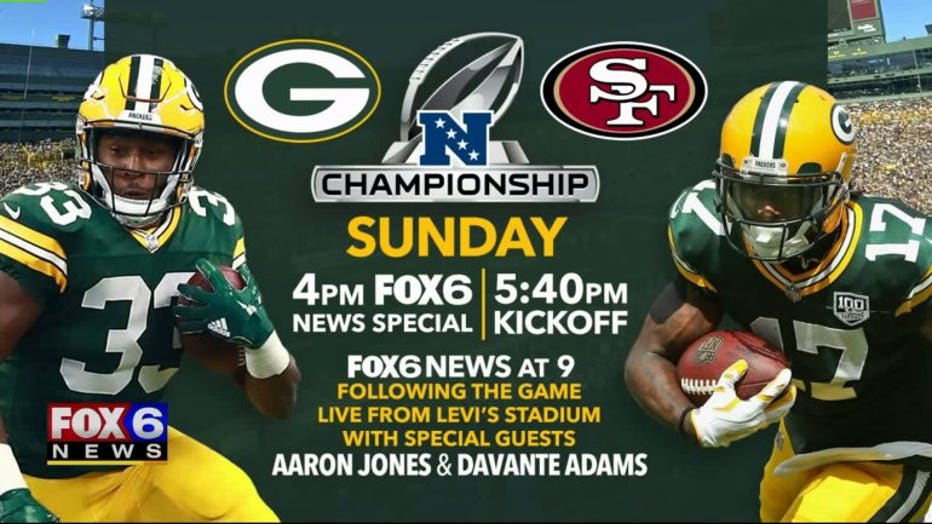 After the game, stick around for FOX6 News at 9 and 10. We'll have live reports from Levi's Stadium with special guests Aaron Jones and Davante Adams.

According to Packers.com, Sunday's game will be a matchup of the team with the second-best playoff winning percentage (Green Bay, 35-22, .614) and the team with the third-best winning percentage (San Francisco, 31-20, .608) in NFL history. This is only the second time the two teams have faced each other in the
NFC Championship, with the Packers winning, 23-10, at the 49ers in the 1997 season.

The Packers and 49ers have met seven times in the postseason (all since the 1995 season) and Green Bay holds a 4-3 advantage in the playoff series. This eighth meeting will tie for the most playoff games the Packers have played against one team (Dallas Cowboys, New York Giants).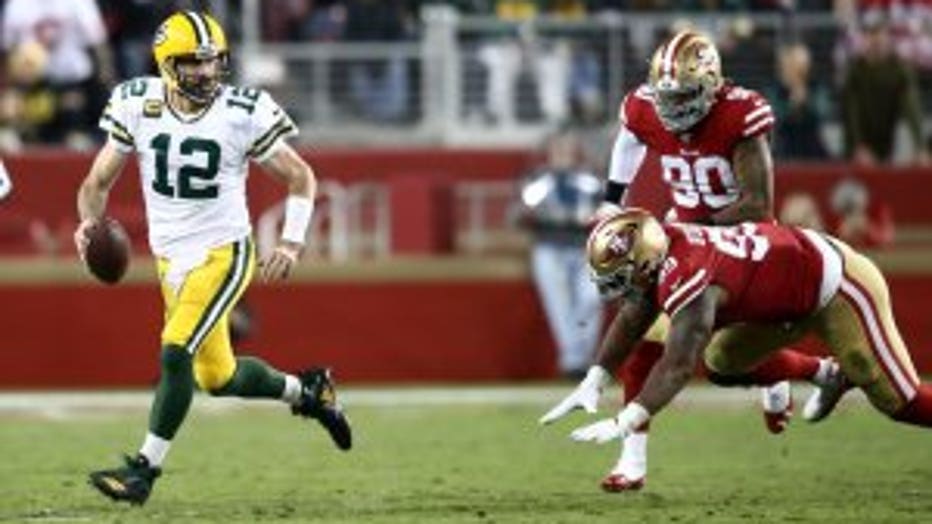 SANTA CLARA, CALIFORNIA - NOVEMBER 24: Aaron Rodgers #12 of the Green Bay Packers runs away from DeForest Buckner #99 of the San Francisco 49ersat Levi's Stadium on November 24, 2019 in Santa Clara, California. (Photo by Ezra Shaw/Getty Images)


The eight postseason contests between Green Bay and San Francisco will tie for the second-most in NFL history behind the Cowboys-Rams (nine), according to the Elias Sports Bureau. The last postseason meeting between the two clubs was in the 2013 season, a 23-20 win by San Francisco in Green Bay.

This will be just the second time the Packers have been a part of a postseason game featuring two teams that both won 13-plus regular-season games. The other instance was at the 49ers in the 1997 NFC Championship when both teams posted 13-3 regular-season records like this season.