NFL Report: Packers' Aaron Rodgers undergoes surgery to repair broken collarbone
GREEN BAY -- After suffering a broken collarbone during the game against the Minnesota Vikings, Green Bay Packers' quarterback Aaron Rodgers has undergone surgery to repair it Thursday, October 19th -- according to a new report.

NFL.com's Ian Rapoport tweeted the MVP had the surgery on Thursday.




The sullen expression that Rodgers had on his face while being carted back to the locker room at Minnesota proved to be a precursor to the diagnosis that no one on the Green Bay Packers wanted to hear.

Coach Mike McCarthy knew pretty quickly that this was one injury that the two-time NFL MVP could not shake off.

The rest of Rodgers' season is in jeopardy.

"He'll be out a minimum, a significant amount of time — potentially the season could be over," the coach said on Monday.

Rodgers landed on his throwing shoulder after being taken down by linebacker Anthony Barr during an incompletion on the second drive for the Packers in the 23-10 loss to the Vikings on Sunday.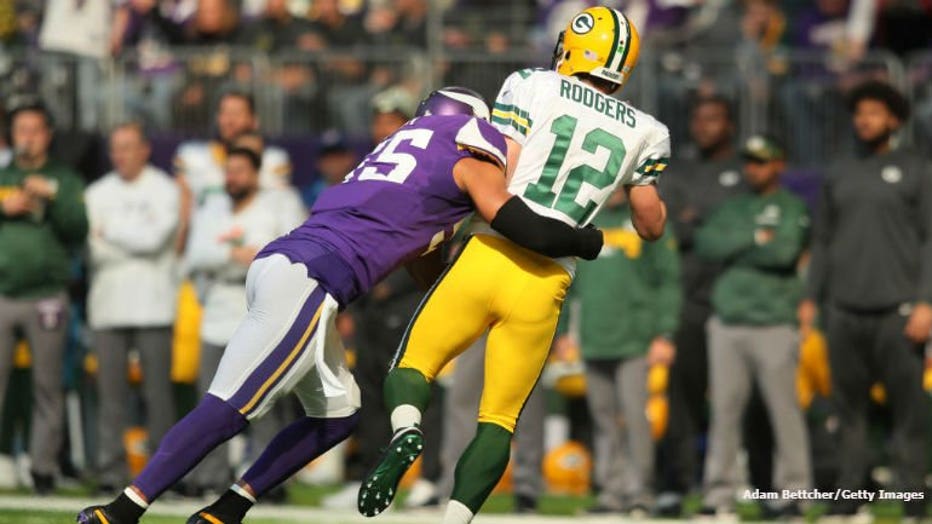 MINNEAPOLIS, MN - OCTOBER 15: Anthony Barr #55 of the Minnesota Vikings hits quarterback Aaron Rodgers #12 of the Green Bay Packers during the first quarter of the game on October 15, 2017 at US Bank Stadium in Minneapolis, Minnesota. (Photo by Adam