Milwaukee Bucks, Giannis Antetokounmpo reach agreement on contract extension
MILWAUKEE -- The Milwaukee Bucks have reached an agreement with Giannis Antetokounmpo on a contract extension, General Manager John Hammond announced on Monday, September 19th.

The contract will be finalized at a press conference Tuesday afternoon.

The Buck says Antetokounmpo, 21, appeared in 80 games (79 starts) last season and averaged career highs in points (16.9), rebounds (7.7), assists (4.3), blocks (1.4) and minutes (35.3). He became the first player in franchise history to record five triple-doubles in a season, and now ranks third on the Bucks' all-time list for career triple-doubles.

Selected by the Bucks with the 15th overall pick in the 2013 NBA Draft, Antetokounmpo has career averages of 12.2 points, 6.3 rebounds and 2.9 assists in 238 games (173 starts). He has improved his averages in points, rebounds, assists, blocks, field goal percentage and minutes over each season he has played in the NBA.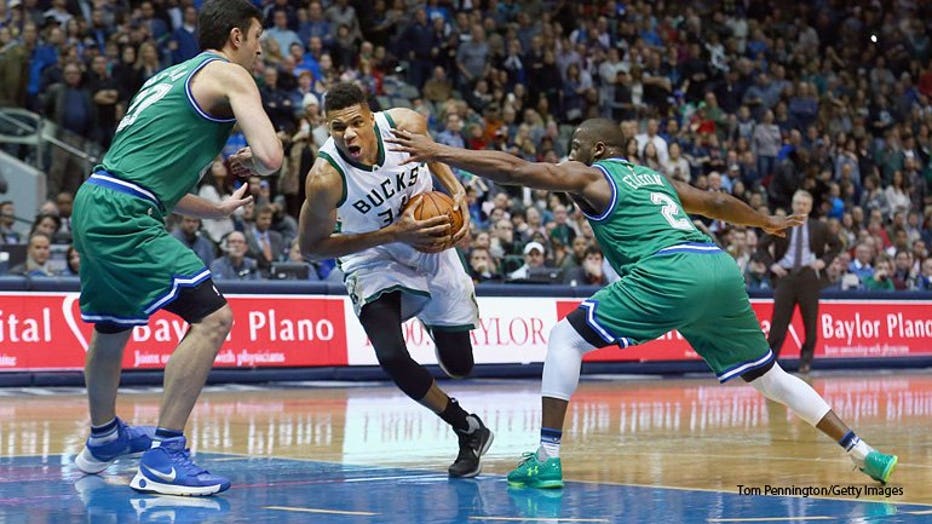 DALLAS, TX - DECEMBER 28: Giannis Antetokounmpo #34 of the Milwaukee Bucks drives to the basket against Zaza Pachulia #27 of the Dallas Mavericks and Raymond Felton #2 of the Dallas Mavericks in the second half at American Airlines Center on December