Marquette motivated by doubt, exceeds expectations in 2022-2023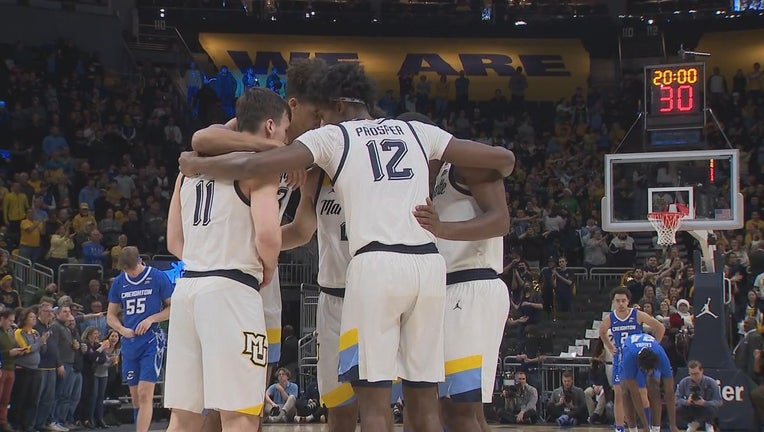 article
MILWAUKEE - Given high roster turnover in the transfer portal era, preseason predictions are guessing games.
Still, Marquette took it personally when the Golden Eagles were tabbed for ninth in the Big East this season, behind teams like Butler and St. John's.
MU did nothing to downplay a storyline that bubbled up all the way until March.
A 2-3 start to the season didn't alter the script, but a 27-4 finish from there certainly did.
Just after Thanksgiving, Marquette annihilated sixth-ranked Baylor 96-70, a team and coach known for defense would light up the scoreboard more often than not during the campaign.
MU lost only one game between December 21 and February 7, surging into the national rankings and ascending to the Big East Conference lead.
Before March, the Golden Eagles were the regular season league champs, clinching the title in historic Hinkle Fieldhouse.
"It means everything," said junior forward Oso Ighodaro. "I mean, this team, we worked so hard. People didn't believe in us this year. I feel like we proved so many people wrong. This means a lot."
"They picked us ninth," said junior guard Tyler Kolek. "We've banded around that. We've banded around what I said in the pre-season to everybody. And so, you know, we just come out here with that chip on your shoulder every day. Just goes to show our hard work, man. I'm in the gym twice, three times a day. You know, since I was 15 years old, just leading up to this moment."
RELATED: Check out the new and improved FOX Sports app
MU also won the conference tournament and featured the Big East Player of the Year in Kolek and Coach of the Year in Shaka Smart.
Confident, Marquette earned its highest NCAA tournament seed in school history, a number two.
"Just having a defensive mindset, I feel like it's been our biggest thing," Kolek said. "We've been scoring the ball at such a high level all season and coming down, we know championship time is you've got to really lock in on the defensive end if you want to win games."
"I don't think we have a ceiling for this team as long as we stay together and then just be prepared and play for each other and play as hard as we can," said sophomore forward David Joplin.
In Columbus, Ohio, the Golden Eagles practiced with a purpose before blowing out Vermont and stumbling against Michigan State.
A squad that fought together all season will use that bond to bound into next season.
"Everything we experience is an opportunity for growth," said Kolek. "This game included, last game included our whole season. I feel like we've grown more than any team in the country. And, you know, going into next year, we want to keep growing and keep building and go from there."
"It's about coming back together after that and remembering why, you know, you chose to do this in the first place and then getting better," said Smart. "You know, our program is about relationships, our program's about growth and our program's about victory. And this group has done a phenomenal job honoring those things. Tonight's result doesn't take away from that one bit."
As it stands now, Marquette will bring back the players who scored all but four of its points this season.
The Golden Eagles won't be picked for ninth in their conference again.