Manny Machado fined by MLB for kicking Jesus Aguilar in Brewers/Dodgers Game 4
MILWAUKEE -- Dodgers star Manny Machado has been fined by Major League Baseball for kicking Milwaukee first baseman Jesus Aguilar in the NL Championship Series.

MLB fined Machado an undisclosed amount Wednesday, a day after the baserunning incident caused the benches to clear at Dodger Stadium and prompted Brewers MVP candidate Christian Yelich to call Machado a "dirty player."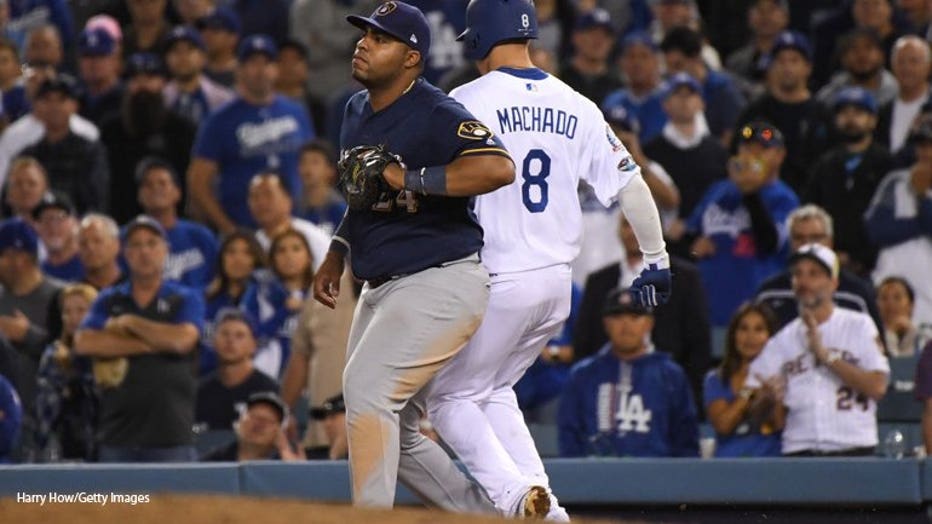 LOS ANGELES, CA - OCTOBER 16: Manny Machado #8 of the Los Angeles Dodgers is out a first base by Jesus Aguilar #24 of the Milwaukee Brewers during the tenth inning in Game Four of the National League Championship Series at Dodger Stadium on October 1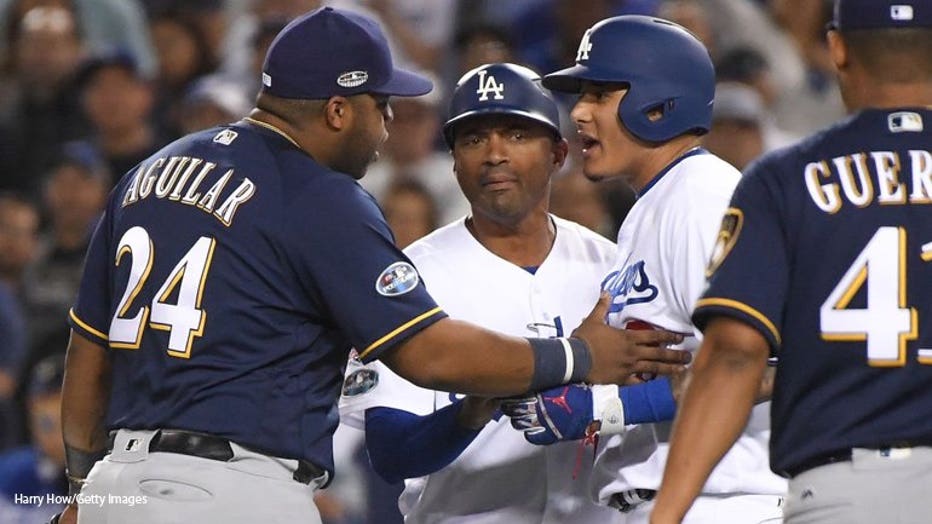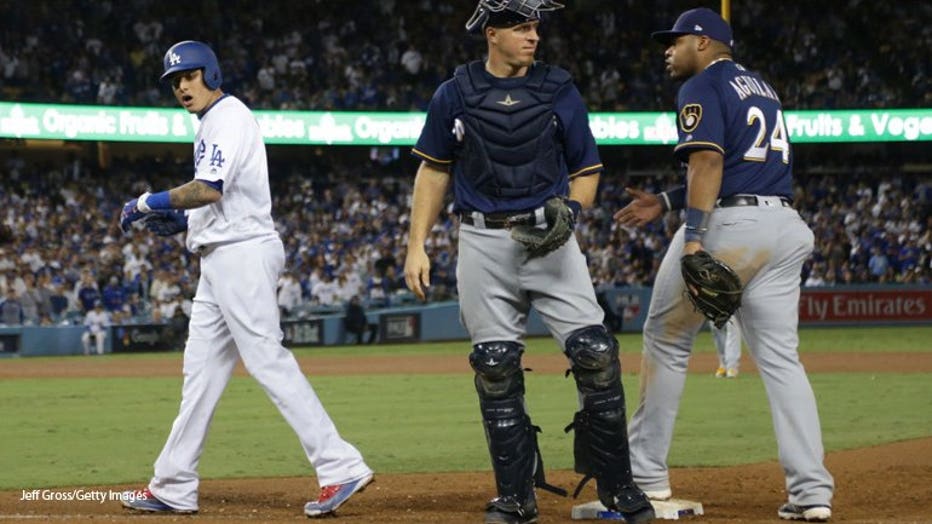 LOS ANGELES, CA - OCTOBER 16: Manny Machado #8 of the Los Angeles Dodgers and Jesus Aguilar #24 of the Milwaukee Brewers exchange words after Machado's foot hit Aguilar's on his way to being thrown out at first base as catcher Erik Kratz #15 of the M


"I don't think we're too concerned about any other teams' comments about our players," Dodgers manager Dave Roberts said Wednesday before Game 5. "I know speaking for Manny, he's preparing to help us win. It's really not at the forefront of our mind."

Machado was running to first on a grounder in the 10th inning of Game 4, and Aguilar left his right foot partly across the base for a moment after catching the ball. Already out, Machado brought his left foot forward and kicked Aguilar in the back of the leg.

"He's a player that has a history of those types of incidents," Yelich said. "One time is an accident. Repeated over and over and over again, you're just a dirty player. It's a dirty play by a dirty player."

Brewers manager Craig Counsell wasn't concerned the incident would distract from his team's focus in the best-of-seven series.

"You say to yourself, 'Two games from the World Series.' That's all you've got to say," Counsell said. "The other stuff just washes away, man. That's meaningless to me."

Some have questioned Machado's sportsmanship since he tossed his bat toward third base during an incident against the Oakland Athletics in 2014. Former Yankees slugger Alex Rodriguez wondered on the FS1 postgame show whether the string of incidents could affect Machado's impending free agency after the season.

"It's a beauty pageant. You have 30 owners — all want you right now," he said. "You don't want four, five owners to sit around and say, 'Hey, dude, you see what Manny did? Did you see that? Oh, yeah, yeah, we're out. We like him, but now we're out.' You're losing tens of millions of dollars by the second if that becomes the narrative."

Machado, whose late slide last year injured Boston second baseman Dustin Pedroia, has been checked a couple times in this NLCS because of close slides into second.

Machado gave Aguilar a brief hug after hitting a single in the 13th inning. The shortstop later scored the winning run, sliding home to give Los Angeles a 2-1 win that evened the NLCS at two games each.

Both Machado and Aguilar said after the game that they had no quarrel with each other, and Aguilar said Machado apologized to him.

The players' union declined comment on Machado's fine.