It's time for baseball in Milwaukee! A lot of work goes into ensuring Opening Day's a success


MILWAUKEE -- Opening Day for the Milwaukee Brewers is Monday, April 4th -- and the Brew Crew will face the San Francisco Giants at 1:10 p.m. at Miller Park. There is a lot of work that has gone into ensuring it will be a good day at the ball park.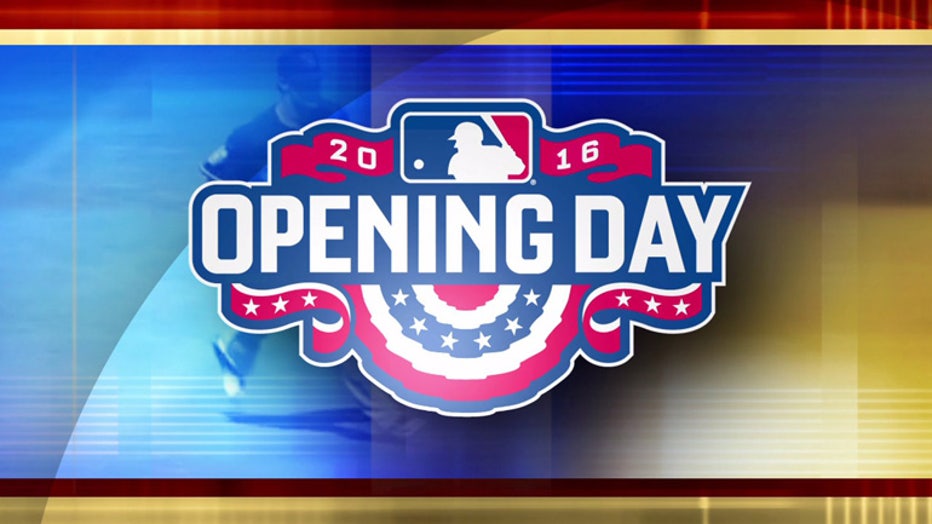 "Everyone`s pumped up about Opening Day. It`s a city celebration for us," Katina Shaw, director of community relations for the Milwaukee Brewers said.

And the party kicks off on Monday!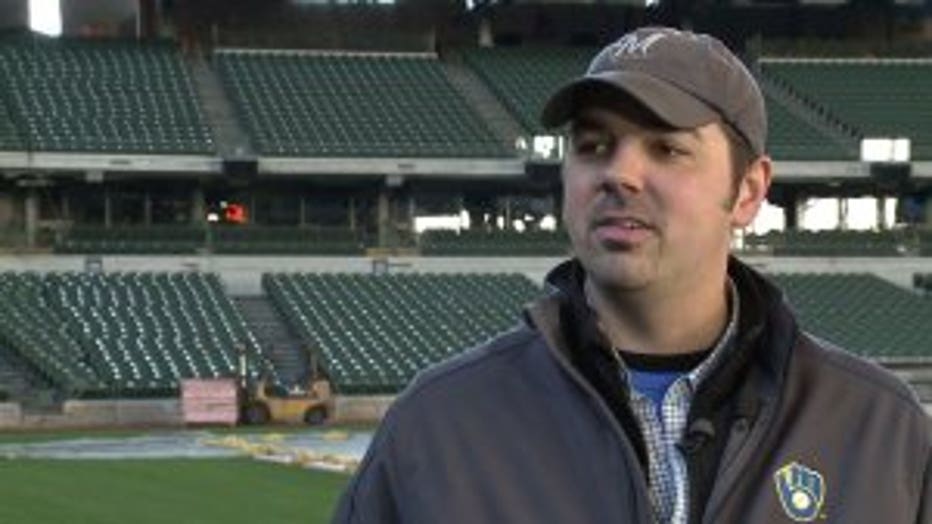 "I think it`s just excitement that gets started here every spring in Milwaukee with baseball," Director of Grounds Michael Boettcher said.

In early March, when temperatures reached 65 degrees, Brewers grounds crews pulled back the tarps covering the turf, and opened the roof.

"The natural sun -- you can`t replace it. Our grow lights only give a percentage of what the sunlight can do," Boettcher said.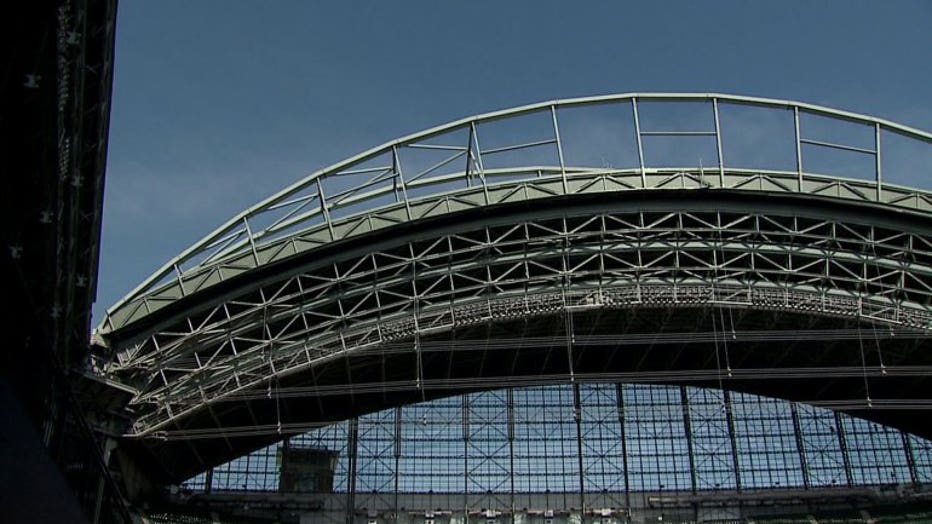 Grounds crews are pleased with how the turf looks after our mild winter in Milwaukee.

"It`s obviously not mid-season form but it`s definitely a great starting point. We`re pretty happy overall," Boettcher said.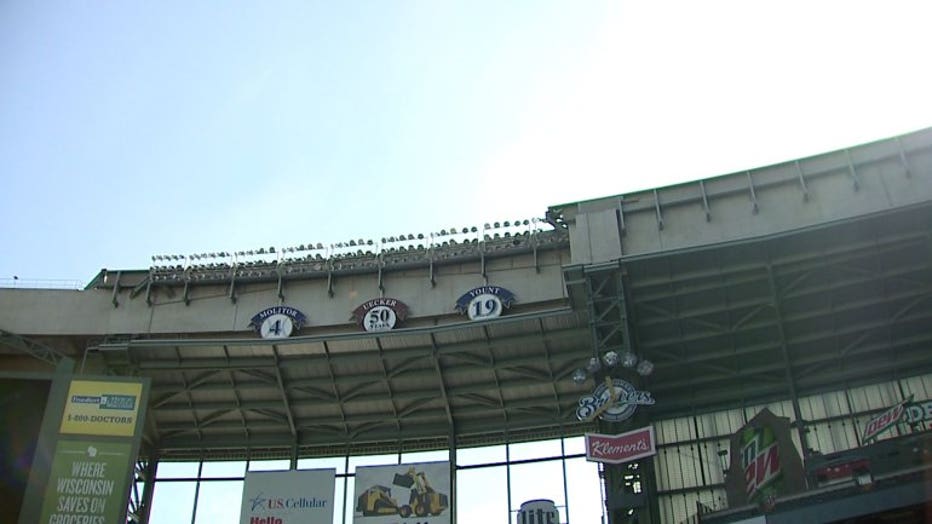 In an effort to increase safety this season, Miller Park officials have installed some additional netting to protect fans.

Last year, a fan was seriously hurt when she was hit in the face by a foul ball.

The added netting will protect fans from foul balls and any flying bats.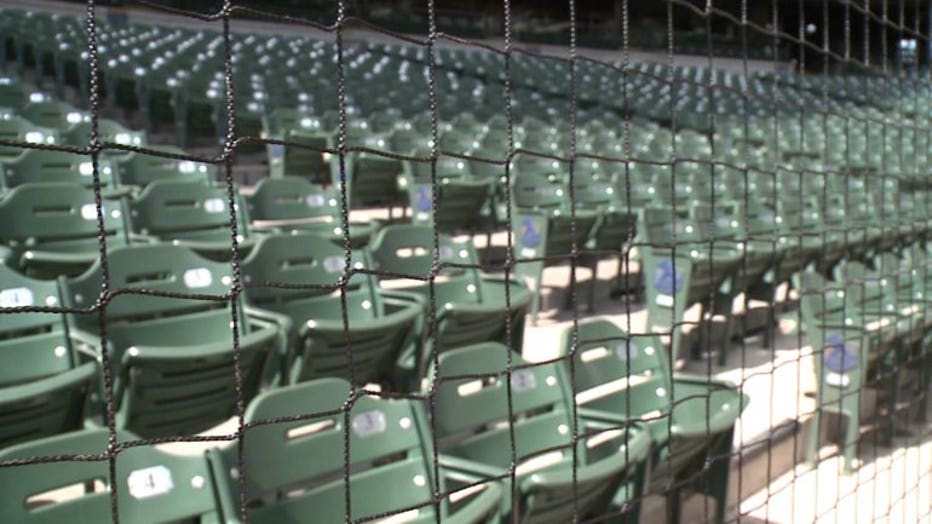 And of course, there are plenty of new food items for fans to try at Miller Park this season.

The new offerings include: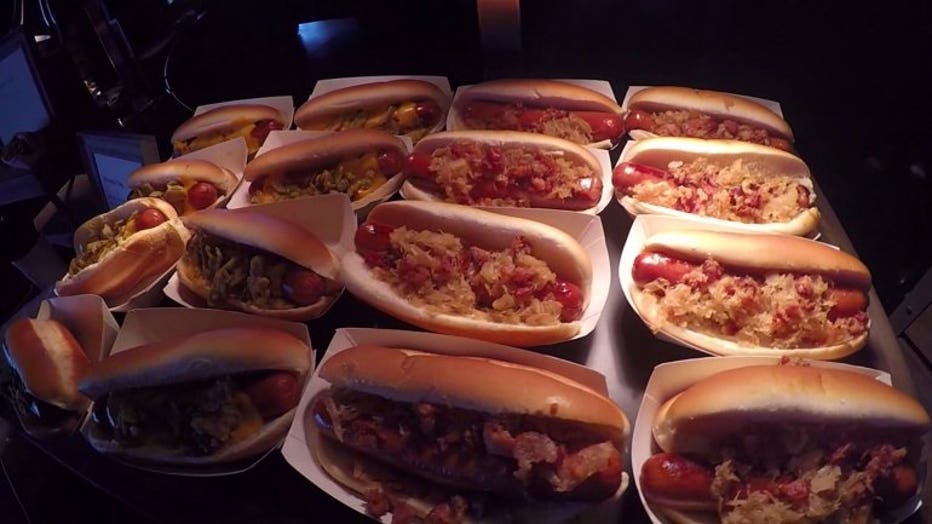 New food items at Miller Park


"The Wisconsin Dog, which is a beer jam sauerkraut and bacon on our new sausage roll, and then our Jalapeno Popper Dog which is cheese and fried jalapenos," Seth VanderLaan, Brewers executive chef said.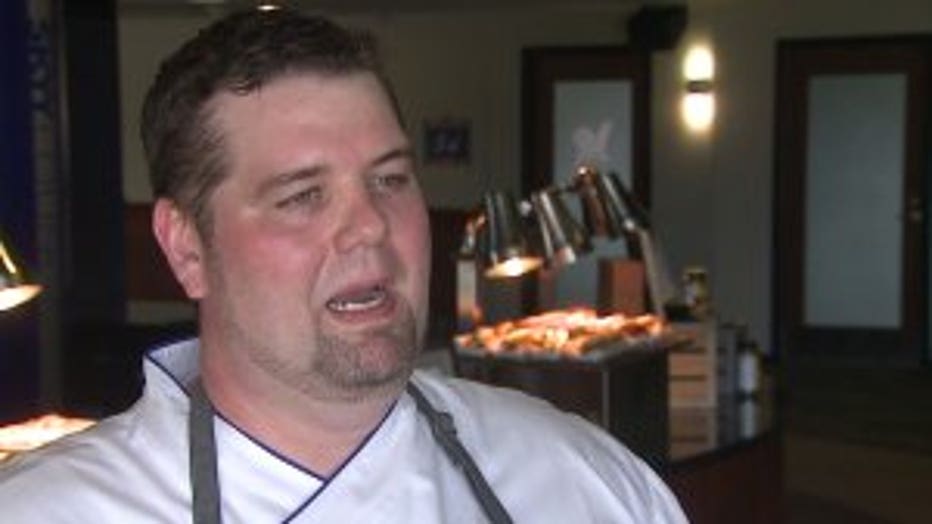 For fans looking to wear their Brew Crew spirit, there are new clothing items available as well, including jerseys and hats.

"A lot of new Hank product, as you can imagine. He`s really popular," Rick Schlesinger, Brewers COO said.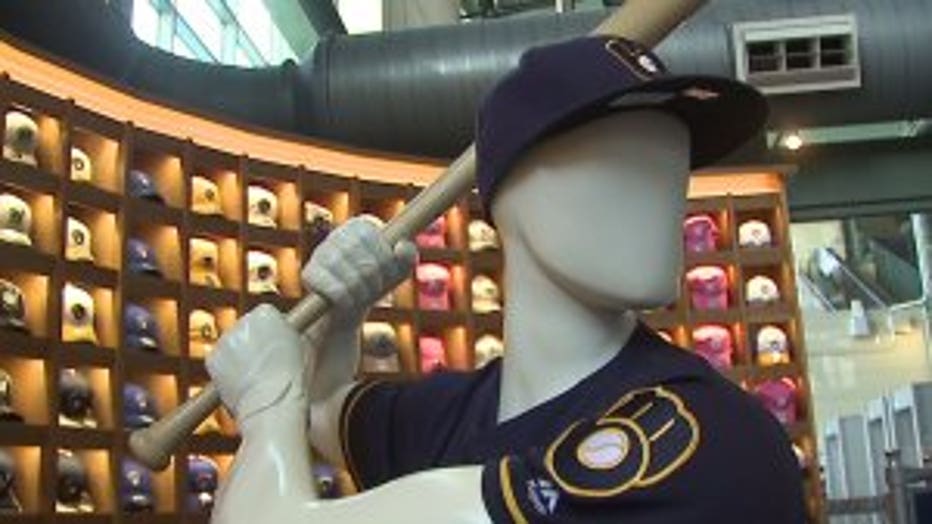 Work was underway to add the "Opening Day" logo behind home plate just in time for Monday.

The Brewers face the Giants at 1:10 p.m. at Miller Park.


---


 

Beginning on Opening Day, and for every home game this season, the MCTS Brewers Line is the easiest way to get to Miller Park to cheer on the Brewers.

Catch the Brewers Line (Route 90 - Miller Park) along Wisconsin Avenue and travel directly to the MCTS transit area at Miller Park starting with the season home opener on April 4th. The Brewers Line is a safe, easy, convenient and cost effective way to get to a Brewers game. Fans can leave the traffic and parking hassles at home by simply hopping on board at any of the 21 stops along Wisconsin Avenue, and head straight to the park.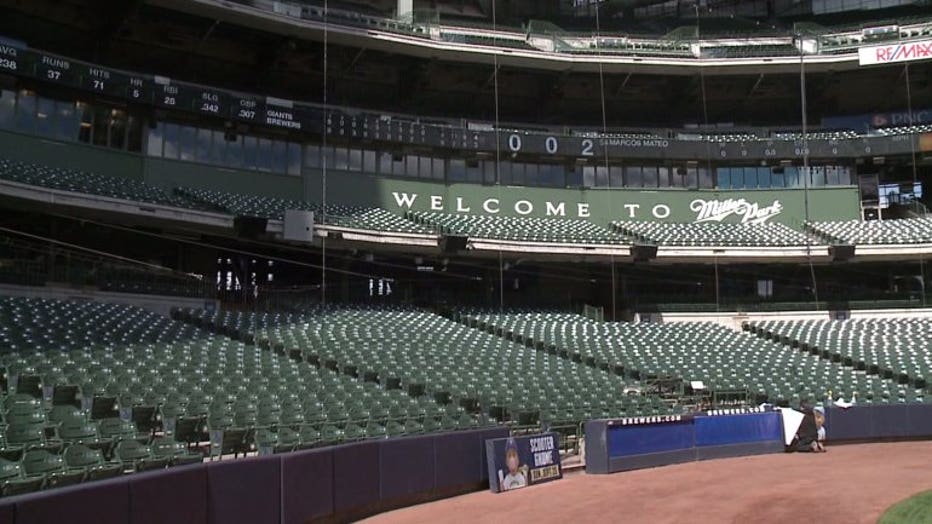 Fares each way for the Brewers Line are $2.25 for adults paying cash or only $1.75 if you use your M•CARD, children aged 6-11 and seniors 65 and older pay only $1.10. Riders with the Commuter Value Pass, U-PASS, GO Pass, New Freedom Pass or an M•CARD with an active 1-, 7- or 31-Day Pass ride for free.

The Brewers Line buses operate approximately every 30 minutes for two hours before game time (except on opening day and Marquee games when buses operate more frequently). Return trip bus service leaving Miller Park operates for one half-hour after the end of the game.

Brewers Line bus stops are located at the Downtown Transit Center and along Wisconsin Avenue from Jackson Street to 38th Street. Look for electronic destination signs on the bus that display "Let's Go Brewers!" Buses drop passengers off at the MCTS transit area on Yount Drive on the north side of Miller Park. On the return trip, buses leave the ballpark from the MCTS transit area and serve all eastbound bus stops.

Brewers fans can also ride the GoldLine (Wisconsin - UWM), Route 23 (Fond du Lac-National) or the BlueLine (Fond du Lac-National), all which offer stops within walking distance of Miller Park.

For more information, visit RideMCTS.com or call the 24-hour automated bus information line at 414-344-6711.


---


 

The Brewers will host the Giants for a three-game series before welcoming the Houston Astros to Miller Park on Friday, April 8th for another three-game series to close out Opening Week.

Highlights include special Opening Day ceremonies as well as the first of 14 All-Fan giveaways of 2016.

OPENING DAY: Monday, April 4th vs. San Francisco Giants 1:10 p.m.

Brewers Magnetic Schedule Day – All fans in attendance will receive a Brewers 2016 magnetic schedule presented By Pick 'n Save and Sargento.

Tuesday, April 5th vs. San Francisco Giants 7:10 p.m.

Singles Night – What better place to meet someone than at a Brewers game? Join the Crew for Singles Night at Miller Park and take part in a special Mix & Mingle event hosted by It's Just Lunch prior to watching the Brewers take on the San Francisco Giants. This special ticket package includes a ticket in the All-Inclusive Miller Lite Deck, a full buffet, two complimentary beers and the opportunity to meet other single Brewers fans in a relaxed, casual environment.

Wednesday, April 6th vs. San Francisco Giants 12:40 p.m.

Kids & Senior Citizens Discount Days – Returning in 2016 for most weekday afternoon home games, kids 14 and under and seniors 60+ save 50% on tickets. Excludes Opening Day, Labor Day, All-Inclusive Areas and Uecker Seats.

Friday, April 8th vs. Houston Astros 7:10 p.m.

Miller Lite Beerpen – Every Friday home game, fans 21 and older can be a part of the Miller Lite Beerpen in the right-field Loge Bleachers. Fans can buy a Loge Bleacher ticket at the regular price and receive a free Miller Lite Brewers hat. For information, visit brewers.com/beerpen.

Student Nights – Every Friday home game, high school and college students can purchase $10 Terrace Reserved tickets and $15 Loge Bleachers tickets. They also can enjoy a happy hour at certain concession stands from the time gates open through the end of the first inning. Happy hour pricing includes hot dogs, nachos, 12oz sodas and 12oz beers for $3 each. For more information, visit brewers.com/students. Excludes the Miller Lite Beerpen.

Saturday, April 9th vs. Houston Astros 6:10 p.m.

Season Seat Holder Appreciation Day – Season Seat Holders receive 25% off food, beverage and merchandise during select games by simply presenting their Season Seat Holder ID Card. Season Seat Holders also enjoy the opportunity to enter Miller Park 30 minutes prior to the general public to watch the Brewers take batting practice. For more information, visit brewers.com/sshappreciation.

Brewers Coupon Book - The first 25,000 fans 18 and older will receive a Brewers Coupon Book with a variety of special offers and Brewers ticket savings.

Autograph Saturdays for Kids presented by U.S. Bank – Prior to the game, kids 14 and under can receive autographs from select Brewers players and coaches. Autograph sessions will begin shortly after gates open and last for approximately 20 minutes. For each Autograph Saturday game, one child will be selected to win a VIP package compliments of U.S. Bank®. The VIP package includes four Loge Level tickets to that night's game, on-field batting practice viewing and more! Fans can register at Miller Park Field Level Guest Relations or online at Brewers.com/autographsaturdays.

Sunday, April 10th vs. Houston Astros 1:10 p.m.

1980s Vintage Brewer Bobblehead – All fans in attendance will receive a 1980s Vintage Brewer Bobblehead, courtesy of Chevrolet.

Autism Awareness Day – The Brewers will host their third-annual Autism Awareness Day at Miller Park as Major League Baseball once again partners together with Autism Speaks to celebrate the unique gifts of individuals with autism, raise awareness of autism spectrum disorders and advocate for the needs of individuals and families affected by autism. In support of autism research and advocacy, the Brewers will make a $3 donation to Autism Speaks for every Autism Awareness ticket package sold.

Prairie Farms Dairy Kids Base Run - Kids 16-and-under can run the bases after Sunday home games, courtesy of Prairie Farms Dairy.

Kids Eat Free Sundays – Every Sunday home game, all kids 14 and under will receive a voucher upon entrance to Miller Park good for a free hot dog, apple slices, a bottle of water and an ice cream treat, courtesy of Pick 'n Save, Blue Bunny & Heinz.