"I'm humbly honored:" 'Hometown hero' honored at Miller Park, his wife facing her own battle


MILWAUKEE -- Being the spouse of someone who serves our country isn't easy, but Andrea Ritchie is a strong person who has managed with faith, hope and love. Now, she's trying to manage again as she faces the battle of her life.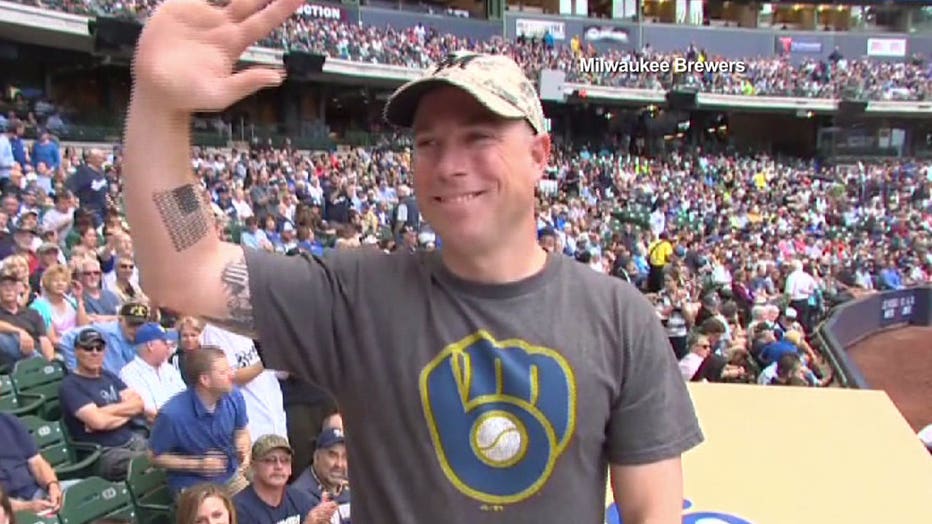 "I was nominated by a superior in my unit and I got called up to battalion headquarters in Appleton and they told me that I had been selected and my heart kind of dropped," Aaron Ritchie said.

For Ritchie, sergeant first class in the Wisconsin National Guard, the chance to catch a recent Brewers game at Miller Park was awesome. But to be honored as a hometown hero in the third inning was almost too much for words.

"Can't even explain it. It just brings a smile to my face and I'm humbly honored. I had a pit in my stomach and stood up there for quire some time and all of a sudden they told me to look down and Matt Garza threw me a ball. I was pretty pumped up about that," Ritchie said.

Sergeant Ritchie, a New London native living in Fond du Lac has served for 20 years. He says, for love of country.

"During the National Anthem, the cheering you hear and everybody's singing along -- obviously what I was a part of in the third inning, the crowd just erupted -- everybody on their feet. That kind of gives you a sense, not only for myself, but for the other service members -- everybody's got your back," Ritchie said.

What really made the day for Sergeant Ritchie was having 19 members of his family with him, including his wife, his mother and his 92-year-old grandmother Millie Gore.

"It's wonderful. He's really seen this world and everything. He did a great job," Gore said.

"When he said he was chosen, it's like 'you're my hometown hero all the time,' so to celebrate it like this is amazing," Ritchie's mother Cindy Ritchie said.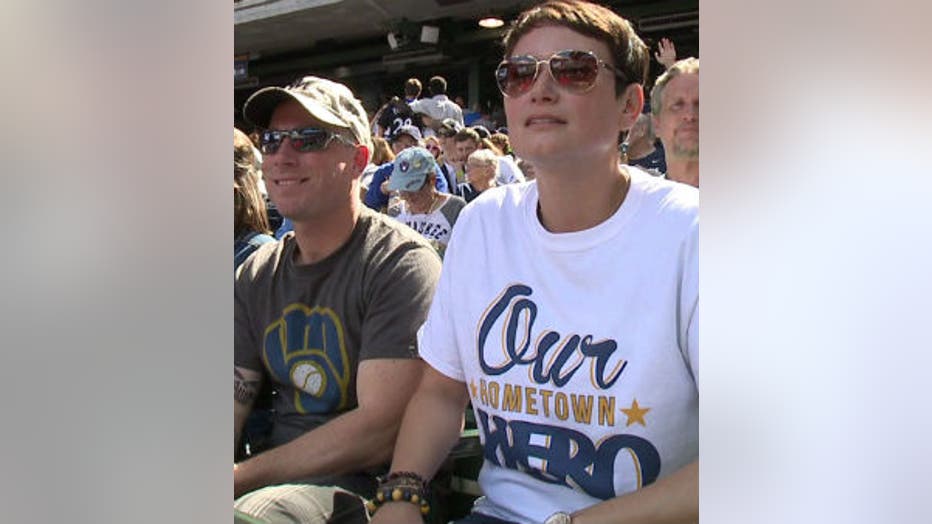 "He's super humble, so I knew that he would have internal fighting going on -- standing up there taking the appreciation, the honor that comes with it, but he did a great job and we couldn't be more proud and happy for him," Ritchie's wife, Andrea Ritchie said.

In 2013, 32-year-old Andrea Ritchie was diagnosed with Stage 4 pancreatic cancer. It's a great challenge -- one she's meeting head-on with her loving husband and family, and a winning attitude.

"You're dealing with a sucky situation -- no matter what it is, try to find something good in it. Try to put some sort of twist in it where you can find happiness in it," Andrea Ritchie said.

It is evident that in the Ritchie family, there are two hometown heroes.

"Her attitude and her will to get through things is just remarkable. It's refreshing to wake up every day and take on the day -- not looking forward too far out, but just living today," Aaron Ritchie said.

Andrea Ritchie has organized a run called "Hope, Heart and Sole .01K and 5K." She hopes to raise $15,000 for pancreatic cancer research.

CLICK HERE to learn more or to make a donation.