Illinois beats Wisconsin, 34-10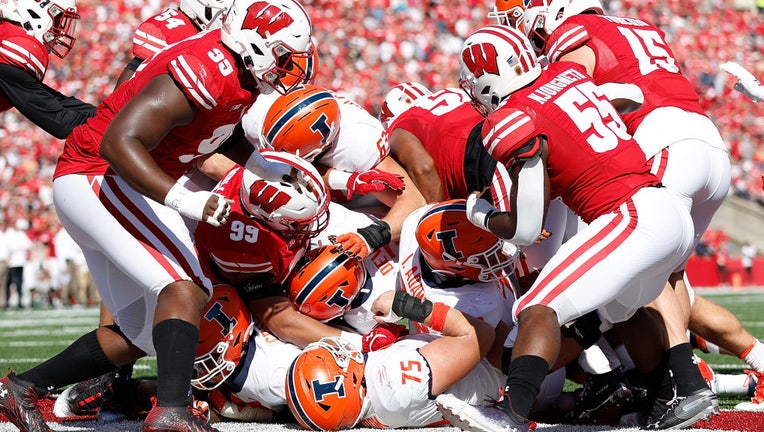 article
MADISON, Wis. - Illinois' Bret Bielema made his return to Madison as an opposing coach when the Illini visited Wisconsin on Saturday, Oct. 1 – and the Fighting Illini played a statement game against the Badgers.
Chase Brown rushed for 129 yards, Tommy DeVito had three short touchdown keepers and Illinois trounced Wisconsin 34-10.
Illinois (4-1, 1-1 Big Ten) scored 17 points off Wisconsin turnovers and scored the game's final 27 points to win as a 6½-point underdog. The Illini sacked Graham Mertz six times and held the Badgers to 2 yards rushing on 24 carries.
Bielema had gone 68-24 in seven years as Wisconsin's coach before leaving for Arkansas at the end of the 2012 regular season as the Badgers were preparing for a Rose Bowl appearance. Wisconsin won at least a share of the Big Ten title each of his last three seasons.
He was fired at Arkansas in 2017 after going 29-34 and took over Illinois' program in December 2020. The Badgers won 24-0 at Illinois last season, but this was the first time Bielema had faced Wisconsin at Camp Randall Stadium.
Bielema was the first coach to take an opposing Big Ten team to a school he coached to a Big Ten title since John Pont coached Northwestern in a 1973 game at Indiana. Pont had led Indiana to a share of the 1967 Big Ten crown.
Bielema received a smattering of boos when his name was announced in the pregame introductions, though the stands were less than 20% full at that point about half an hour before the 11 a.m. local time kickoff.
A much larger crowd showed significantly more displeasure as the Badgers got dismantled for a second straight week. Wisconsin (2-3, 0-2) was coming off a 52-21 loss at No. 3 Ohio State.
Illinois took a 14-10 halftime lead by scoring a pair of touchdowns after intercepting Graham Mertz passes in Wisconsin territory. The Illini broke the game open by outscoring Wisconsin 17-0 in the third quarter, including a 49-yard touchdown run by Brown.
Brown, who entered the day with a Football Bowl Subdivision-leading 151 yards rushing per game, produced his sixth straight 100-yard performance. Wisconsin's Braelon Allen, who had been ranked fifth among all FBS players with 124.3 yards rushing per game, had just 2 yards on 7 carries.
Illinois held Wisconsin to its lowest single-game rushing total since 2015, when the Badgers had minus-26 yards on 26 carries in a 13-7 loss to Northwestern. Even if the sacks were taken out of the equation, Wisconsin still mustered only 1.7 yards per carry.
Mertz went 4 of 4 for 54 yards on Wisconsin's opening possession and capped the series with a 21-yard touchdown to Isaac Guerendo on third-and-8. But he was just 13 of 27 for 152 yards with two interceptions the rest of the way and played the last 2½ quarters with tape around his left (non-throwing) hand.
DeVitto went 18 of 24 for 167 yards. Each of his three touchdown runs was from 1 yard out.
First half
With kickoff around 11 a.m. in Madison, the Badgers were first to score in the Camp Randall matchup. About three-and-a-half minutes into the game, quarterback Graham Mertz threw a 21-yard touchdown pass to Isaac Guerendo – which put Wisconsin up, 7-0.
With about four minutes left in the first quarter, Illinois struck back. Illini QB Tommy Devito ran for a one-yard touchdown to tie it up. It was 7-7 at that point. 
RELATED: Check out the new and improved FOX Sports app
With the start of the second quarter, Wisconsin had a ten-play drive of 45 yards before knocking a 39-yard kick through the uprights. The Badgers went up 10-7. 
Illinois struck back with just under eight minutes left in the second quarter. DeVito ran for another one-yard touchdown – putting the Illini up 14-10. And that is where the scoring ended in the first half. 
Second half
The Fighting Illini got their hands on the football first in the second half – and took full advantage of that possession. Quarterback Tommy DeVito scored his third touchdown of the day – rushing for two yards. That TD put Illinois up 21-10.
During the following kickoff, Wisconsin fumbled the ball – and Illinois recovered. After a four-play, ten-yard drive, Illinois kicked a 44-yard field goal through the uprights – for a 24-10 lead over Wisconsin.
SIGN UP TODAY: Get daily headlines, breaking news emails from FOX6 News
Illinois continued to put the hurt on Wisconsin about halfway through the third quarter. Running back Chase Brown ran a 49-yard touchdown to break this game open. With the extra point, the score was then 31-10 in favor of the Illini.
At the start of the fourth quarter, Illinois added to its already large lead – by kicking a 31-yard field goal. The score with 14:22 on the clock was 34-10 – the final. 
Wisconsin has beaten Illinois by a combined score of 69-7 over the last two seasons. Bielema posted 68-24 record as Wisconsin's coach from 2006-12 before leaving for Arkansas. Wisconsin is trying to bounce back after losing 52-21 last week at No. 3 Ohio State.
Associated Press contributed to this report.