Congrats! Milwaukee celebrates Giannis Antetokounmpo's MVP win
MILWAUKEE -- Milwaukee is celebrating Giannis Antetokounmpo's NBA MVP win and the Milwaukee County Transit System (MCTS) is along for the ride.

Starting Tuesday, June 25 all 400 buses in the fleet began flashing the words "CONGRATS GIANNIS!" on their display screens.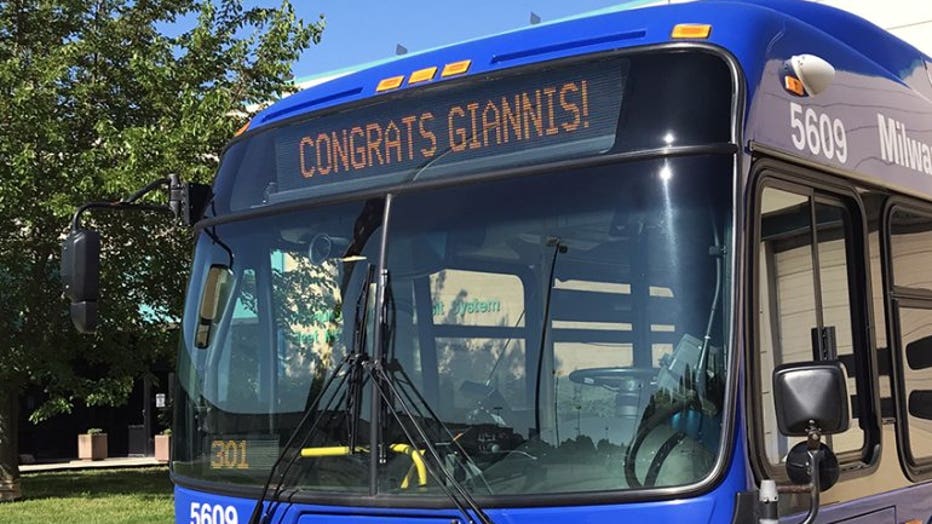 Milwaukee Bucks Head Coach Mike Budenholzer also took home NBA honors.

"Everyone at MCTS would like to congratulate Giannis as well as Mike Budenholzer — who was named NBA Coach of the Year, Jon Horst — who was named NBA Executive of the Year, and the entire Bucks organization for a great season," MCTS officials said.

Antetokounmpo joined Kareem Abdul-Jabbar as one of the two MVPs in team history. He went from an unknown late lottery NBA Draft choice in 2013, to the league's most valuable player in just six years.




The Greek Freak gave an emotional acceptance speech at the NBA Awards as he thanked his family for always being his biggest supporters.

"I want to thank the front office, the ownership, for believing in me when I was 18 years old back in Greece. They allow me to lead this team and trust me, and I want to thank Milwaukee," Antetokounmpo said.




The Bucks Pro Shop inside Fiserv Forum was stocked up with MVP gear. Fans can grab a Giannis Antetokounmpo MVP T-shirt and Friday, June 28 the shop will unveil more gear including a pennant, kooze, magnet, and lanyard.

Meanwhile, the Milwaukee Common Council issued this joint statement:

"We heartily congratulate Milwaukee Bucks star Giannis Antetokounmpo on winning the 2018-19 Most Valuable Player Award at last night's NBA Awards ceremony. Mr. Antetokounmpo is an inspiration for all Milwaukeeans, especially given his support and strong connection to his family, resilience in the face of hardship and passion for the game of basketball.

Giannis Antetokounmpo is the first Bucks MVP since Kareem Abdul-Jabbar during the 1973-74 season and is also the third-youngest player to win MVP in 40 years. Mr. Antetokounmpo rose from a childhood of poverty in Greece and now holds the NBA's biggest individual award, showing the power of hard work and determination.

In addition to honoring Mr. Antetokounmpo, the Common Council would also like to recognize the Milwaukee Bucks organization, as it has quickly become one of the top franchises in the NBA. This success is further highlighted by two additional awards won at last night's ceremony, with Mike Budenholzer winning Coach of the Year and Jon Horst receiving Executive of the Year. With these top-level leaders guiding the franchise, the future of the Milwaukee Bucks is bright.

We are immensely proud of Giannis Antetokounmpo and the Bucks, and we know they can bring an NBA Championship back to Milwaukee!"

Milwaukee County Executive Chris Abele issued this statement:

"Congratulations to Giannis Antetokounmpo, Mike Budenholzer and Jon Horst for sweeping the 2019 NBA Awards.

Giannis Antetokounmpo's toughness, his never quit attitude and his hard working style embodies what it means to be a Milwaukee Buck and what it means to be a Milwaukeean. With today's honor, Giannis will forever be enshrined as the MVP, but he earned his place in the hearts of Bucks fans long ago. From the 15th draft pick in 2013, to what he has done and what he is sure to become, Giannis' story, spirit and strength is an inspiration to us all.

With 60 regular season wins, a league-best record and the team's first divisional title in nearly 20 years, it is no question Coach Mike Budenholzer is this year's NBA Coach of the Year. He is a force to be reckoned with on the court, and a gentleman off it. Coach Bud was instrumental in pioneering the Bucks run to the Eastern Conference Finals this year, and is well on his way towards creating a dynasty here like none other.

Jon Horst has given his all to the Bucks for over a decade, and we are lucky to have him on board as we look to the future. Jon's ability to make tough decisions reflects his commitment to do what is best for the future of the organization, not what is easy. General Manager is an extraordinary and all-consuming role, and it is clear why the NBA picked Jon Horst as Executive of the Year.

I join all Wisconsinites in congratulating Giannis, Coach Bud, Jon Horst and the entire Bucks organization on this well-deserved recognition."

This message is intended for the sole use of the individual and entity to which it is addressed, and may contain information that is privileged, confidential and exempt from disclosure under applicable law. If you are not the intended addressee, nor authorized to receive for the intended addressee, you are hereby notified that you may not use, copy, disclose or distribute to anyone the message or any information contained in the message. If you have received this message in error, please immediately advise the sender by reply email and delete the message."