Bucks' Brook Lopez, Kings' Trey Lyles get into wrestling match at end of their game, both ejected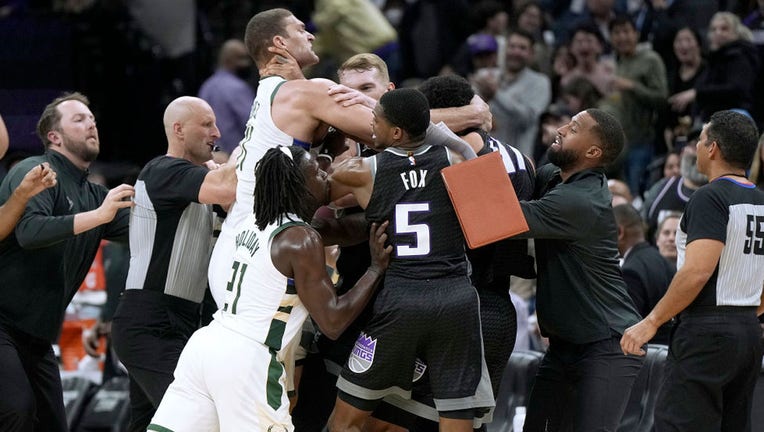 article
Milwaukee Bucks center Brook Lopez and Sacramento Kings forward Trey Lyles got into a wild scuffle at the end of their matchup on Monday night. Both players were ejected from the game with 15.4 seconds left.
The incident occurred when Giannis Antetokounmpo was trying to dribble out the clock, and he cut in front of Lyles. The Kings player tried to steal the ball away from Antetokounmpo and pushed him which drew a foul call. Lopez did not take too kindly to Lyles' actions and got in his face.
Lopez and Lyles locked up. The 7-foot center grabbed the 6-foot-9 forward's head. The two wrestled to the sideline before being split apart.
"I thought what that guy did to Giannis was cheap," Lopez said, via Sideline Sources. "He didn't need to do any of that stuff. He stepped up to Giannis a little bit as he walked off, and I didn't like that. I had my guy's back like I would have any of my teammates."
Kings guard De'Aaron Fox said all Antetokounmpo had to do was dribble the ball out.
"I think Fox said it pretty well," Lyles added, via the Sacramento Bee. "It could have been avoided if he just dribbled it out. If you watch, I'm just walking back with my head down. He crossed in front of me. … He sold it a bit. It was nothing personal."
Lyles said it takes a lot for him "to get out of character."
RELATED: Check out the new and improved FOX Sports app
"A lot of people probably say it was cheap since it was at the end of the game," Lyles added. "It's at the end of the game -- then why initiate it? If you're going to do that, then you need to be ready for the repercussions of it.
"I'm not saying it's right by any means, but what happened is what happened."
SIGN UP TODAY: Get daily headlines, breaking news emails from FOX6 News
The Bucks won the game 133-124. Lopez scored 23 points in the win.
The Associated Press contributed to this report.