Bucks beat Bulls, Giannis sets assists mark, hurts wrist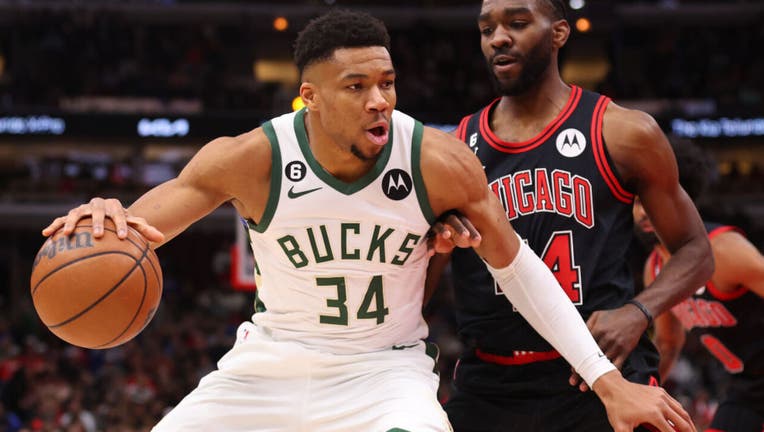 article
CHICAGO - Giannis Antetokounmpo broke Milwaukee's career assists record before leaving the game because of a sprained right wrist, and the Bucks won their 12th straight, beating the Chicago Bulls 112-100 on Thursday night.
Brook Lopez scored a season-high 33 points. Jevon Carter had 22, and Jrue Holiday added 15 points and nine assists.
RELATED: Check out the new and improved FOX Sports app
The Bucks were never seriously threatened. But Antetokounmpo's injury early in the second quarter cast a cloud over a team that appeared to have so much going for it heading into the All-Star break.
The two-time MVP was hurt trying to block a finger roll attempt by Chicago's Coby White after the guard drove past him. He jammed his wrist against the stanchion and stayed down grimacing in pain before heading to the locker room.
Antetokounmpo finished with a season-low two points and three assists, giving him 3,274 over 10 seasons to break Paul Pressey's record of 3,272 from 1982 to 1990. He also had seven rebounds.
Antetokounmpo matched the assists mark when he fed Lopez for a 3-pointer two minutes into the game and broke it when he passed to Carter for another 3 that bumped Milwaukee's lead to 19-10 in the first quarter. He also is the Bucks' career leader in blocks, triple-doubles, free throws made, free throws attempted and minutes.
Lopez made three 3-pointers. Carter hit four from beyond the arc, and the Bucks beat Chicago for the first time in three games this season.
SIGN UP TODAY: Get daily headlines, breaking news emails from FOX6 News
The Bulls lost their sixth in a row, their worst skid since dropping six straight in the 2020-21 season.
Nikola Vucevic had 22 points and 16 rebounds. Zach LaVine scored 18, and Patrick Williams had 16 points.
Both teams were missing stars, with Milwaukee's Khris Middleton managing a sore right knee that has kept him out for a big portion of the season and Chicago's DeMar DeRozan sidelined for the second time in as many nights because of a strained right quadriceps.