NBA All-Star: Jrue Holiday named Eastern Conference reserve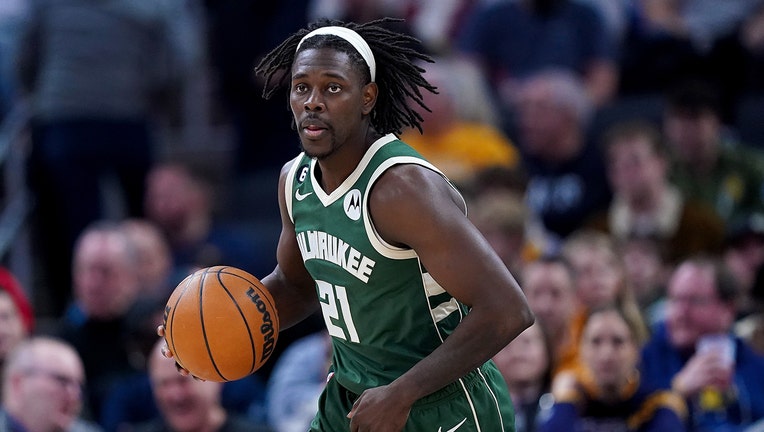 article
MILWAUKEE - Milwaukee Bucks guard Jrue Holiday on Thursday, Feb. 2 was named an Eastern Conference reserve for the 2023 NBA All-Star Game. 
Holiday joins teammate Giannis Antetokounmpo, who was named the Eastern Conference captain after being named to his seventh straight All-Star team last week.
It is Holiday's second career All-Star nod and first since 2013. Holiday is the 20th player in franchise history to be named an All-Star, with this being the fourth time in the last five seasons that the Bucks have had multiple players selected to the All-Star Game.
RELATED: Check out the new and improved FOX Sports app
In his 14th season in the NBA, Holiday is averaging 19.4 points, 7.2 assists (T-10th in NBA), 5.3 rebounds and 1.4 steals per game while helping the Bucks to the second-best record in the NBA. His scoring, assists and rebounding averages are all his highest marks in his three seasons with Milwaukee, while his 12 double-doubles in 40 games this season are already tied for the most he's had in a season in his time in Milwaukee.
Holiday has reached the 20-point mark 17 times this season, scoring 30+ points in four of those games, which included setting a new career-high in scoring in consecutive games on Jan. 16 (35 points) and Jan. 17 (37 points).
The 2023 NBA All-Star Game will be played in Salt Lake City on Feb. 19. The NBA head coaches selected the reserves for the 2023 NBA All-Star Game.
The rosters for the 2023 NBA All-Star Game will be determined through the NBA All-Star Draft, where the two team captains, Antetokounmpo and James, will select from the pool of starters and reserves in each conference and make their picks without regard to conference affiliation. For the first time, the NBA All-Star Draft will take place right before the game. 
The Associated Press contributed to this report.