NBA All-Star: Giannis Antetokounmpo voted to 7th straight game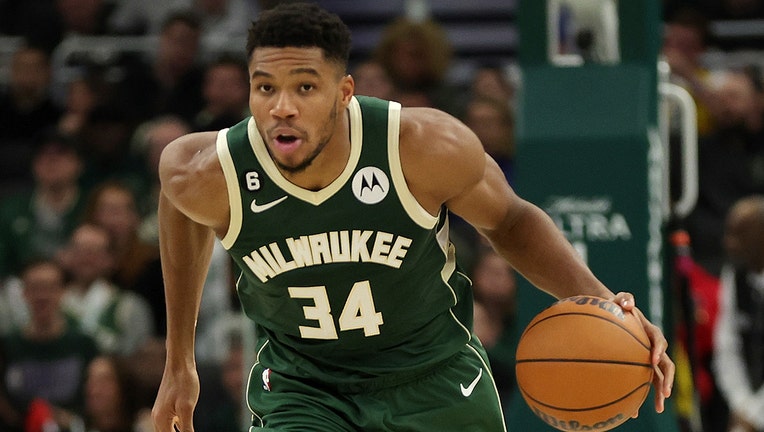 article
MILWAUKEE - Milwaukee Bucks forward Giannis Antetokounmpo has been named an Eastern Conference starter and captain for the 2023 NBA All-Star Game, the league announced Thursday, Jan. 26.
This marks Antetokounmpo's seventh consecutive All-Star selection dating back to 2017. It's the third time the 28-year-old has been named the Eastern Conference captain as the leading voting getter. He also won the superstar showcase's MVP award in 2021.
With his seventh All-Star selection, Antetokounmpo passes Kareem Abdul-Jabbar for the most All-Star selections in franchise history.
RELATED: Check out the new and improved FOX Sports app
The 2023 NBA All-Star Game will be played in Salt Lake City on Feb. 19. Fan voting counts for 50% of the starters balloting, a media ballot counts for 25% and the ballots turned in by NBA players count for the other 25%.
Reserves, selected by NBA coaches, will be announced on Feb. 2. 
Joining Antetokounmpo as starters for the 72nd NBA All-Star Game are Jayson Tatum (Boston), Kevin Durant (Brooklyn), Kyrie Irving (Brooklyn) and Donovan Mitchell (Cleveland) in the Eastern Conference and LeBron James (Los Angeles Lakers), Stephen Curry (Golden State), Luka Dončić (Dallas), Nikola Jokić (Denver) and Zion Williamson (New Orleans) in the Western Conference. 
The rosters for the 2023 NBA All-Star Game will be determined through the NBA All-Star Draft, where the two team captains, Antetokounmpo and James, will select from the pool of starters and reserves in each conference and make their picks without regard to conference affiliation. For the first time, the NBA All-Star Draft will take place right before the game. 
The Associated Press contributed to this report.