Brittney Griner re-signs with Phoenix Mercury
PHOENIX - Brittney Griner is headed back to the Phoenix Mercury.
Griner, who was a free agent, re-signed with the Mercury, the team announced on Feb. 21.
The 32-year-old Griner had said she would return to Phoenix in a social media post in December, after she returned home from her 10-month ordeal in Russia that included time in a Russian jail and ended with a dramatic prisoner swap.
The 6-foot-9 center last played for the Mercury in 2021 and helped the team reach the WNBA Finals. She averaged 20.5 points and 9.5 rebounds that season.
"It's a great day for all of us to announce that Brittney Griner has officially signed to play for the Mercury in 2023," said Jim Pitman, general manager of the Mercury. "We missed BG every day that she was gone and, while basketball was not our primary concern, her presence on the floor, in our locker room, around our organization, and within our community was greatly missed. We will continue to use the resources of our organization to support her, on and off the floor, and we are thrilled for her that she gets to return to basketball, which she loves so dearly. This is a special signing and today is a special day for all of us."
Griner was drafted No. 1 in 2013 by the Mercury.
On Saturday, the Mercury signed Diana Taurasi to a multiyear contract. The WNBA's all-time leading scorer has only played with the Mercury since being drafted No. 1 by the team in 2004.
The Associated Press (AP) contributed to this report.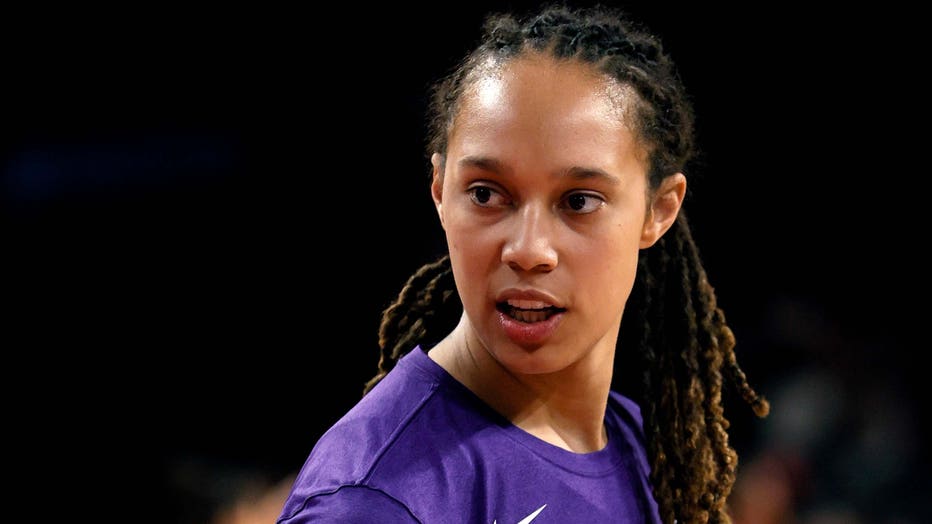 LAS VEGAS, NEVADA - SEPTEMBER 30: Brittney Griner #42 of the Phoenix Mercury warms up before Game Two of the 2021 WNBA Playoffs semifinals against the Las Vegas Aces at Michelob ULTRA Arena on September 30, 2021 in Las Vegas, Nevada. The Mercury defe (Photo by Ethan Miller/Getty Images)
More Brittney Griner headlines