50 protesters take a knee outside US Bank Stadium ahead of Vikings/Ravens game
MINNEAPOLIS  — Protesters kneeled outside of U.S. Bank Stadium before the Minnesota Vikings' game against the Baltimore Ravens.

About 50 people took part in the demonstration Sunday while the national anthem played inside the Minneapolis stadium. The protesters say they want to raise awareness about shootings by police officers.

Organizer Mel Reeves says the protest was not about the Vikings, the United States flag or the national anthem. He says they are "simply trying to bring attention to this national problem."

Reeves says the group plans to protest whenever the Vikings play at home.

Three police shootings in or near Minneapolis have drawn protests and widespread attention. Jamar Clark was killed in the city in 2015, Philando Castile in suburban St. Paul in 2016 and Justine Ruszczyk Damond in Minneapolis in July.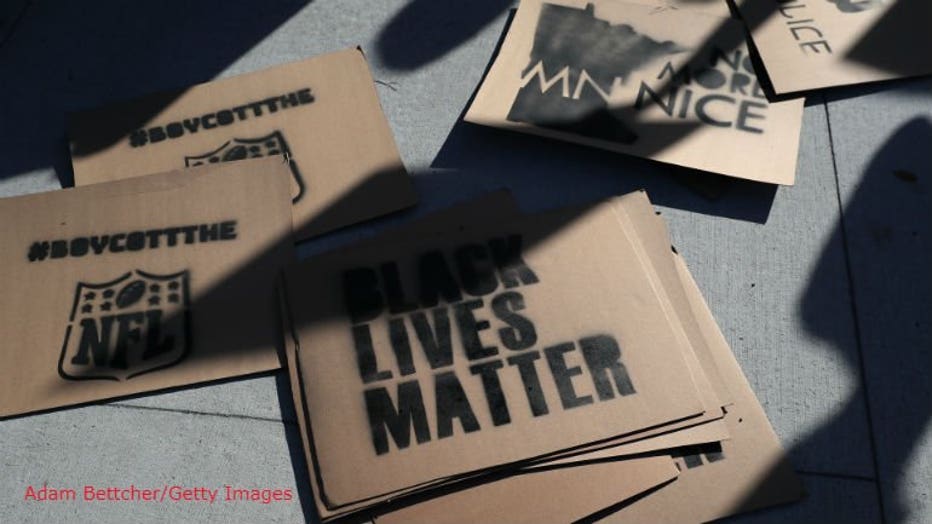 MINNEAPOLIS, MN - OCTOBER 22: Signs calling for an NFL boycott lay at the feet of demonstrators protesting police violence before the game between the Baltimore Ravens and Minnesota Vikings on October 22, 2017 at U.S. Bank Stadium in Minneapolis, Min