Wisconsin Supreme Court ends probe into Governor Scott Walker's 2012 recall campaign


MADISON -- The Wisconsin Supreme Court on Thursday, July 16th ruled to end a John Doe investigation into Governor Scott Walker's 2012 recall campaign. It is being called a landmark decision -- one that will change the way political campaigns are run in Wisconsin. It's also being called a victory for Governor Walker -- clearing his path for his presidential bid.

The Wisconsin Supreme Court put out a decision that says Walker's campaign did nothing wrong when it coordinated with conservative political groups during his 2012 recall campaign.

A group of Wisconsin prosecutors was looking into whether Walker broke state law in his 2012 recall battle by urging major donors to support his campaign by giving to outside groups without crucial donation limits he faced.

But Wisconsin's Supreme Court ruled 4-2 Thursday that the investigation was "overly broad" and infringed on First Amendment rights of free speech. The court's justices, who are elected every 10 years in statewide elections, split over the effect of a pair of recent federal rulings which opened the floodgates for money in federal campaigns.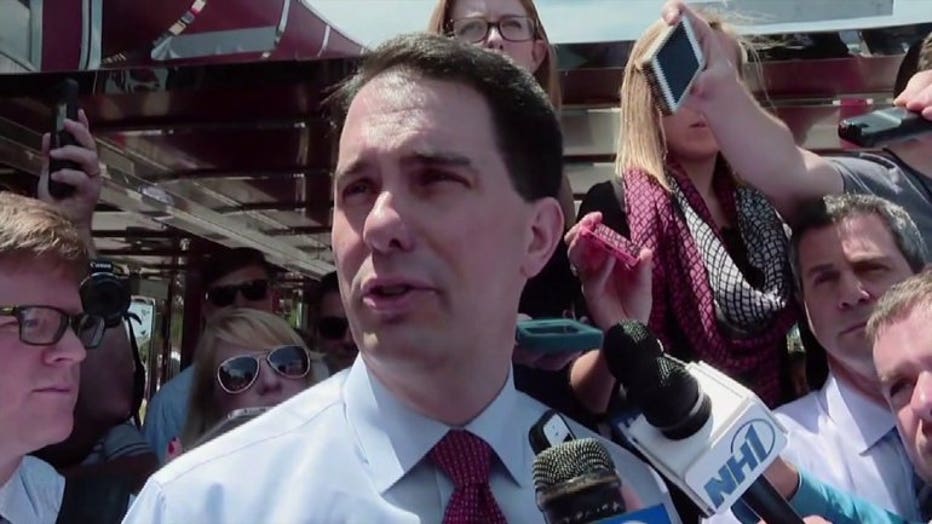 "We said all along that the courts would ultimately rule on the side of the original circuit court judge," Walker said Thursday, during a campaign stop in New Hampshire. "As folks in Wisconsin will tell you, I've gone through these battles so many times I don't get up or too down, I'm pretty even keeled on all this."

Conservative say this decision upholds free speech and a lower court ruling.

Critics say it rewrites campaign law in Wisconsin, and that the public won't know who is financially backing which candidates, and for how much.

The allegations that prompted the John Doe investigation with the help of the Milwaukee County District Attorney's Office focused on conservative political groups coordinating their efforts with the recall campaign, putting ads on the air supporting Walker's agenda without mentioning the candidate, and not having to report what they spent.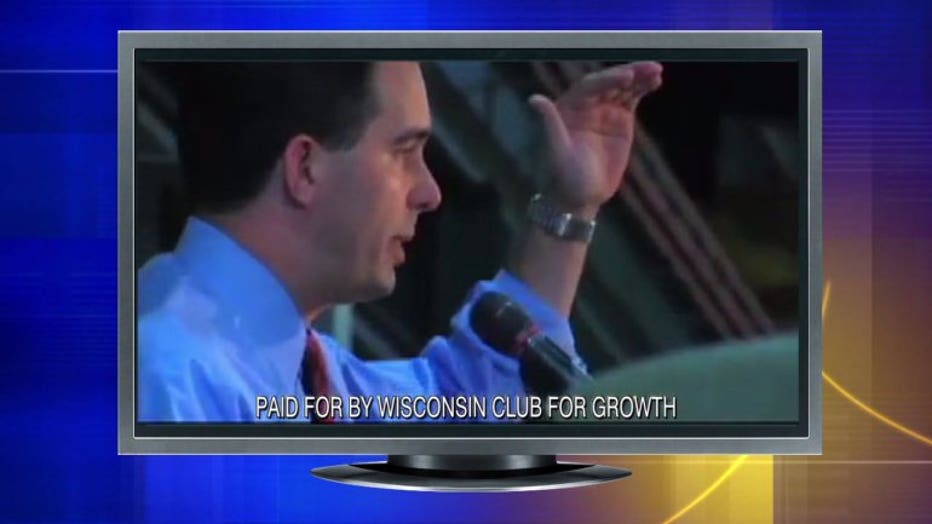 Scott Walker Wisconsin Club for Growth ad


"We don't know who is financially supporting the admonitions of our candidates and ultimately our public officials," Jeremy Levinson said.

Levinson is a political attorney representing, at times, the Wisconsin Democratic Party. He says the lengthy decision rewrites Wisconsin campaign finance law.

"Wisconsin at one time led the way -- so we know who is doing and giving financial benefit to campaigns of officials who ultimately become elected officials because with transparency, that can serve as a check for any kind of corruptive influence," Levinson said.

Conservatives say the decision allows groups to freely express their views on issues. In the decision -- harsh language for the aggressive John Doe investigation.

"The court made a bold statement in favor of freedom of expression. The sort of inclusion of everybody on one side and only one side of the political aisle made this an extraordinary and troubling part of Wisconsin history," Rick Esenberg, the founder and current president and general counsel of the Wisconsin Institute for Law & Liberty said.

Graves Garrett LLC issued this statement on the ruling in favor of the firm's clients, Wisconsin Club For Growth and Eric O'Keefe:

"We are grateful to Judge Gregory Peterson for his conscientious decision in this matter. By trying to criminalize campaign speech, Chisholm and the GAB not only made an attack on our clients' fundamental liberties but also did so in an outrageous overreach of the law.

Chisholm and the GAB abused their position and power to forcefully pursue fictitious theories that were intended as nothing more than a blatant attack on our clients' expression of free speech. In a manner that likened more of what you'd expect from a playground bully than a prosecutor, Chisholm and the Government Accountability Board were power hungry and acted as if they had ultimate authority with no threat of recourse from the courts.

In pursuing our clients, Chisholm and the GAB violated about one third of our nation's Bill of Rights, with tactics ranging from exercising search warrants at dawn and forcefully obtaining millions of emails and gigabytes of data from numerous parties, including individuals not even involved in the matter, to issuing dozens of subpoenas to advance their distorted theories. Chisholm and the GAB used their investigation into the Senate and gubernatorial recall elections as a way to publicly embarrass the conservative groups who were working on issue ads during the historic campaign.

We are pleased that the court agrees with the position we've maintained from the time Chisholm and the Government Accountability Board first alleged that our clients may have illegally coordinated their involvement in Gov. Scott Walker's recall campaign and support for his policy agenda."

The Wisconsin Government Accountability Board issued this statement:

"The Government Accountability Board was not a party to the cases decided today; however, the Court accepted an amicus brief filed by the Board.  The Board is making this statement because it is charged with administering and enforcing Wisconsin's campaign finance law.  The Government Accountability Board will review the court's decision to ensure that its administration and enforcement of the law are consistent with the decision as the agency moves forward.

Today's Wisconsin Supreme Court decision reverses a longstanding interpretation and application of campaign finance law that has been followed by the former State Elections Board and the Government Accountability Board since the U.S. Supreme Court's Buckley v. Valeo decision in 1976.  It also reverses a 1999 Wisconsin Court of Appeals decision that backed the state's interpretation of the law, which the Board has relied on in its advisory and enforcement decisions.

In light of recent federal court decisions, in January of this year the G.A.B. unanimously passed a resolution requesting that the Legislature undertake a comprehensive review and revision of Wisconsin's campaign finance law.  The Board also suggested that the best approach to this endeavor would be through the establishment of a Legislative Council study committee.  Today's decision reinforces the need for that comprehensive review.

Now that this challenge to the law has been resolved, the Government Accountability Board is prepared to work with the Legislature to bring clarity to the campaign finance statutes consistent with the Court's decision."

Assembly Speaker Robin Vos has issued this statement:

"We now know that prosecutors and the Government Accountability Board led an illegal John Doe probe that threatened free speech rights. In light of the findings and the discovery of the relationship between the GAB director and an IRS official, the citizens of Wisconsin have the right to know what laws are being broken behind closed doors at the very agency that is supposed to ensure accountability in government and elections.

Today I am requesting that the Wisconsin Department of Justice commence an investigation of the Government Accountability Board.

The Legislative Audit Bureau and the courts have found that the GAB has disregarded state law and played by its own rules.  The ruling today shows a massive misuse of taxpayer dollars on what turned out to be an unlawful abuse of power.

Moving forward, our citizens must have confidence in their elections and ethics agency.  That's why this fall the legislature will begin making comprehensive reforms in three important areas.  We will move forward on Rep. Dave Craig's reforms to the John Doe laws; we will reform the GAB, led in the Assembly by Rep. Dean Knudson; and we are working with Rep. Kathy Bernier to rewrite the state's ambiguous campaign finance laws, Chapter 11 in Wisconsin statutes.

While Wisconsin citizens should celebrate this victory for free speech today, we shouldn't back down.  We must get answers and do all that we can to rebuild this broken system so that no one can find a means to undermine free speech again."

Senator Leah Vukmir (R-Wauwatosa) issued this statement:

"The Wisconsin Supreme Court's John Doe ruling is just the latest example of the pervasive unaccountability and out-of-control actions that define the current regime at the GAB.

Sen. Tom Tiffany's John Doe reform bill is an important step toward improving the John Doe process in Wisconsin.  I look forward to having a vote on this important legislation during the fall floor period.

The mechanics of a John Doe investigation are clearly not the greatest threat to political speech in Wisconsin.  Once again the GAB, its rogue executive director Kevin Kennedy, and their disinterested board of retired judges find themselves at the center of an unraveling and unjustifiable legal theory.

When paired with the revelations of the recent Wall Street Journal article, it is clear the GAB is more interested in attempting to silence political speech than performing its statutory duties.  As I said last week, suppression of speech and ideas is not the answer to any question in a free society.

I look forward to the forthcoming debates over both political speech and the GAB.  During each debate, I remain committed to ensuring that state government, through its various arms, continues to enforce the rule of law while maintaining an environment that allows robust political speech from multiple perspectives."

Rep. Joe Sanfelippo (R-West Allis) issued this statement:

"The Supreme Court ruling is a major victory for freedom of speech and expression. These are freedoms that are outlined in our founding documents and have been around since the birth of our country. When an oppressive government becomes destructive to these ends, it is our God-given right to alter or abolish it.

Our Founding Fathers went to great lengths to shape a government with limited powers. The shameful process initiated by the Milwaukee County district attorney and aided by the state Government Accountability Board proves our present John Doe laws subvert that intention and threaten the liberty of our citizens.

I call on legislative leaders in the state Senate and the Assembly to advance Rep. Dave Craig's and Sen. Tom Tiffany's proposals, Assembly Bill 68 and Senate Bill 43, to reform the John Doe laws. These bills will put an end to similar abuses in the future by making substantive changes to the John Doe process while ensuring the protection of citizens' civil rights."

Senator Tom Tiffany (R-Hazelhurst) and Rep. Dave Craig (R-Town of Vernon) issued this statement:

"Today, the Wisconsin Supreme Court made the right decision in shutting down the John Doe.  The investigation which the Supreme Court noted was:  "unsupported in either reason or law," reviewed whether coordination took place between a number of conservative groups and the recall campaign of Governor Walker.  From pre-dawn, paramilitary style raids to a sweeping disregard and disdain for target's First Amendment rights, this investigation was conducted under a cloak of darkness using secrecy and intimidation against witnesses and targets.

Last February, we introduced Senate Bill 43 (Assembly Bill 68) that maintains John Doe as a tool for prosecutors but adds a number of important safeguards.  In light of what was leaked and reported on regarding the John Doe investigations, we felt that the process needed much greater accountability and transparency.  Our bill does just that by mirroring the secrecy laws of the Federal Grand Jury, limiting the secrecy orders to the judge, law enforcement, prosecutors and court staff.  Our bill puts a 6-month time limit on the proceeding which can be extended in unlimited 6-month increments by a vote of a majority (6 of 10) of the chief judges in the ten judicial administrative districts in the state.  A majority vote of these chief judges is also required to expand the scope of the proceeding.  We ensure that records reflecting the cost of  John Doe proceeding are publicly available, limit the circumstances under which a judge can appoint a special prosecutor and require notice be given to return property.  We are extremely pleased that the Supreme Court's ruling demands the return of all seized property.  We find it reprehensible that personal property unrelated to the investigation, including that of minor children, was seized.

We renew our call on legislative leaders to immediately schedule Senate Bill 43 and Assembly Bill 68 when the Legislature convenes its fall session.  While justice may have been served at long last on those unnamed petitioners in today's ruling, unfortunately there are several others who do not have the means and the opportunity to pursue a rigorous defense when battling similar circumstances. Finally, we are committed to unearthing the motivation behind these investigations and look forward to working with our legislative colleagues to ensure all Wisconsinites know the full details behind this unlawful dragnet."

Wisconsin Manufacturers & Commerce (WMC) President/CEO Kurt Bauer issued this statement:

"WMC is very pleased that the Wisconsin Supreme Court ruled today in favor of constitutionally protected free speech and association. It sends a clear message that the law will not tolerate government officials who abuse their vast powers and unlimited financial resources to harass and intimidate a select group of law abiding citizens and organizations.

The Court's decision today brings a final and unequivocal end to this seemingly never ending investigation of entities engaged in lawful grassroots lobbying and participating in the state's political debate.

The Wisconsin Legislature must move quickly to enact laws that protect and affirm the free speech rights of independent groups and others, and to ensure that the prosecutorial and regulatory abuses evident in this John Doe investigation never happen again in our state. Taxpayers deserve to know how much of their money was wasted on this unlawful and unconstitutional investigation, and the targets deserve an apology from the prosecutors and GAB regulators who have violated their rights."

Wisconsin Attorney General Brad Schimel issued this statement:

"This closes a divisive chapter in Wisconsin history, and the assertive recognition of First Amendment rights by the Wisconsin Supreme Court protects free speech for all Wisconsinites. The Court's decision leaves no doubt that the John Doe investigation is over."

Senator Van Wanggaard (R-Racine) issued this statement:

 "Today's Supreme Court decision shutting down the renegade Government Accountability Board's theory of campaign finance laws is a complete victory for free speech.  But there is still work to do.

The literally lawless action by the GAB requires that we replace the GAB and its leadership. The GAB is meant to enforce the existing laws, not to create new ones, and not to  advance criminal theories to meet their partisan goals. Any semblance of their alleged impartiality is completed eroded.

While this John Doe investigation has ended, we must prevent similar abuses in the future for all citizens. The John Doe laws must be reformed to protect civil rights, including the first and fourth amendment, and allow oversight into the John Doe Process.

Finally, as now three courts have noted, Wisconsin's campaign finance laws are a jumbled mess. Chapter 11 must be updated to reflect the current jurisprudence on the subject. While today's decision provides clarity in one area, all participants in our political process should be able to look at the statute and know what the law is. "

Jay Heck with Common Cause Wisconsin issued this statement:

"As expected, a highly compromised Wisconsin Supreme Court majority has issued a highly flawed decision today ending the John Doe investigation of possible illegal coordination between Governor Scott Walker and his 2011-2012 recall campaign with outside special interest groups. The decision should be appealed to the United States Supreme Court.

Unless it is successfully appealed, the decision could conceivably now lead to unlimited coordination between outside spending groups with candidate committees and effectively render contribution limits meaningless in Wisconsin. Unlimited money, much or most of it secret and from outside of Wisconsin, could now flow into Wisconsin and be coordinated by candidates with outside groups to influence the outcome of our elections. Wisconsinites would be relegated to the sidelines watching helplessly as unlimited, secret special interest money dictates the outcome of our elections and seizes complete control of our state government.

No federal court decision has ever permitted the type of candidate-outside group coordination that this completely compromised ruling seems to permit. Four of the justices of the court were the beneficiaries of dark money spent in their behalf and which was the heart of this case. They should have recused themselves and did not. The decision can and should be appealed.

Furthermore, by halting the investigation, Wisconsinites and the rest of the American people will never know if Scott Walker and his campaign engaged in illegal activity during 2011-2012 – information that is vital for the future of the state and nation."
CLICK HERE to read the Supreme Court of Wisconsin's opinion in this case
CLICK HERE for further coverage of the two "John Doe" investigations involving Governor Scott Walker