Wisconsin Gov. Walker, challenger Evers hold final debate


MILWAUKEE— Republican Wisconsin Gov. Scott Walker and Democratic challenger Tony Evers sparred over a host of hot-button topics during their second and final debate Friday, Oct. 26 with the election just more than a week away.

The debate was held at the University of Wisconsin-Milwaukee.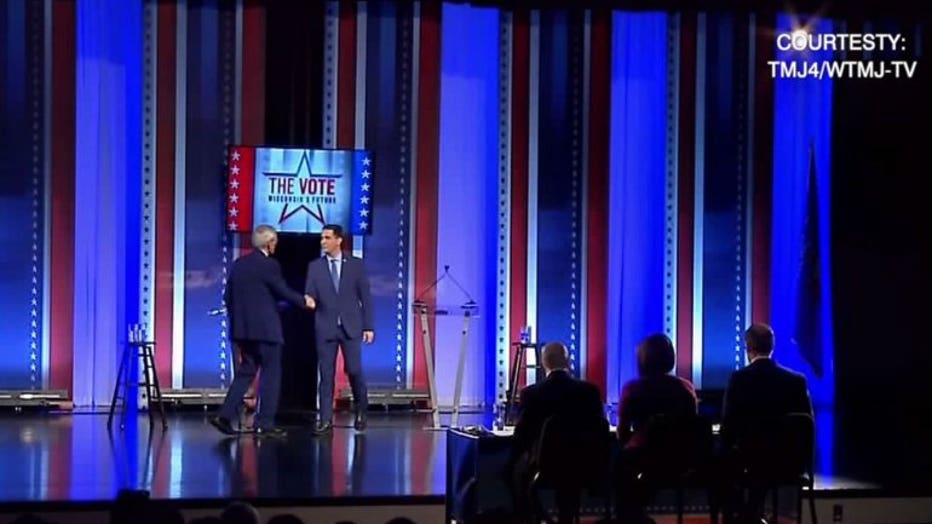 "Scott Walker has been a typical politician where he has put himself ahead of the state -- by the way I am not running for president," Evers said.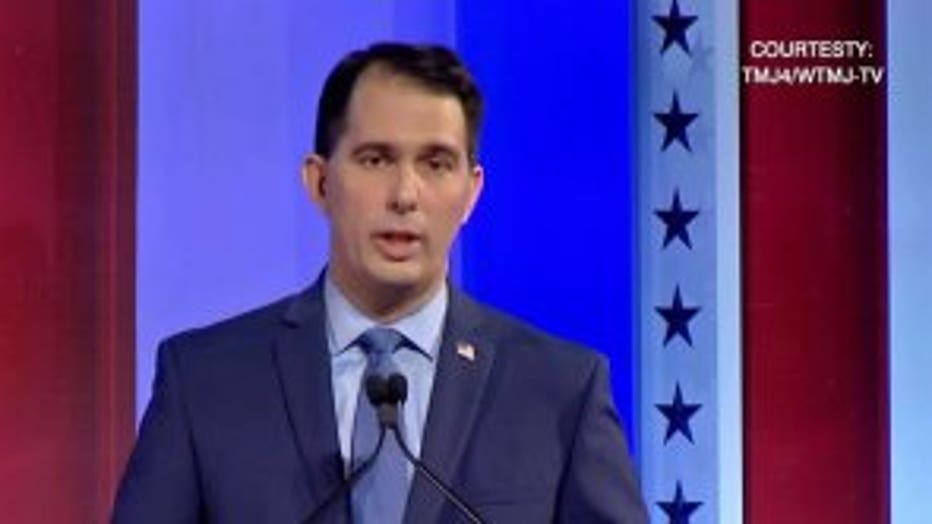 "Tony talks about these ideas, we've actually delivered them," Walker said.

Meeting for their second and final gubernatorial debate before the election, nearly out of the gate Evers slammed Walker for passing on federal money for healthcare.

"He didn't take the medicaid money that the federal government provided. That is $1.1 billion that was left on the table," Evers said. "And it there is the reason it is cheaper in Minnesota than Wisconsin it is because we didn't take that medicaid money.

"His plan to do what Minnesota did, his plan when they first did it premiums actually went up," said Walker.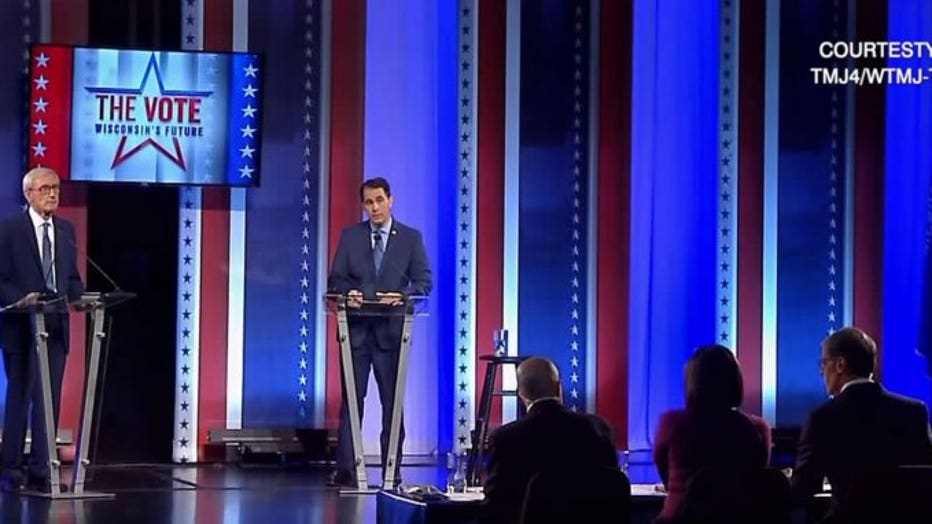 As for higher education, Gov. Walker says he helped get costs under control.

"Remember the decade before our freeze? Tuition went up 118% for six straight years we've frozen tuition," Walker said.

"Scott Walker has taken $250 million out of the University of Wisconsin System," said Evers.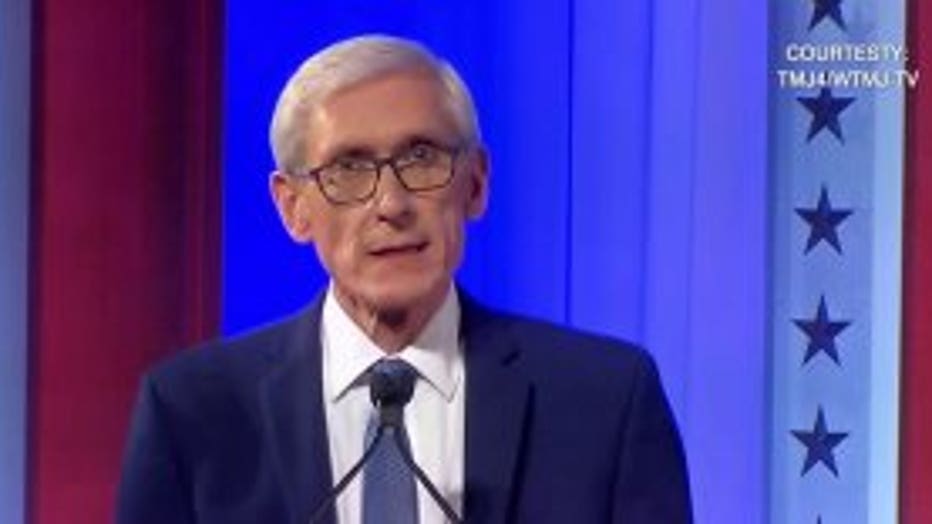 One of the most heated campaign issues during the debate: transportation.

Evers says attack ads making claims he wants to raise the gas tax by as much as $1 are a lie.

"I never said $1 a gallon would be a solution. It's a diversion. It's diverting attention from a very important issue here," said Evers.

"We've got to have a transportation policy that is on the table right now. Not one where people say we'll wait to inauguration day just believe him and suddenly taxes will be just fine. If I'm a tax payer, I'm worried about Tony Evers being the governor," said Walker.

"Let's talk about Governor Walker's bad policy about transportation -- 44th in the nation. Forty-four out of 50. That's a bad deal for everyone," said Evers.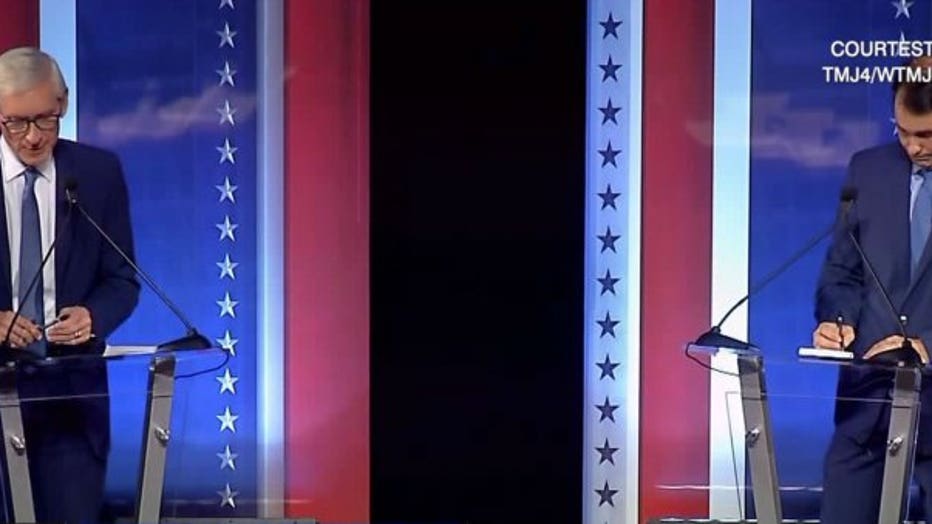 More takeaways from the debate:

IMMIGRATION

The issue blew up after both Evers and Walker touched on it in their first debate, with Walker running a television ad accusing Evers of wanting "special treatment for illegals." Walker has been inconsistent in his approach to immigration, once calling for a path to citizenship for people here illegally, then taking a harder line stand during his run for president.

The ad didn't come up, but moderators asked the governor why children of immigrants in the country without legal permission shouldn't be allowed to pay in-state college tuition. Walker responded that the United States is a country of laws and federal law doesn't allow for in-state tuition for people in the country illegally and other states that do charge in-state tuition are violating the law.

Evers said he supports in-state tuition for children of parents in the country illegally as well as providing such immigrants with driver's licenses.

DEEPENING DIVISIONS

Both candidates were asked how they would bring all their constituents together in a political climate that has grown so bitter a Florida man was arrested Friday for sending explosives to Democratic and liberal-leaning figures. Evers said no one should have to fear for their lives when they speak about issues and he would seek "common ground." Walker reminded the audience his family was threatened during protests over his signature law that essentially removed collective bargaining power from public workers and he tried to heal the rift by having a beer-and-brats barbecue at the governor's mansion with Democrats after the law passed.

EDUCATION

The moderators limited the discussion on schools and colleges, asking each candidate pointed questions. Walker was asked how he would close the high school graduation gap between white and black students. He said he wants to get as many students into youth apprenticeships as possible so they have hope for a career. He also claimed his union restrictions saved Wisconsin schools more than $3 billion but Evers wants to undo them. Evers was asked whether voucher schools need new standards, referring to state subsidies for private school student tuition. Evers said the program needs transparency and property tax bills should show how much money goes to the program. Evers also slipped in a quick jab at Walker, accusing him of cutting $250 million out of the University of Wisconsin System. He called for the state to contribute more to the system, saying that will enable the system to lower tuition.

THE ECONOMY

Evers said he wants to raise the minimum wage to $15 an hour by the end of his first term. He also took a shot at the unprecedented $3 billion Republican incentive package for a massive Foxconn Technology Group flat-screen plant in Racine County, saying the state needs a 72-county approach rather than a "hail Mary pass" for one part of the state. Walker wasn't given a chance to respond directly and was instead asked how he'd help commuters get to work. He responded that his administration has been giving grants to companies to make transportation connections, saying they must be working because Wisconsin unemployment rate has been at or below 3 percent for the past eight months.

"SCOTT-HOLES"

Evers renewed his attacks on Walker for not finding a way to increase revenue for road repairs, saying the governor's refusal to raise the gas tax has led to more borrowing and interest payments for taxpayers while roads deteriorate.

"We can no longer have 'Scott-holes' all across the state of Wisconsin," Evers said.

Walker pushed back, noting Evers has said he's open to raising the gas tax but won't say by how much.

"Tony has said everything's on the table," the governor said. "But he's not going to tell you what it is. I'm a taxpayer. I'm worried about Tony Evers being governor."

CLIMATE CHANGE

Asked how to mitigate the effects of climate change, Evers said he would restore scientist positions that Republicans cut from the state Department of Natural Resources. Walker said a combination of things is causing climate change and human action is part of what he called "a larger puzzle." Most scientists agree burning fossil fuels has increased greenhouse gases and caused global warming.