Wisconsin DHS: COVID-19 cases up record 5,935; deaths up 54
MADISON, Wis. - The Wisconsin Department of Health Services (DHS) on Wednesday, Nov. 4 reported 5,935 additional COVID-19 case -- the largest single-day case increase to date -- raising the total number of confirmed cases in the state to 244,002.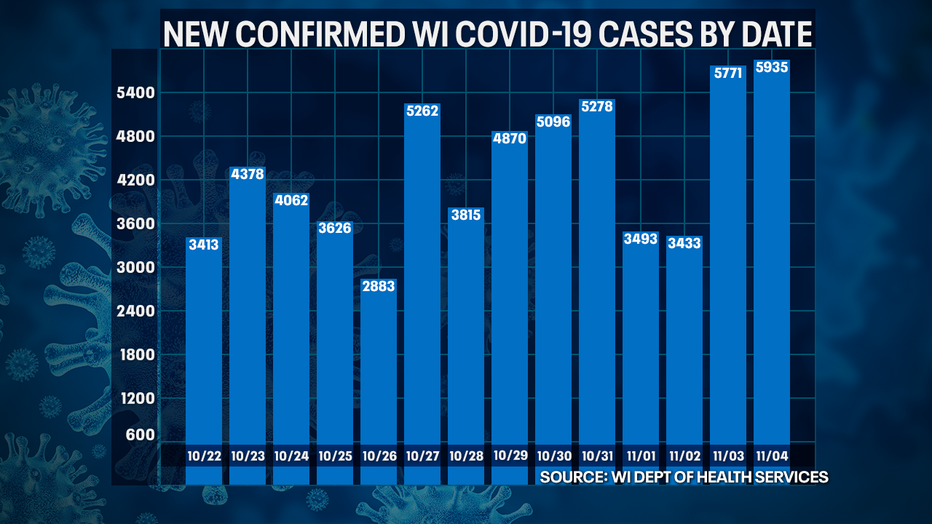 Previously, the most cases reported by the DHS in a single day had been 5,771 on Tuesday, Nov. 3. 
The DHS also reported 2,156 coronavirus-related deaths to date -- an increase of 54 from Tuesday.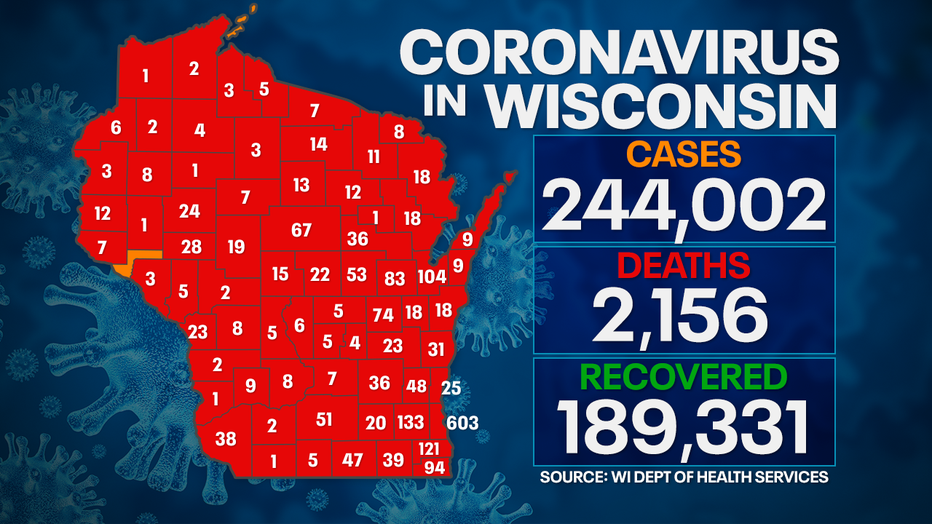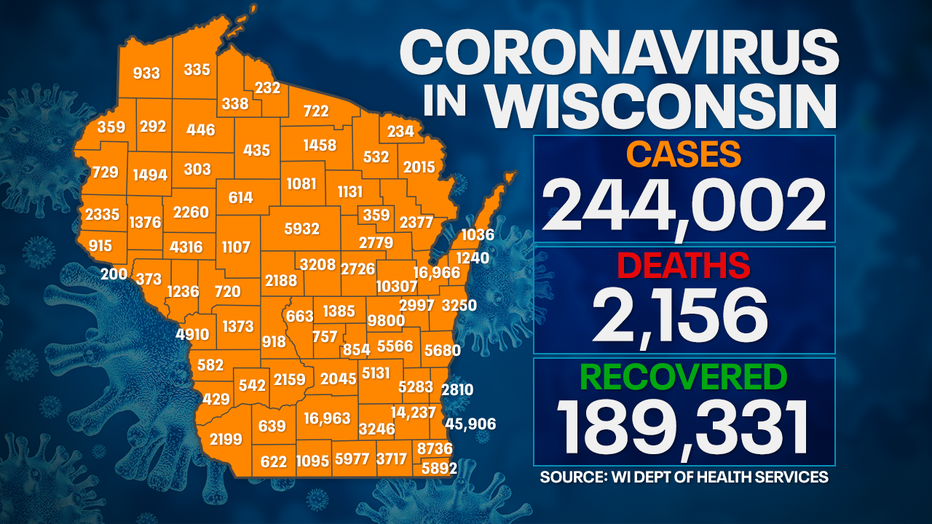 Among those who have tested positive, 12,807 have required hospitalization (5%) and 185,241 have recovered according to the DHS (77.8%).
There are seven patients at the alternate care facility at Wisconsin State Fair Park, as of Tuesday. There are 50,689 active COVID-19 cases in the state (21.3%).
FREE DOWNLOAD: Get breaking news alerts in the FOX6 News app for iOS or Android.
More than 2.1 million people have now been tested for COVID-19 in Wisconsin, of which more than 1.8 million have tested negative.
The UW System has received 250,000 rapid tests to help with the big spike in COVID-19 cases across the state and to bolster testing that is already taking place.
The parking lots at Miller Park are normally filled with cars on a big game day.
"Since we've opened, the last few weeks, we've been consistently busy," said Celia Shaughnessy, public health Miller Park site director.
The lines are not for celebration, but something much more important.
"We want people to come in to make sure they don't become spreaders inadvertently," said Shaughnessy.
More than 2,000 people have been tested at the site daily for COVID-19. As cases surge in the state, sso do the number of people passing through.
On Wednesday, another record was set, with close to 6,000 people testing positive for the coronavirus and 54 people dying. 
It's putting a strain on health care systems across Wisconsin.
"Right now, with the spread of the virus, our resources are stretched and we don't want them to be stretched too thin," said Dr. Jeff Bahr, chief Aurora Medical Group officer.
Dr. Bahr said hospitals are feeling the impact of the surge, but are able to keep up.
"We're still able to provide a high level of care even in the midst of this surge," said Dr. Bahr.
Health officials worry as the spike continues that won't be the case.
"This is a marathon, not a sprint and we're not giving up any time soon," said Dr. Bahr.
Testing will begin at UWM Tuesday, Nov. 6 and is expected to continue for six weeks. They expect to test 1,500 people a day.
Resources to keep you informed about COVID-19
CLICK HERE to view the Milwaukee County COVID-19 dashboard.
CLICK HERE to view the latest COVID-19 totals (updated daily at 2 p.m.) from the Wisconsin Department of Health Services.
CoronavirusNow.com: A Fox Television Stations initiative to provide you with the most up-to-date national and international news on COVID-19.Helpful phone numbers
Symptoms: Reported illnesses have ranged from mild symptoms to severe illness and death for confirmed coronavirus disease 2019 (COVID-19) cases. These symptoms may appear 2-14 days after exposure (based on the incubation period of MERS-CoV viruses).