"We're trying to get to 'yes:'" State lawmakers close to securing arena funding plan


MADISON -- After meeting for much of Tuesday afternoon, July 14th, leaders in the Wisconsin Senate say they still do not have enough votes to pass a bill to fund a new arena for the Milwaukee Bucks. However, lawmakers hope to get there on Wednesday -- because time is running out.

Senators from both parties are trying to find 17 "yes" votes. That's the amount needed to pass an arena funding plan.


"I can say we're trying to get to 'yes' really hard. So you'll know as soon as we get the votes. Right now, we don't have them," said St. Sen. Alberta Darling.

Republicans say they will need the support of Milwaukee Democrats in order to approve $250 million in public funding for the arena.

Senator Chris Larson (D-Milwaukee) says he's in.

"I'm coming out in favor of the Bucks deal. I had one major piece I wanted to see changed and that changed," Senator Larson said.

That piece Larson wanted to see changed was a plan to get $80 million from Milwaukee County through the collection of unpaid debt.

"For me, just looking at the numbers and the way they add up, I think the optics of it just looked horrible," Senator Larson said.

"He can't say it's taken out. It's still fluid and we hope to put the pieces together to get the number of votes. That's what we have to do," Senator Darling said.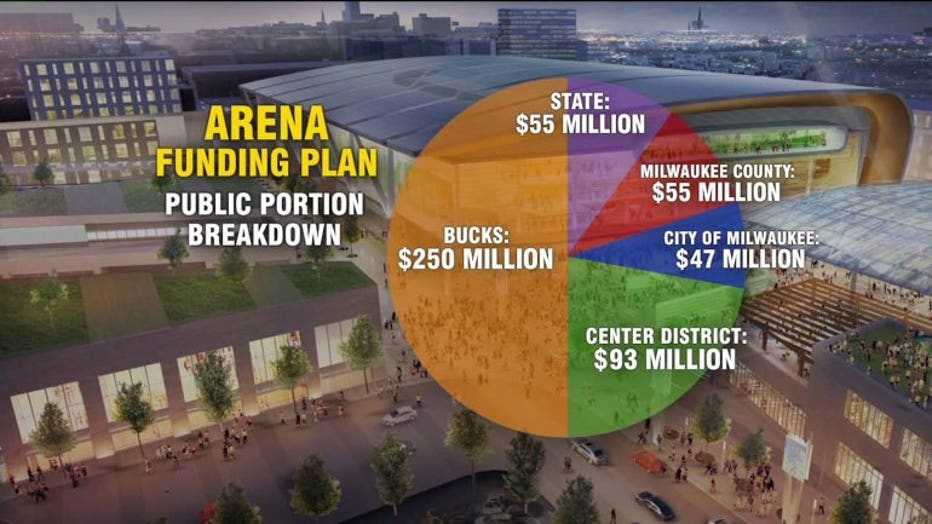 Bucks arena funding proposal


Sen. Darling says Republicans are exploring changes to the county portion of the deal as well as a controversial plan to bond $93 million through the Wisconsin Center District. That's a plan that, on its own, would cost taxpayers more than $200 million after interest.

"I'm not trying to be coy -- I'm just trying to say nothing's poured in concrete at this point," Senator Darling said.

Another possible change to the arena funding proposal would be using money from a ticket surcharge to help fund the project. There's already a ticket surcharge in place at the BMO Harris Bradley Center.

"Any increase in ticket price is a detriment to the fan, the end user, and it is a tax and it`s incremental and if we can keep that off, it benefits the end user, which is important," Bucks President Peter Feigin said.

Feigin says to those upset with the idea of public funding for pro sports teams -- that this project is much bigger than a single building.


"This is about building an environment where people work, live, and play. And that's much different than just building an arena. So we understand we've got to spur economic development and we've got to transform this entire place," said Feigin.

Lawmakers in both parties say they support that transformation. Now, it's about finding a fair way to pay for it.

"I would say I'm probably gonna be one of the easiest Democrats to get to yes," said Larson.

"We have to have the votes and we don`t have the votes right now. I'm an optimist. I hope we get to a yes. This is a very important decision for our whole state," said Darling.

It is possible the Senate will vote on an arena funding deal Wednesday -- but only if the votes are there.

Senators on both sides of the aisle say the process will get more difficult if there's no deal by Thursday. That's Senator Paul Farrow (R-Pewaukee)'s last day -- and Farrow supports the arena deal. His successor, Rep. Chris Kapenga (R-Delafield) said.

NBA Commissioner Adam Silver said Tuesday he, too is optimistic a vote could come soon.

"I would say (the Bucks leaving Milwaukee and moving to Las Vegas) is not realistic in the short term.  We are hopeful that the vote, which I understand is taking place (Wednesday) in Wisconsin, will go in favor of the Milwaukee Bucks and that team will stay there for a long time.  So while we love the Las Vegas market and I said earlier I think we've become a large part of the summer economy here my hope is that that team is not going to relocate."



Meanwhile, MillerCoors and We Energies officials joined leaders of local labor unions to speak out in support of a new Bucks arena in downtown Milwaukee on Tuesday.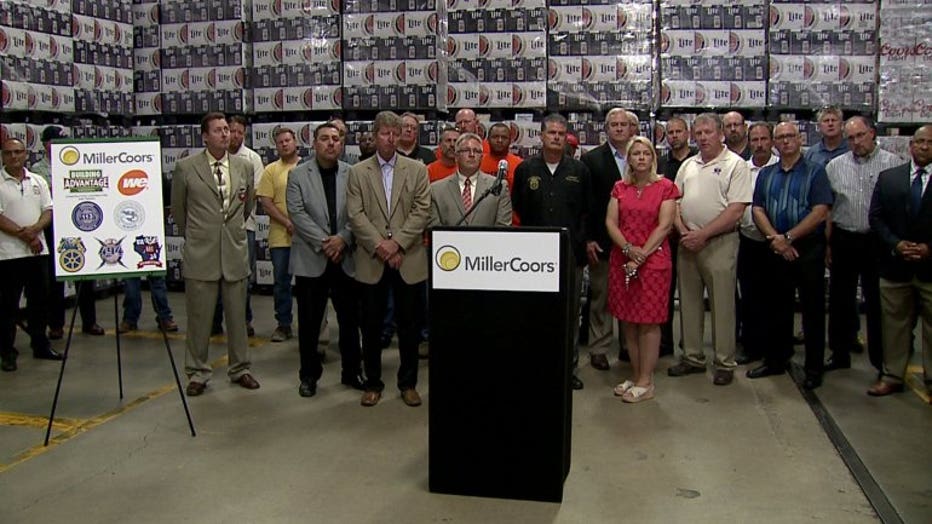 MillerCoors officials, others pledge support for Bucks arena


Job creation was a popular theme, as this group said this project will create life-long, sustaining, family-supporting careers.

They also said that the time for playing politics is over, and that this deal needs to get done.

"We got the best damn partner anybody could ask for. You're complaining about billionaires. I think these billionaires for coming to Milwaukee and invest in our city and people are complaining about that? Shame on you. Step up to the plate. You're a leader. Act like one and let's get this deal done," Ken Kramer, the executive director of Building Advantage said.

This group also said if Milwaukee loses the Bucks, the NBA wouldn't ever think about coming back.