"We need them to come forward:" FBI offering reward in Sparkle Foods shooting that injured 11-year-old girl


MILWAUKEE (WITI) -- A reward is being offered for information in the shooting that occurred at the Sparkle Foods store near Hopkins and Keefe on Father's Day evening, June 15th. 11-year-old Makayla Criss was shot in the leg while shopping in the store, during an attempted armed robbery. Police say two people entered the store and opened fire.

The FBI is offering a $5,000 reward in this case.

Investigators say this crime was exceptionally violent, and the FBI has decided to offer a reward because the shooting happened inside a commercial building.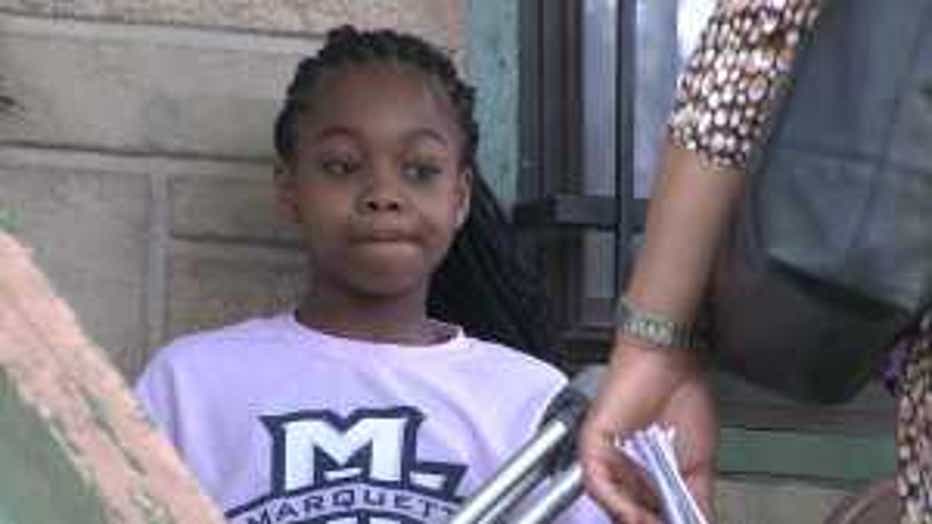 Criss' mother says she's thankful the reward is being offered.

"I'm glad. I`m appreciative of it," Tamika Criss said.

Since the shooting, Milwaukee police have been trying to determine who the masked men are that are responsible.

Now, the FBI is involved -- offering a $5,000 reward for information leading to an arrest.

For Tamika Criss, the incentive serves as a glimmer of hope a break in the case will come soon.

"That -- good, maybe someone will talk, should talk. It's not a lot of money but it's enough. Maybe if someone just tells to get these two guys locked away, that will be good," Tamika Criss said.

Makayla Criss was shot in the thigh when two people opened fire in the store that was crowded with customers -- including several children.

Tamika Criss says she hopes the incident has shaken the community enough that someone will speak up.

"We need them to come forward and tell what they know. This is the time where all that 'no snitching' and things need to be put off to the side and somebody needs to tell on them, honestly," Tamika Criss said.

After the shooting, Makayla Criss told FOX6 News she is physically and emotionally scarred for life.

"I'll be scared to go to the store forever," Makayla Criss said.

Though nothing may bring back this little girl's sense of security, the apprehension of the persons responsible could calm some worries for Makalya and her neighbors.

"Everyone is on pins and needles right now because there are so many shootings that`s happening. She won`t be totally eased but she will be eased that those two are caught," Tamika Criss said.

Makayla Criss still has a long road to recovery ahead of her. She is still healing, and will have surgery in about six months to remove the bullet fragments from her leg.

If you have any information in this case, you are asked to call the FBI at: 414-276-4684.