Power restored for 204K, outages could last for some until Saturday
MILWAUKEE - We Energies continued work to restore power on Thursday, Aug. 12 after Tuesday's storm left tens of thousands of customers in the dark. 
Late Thursday, a company spokeswoman said power had been restored to more than 204,000 out of 225,000 who lost power since Tuesday's storms. 
There is good news for those waiting for the lights to come back on: Most should have power restored by Friday. However, some could be waiting until Saturday afternoon – five days after the storm hit. We Energies says by the end of the day Friday, they expect to have restored more than 95% of all customers. By noon on Saturday, they expect to have restored or crews will be working on all customers capable of receiving service impacted by Tuesday's historic storms.
At Humboldt and Vienna in Milwaukee, one large tree fell, smashed a van's windshield and blocked the street. It only knocked out power to one building but created another challenge on the dead-end street.
"God forbid you'd need a firetruck or ambulance come down the street. No one would get in or out. It's been that way until now," resident Frank Prio said. "It's nice to see everybody come out and rescue us."
The building is one of a thousand single outages that We Energies continues to deal with. Each restoration can take up to two hours.
"We are throwing everything we can at this recovery effort. All resources, no expense spared," said Tim Metcalfe, We Energies president.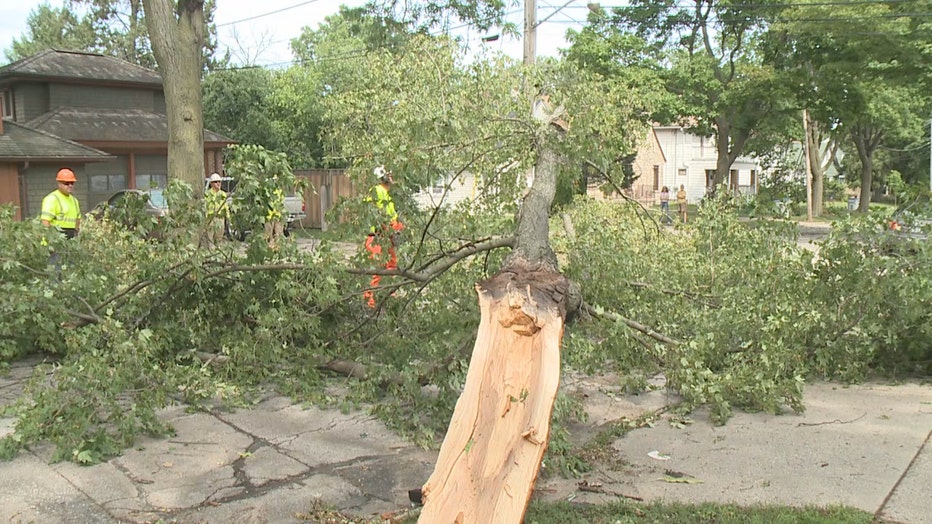 Tree down near Humboldt and Vienna
We Energies prioritizes hazards first, then main lines that feed to the largest number of customers. The bulk of the work they are doing right now is on one-to-one outages – such as the one near Humboldt and Vienna.
"We have to clear each of those hazards before we can put that main line back in," Metcalfe said.
FREE DOWNLOAD: Get breaking news alerts in the FOX6 News app for iOS or Android.
A thousand utility workers, some helping from out of state, are working 16-hour shifts or more.
"We are working as hard as we can. Be patient," said Steve Cain, a We Energies line mechanic.
In Brookfield, hundreds were still in the dark Thursday afternoon. One homeowner had a sign out front warning of a downed line and a backup generator raging in the driveway. Trees littered front yards.