"We didn't buy this company to close it up:" Komatsu Mining Corp. says it's committed to Milwaukee


MILWAUKEE -- Executives from Komatsu Mining Corp., a newly formed company that makes mining equipment on Milwaukee's south side, said they're committed to their operations in the city.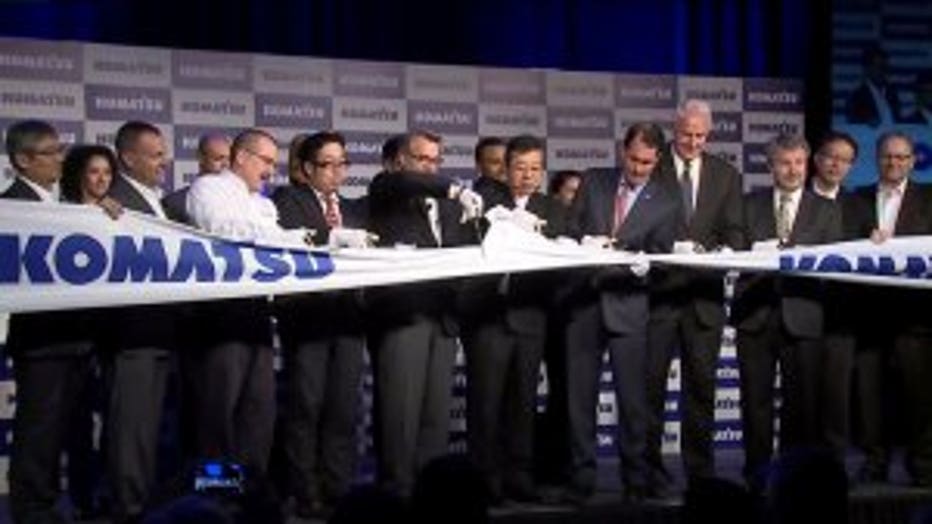 Gov. Scott Walker and Mayor Tom Barrett joined Komatsu Ltd. executives cut a ribbon on Monday, May 8th in a large tent at the company's facility on West National Avenue.

In April, Komatsu announced it was acquiring Milwaukee-based Joy Global. The company employs 1,000 people in Milwaukee.

"These kinds of mergers always produce some anxiety and concern going forward, but we didn't buy this company to close it up," Jeffrey Dawes, Komatsu Mining Corp.'s chief executive, told reporters at a news conference. "Quite the contrary. There's huge experience here, more than 100 years worth. We want to capitalize on that and make it grow."

Caley Clinton, a spokeswoman for Komatsu, said the company didn't have a target number of Milwaukee-based employees. It may take up to three years to integrate Joy Global into Komatsu, Dawes said.




Joy Global made a series of layoffs, including the elimination of 130 jobs in 2016 at the facility where the ribbon cutting took place Monday. Walker didn't say if Komatsu executives had given any assurances that the newly formed company would begin reversing those layoffs.

Komatsu sees the Milwaukee workforce as a "remarkable asset," Walker told reporters.

"The fact that Komatsu is making this kind of commitment, this kind of investment, I think is a reflection on the quality of the work done here, and on the men and the women who make some of the best products in the world every single day," Walker said.

Dawes said he and other members of the Komatsu Mining Corp. executive team would be based in Milwaukee. Dawes said he has rented an apartment that overlooks Lake Michigan.

Barrett said the acquisition of Joy Global was the largest acquisition in Toyko, Japan-based Komatsu's history.

"I believe the decision was made because of you; because of the workers of this company who have served it for many, many years," Barrett said at the ribbon cutting in front of hundreds of employees.