"We are devastated by this news:" Andean bear diagnosed with cancer at Racine Zoo
RACINE -- A bear residing at the Racine Zoo has been diagnosed with a type of oral cavity cancer.

The Racine Zoological Society announced Friday, June 5th Andean bear named Hallie has oral squamous cell carcinoma. This comes after her routine dental exam.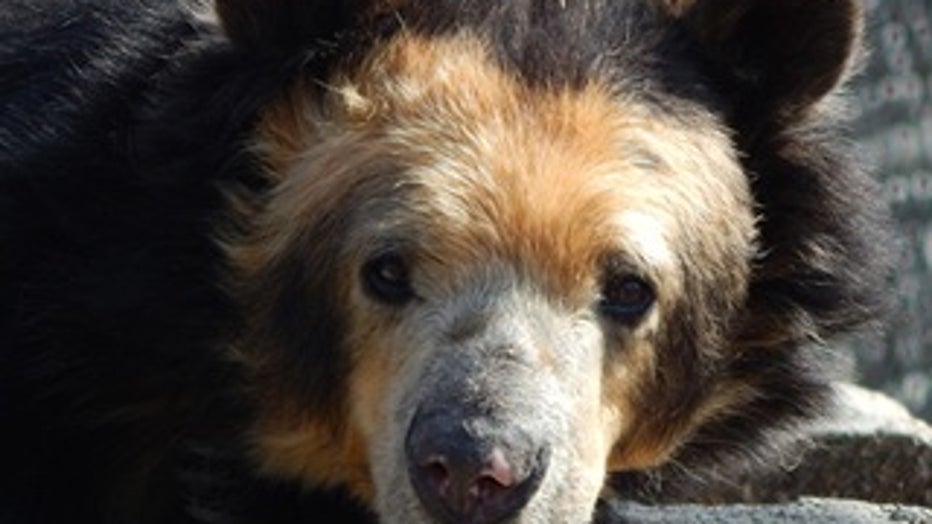 The Zoo's veterinary team noticed something not quite right with the tissue surrounding a tooth and an area surrounding her jawbone. Results from tissue samples to the lab indicated oral squamous cell carcinoma.

"We are devastated by this news. Unfortunately, cancer does not discriminate. It's common for animals to be diagnosed with cancer especially as they get older. Hallie is a wonderful animal and it never gets easier when we get this type of news," said Curator of Conservation and Animal Care, Theresa Donarski.

The Zoo veterinary team consulted with the Special Species Health Services of University of Wisconsin Service on June 2nd to discuss possible treatment options.

It was determined surgery to remove the cancer was not possible as it would require surgeons to remove Hallie's entire lower jaw, making reconstruction impossible.

After careful consideration, Zoo staff decided against surgery and will ensure she has a good life for as long as possible, whether two days or two weeks, and as long as she is not in pain.

"Our staff takes this type of news very personally. Hallie is 29 years old which surpasses an Andean bear's average lifespan under human care which is from 22 to 25 years. I think that's a testament to the care she receives under their care," said Executive Director, Beth Heidorn.

The Racine Zoo acquired Hallie in May of 2004 from Sedgewick County Zoo in Witchita, Kansas but she was born at Lincoln Park Zoo on January 14th, 1986.

Hallie will remain off exhibit but guests are welcome to visit Diamond, the Zoo's male Andean bear.