Waukesha P.D.: 3 officers on paid administrative leave in wake of officer-involved shooting


WAUKESHA -- Waukesha Police Chief Russell Jack fielded questions on Monday morning, January 25th in relation to an officer-involved shooting that happened late on Sunday.

Chief Jack told reporters a suicidal man was shot and injured by three different police officers before he was taken into custody, and transported to Waukesha Memorial Hospital.

This all began just before 9:00 p.m., when the City of Waukesha's Emergency Communications Center received a call from a woman reporting that her boyfriend was drinking alcohol, and was very depressed.

The woman reported her boyfriend has a history of suicide attempts and he was in possession of a firearm -- possibly an AR-15, that she said was under his futon. She advised she was concerned because he had hung up on her, and he was not answering her calls.

Officers responded to the home on Douglass Avenue for a welfare check.

PHOTO GALLERY



The woman called dispatch a second time, and advised that she had spoken with the man and he informed her that he was going to reach under his futon and put a bullet in his head.

The woman told dispatch the man lived in the home on Douglass Avenue with his elderly mother.

Officers near the man's home advised that he could be seen with a rifle. Police say he could be seen aiming the rifle at responding officers. Police say the rifle was "observed to have some form of an optic," that was described as a "green laser."




Police say the man disregarded officers' commands to disarm, and "displayed deadly behavior."

Three officers were forced to use deadly force -- shooting in order to stop the threat, police say. The man then fled with the rifle. He was taken into custody less than a block from officers' initial contact with him. The rifle was located with him and recovered by officers.

No officers were hurt in this incident.

Officers immediately began life-saving measures on the suspect, as he had observable gunshot wounds. The Waukesha Fire Department took over life-saving measures and the suspect was taken to the hospital. It is believed that he will survive.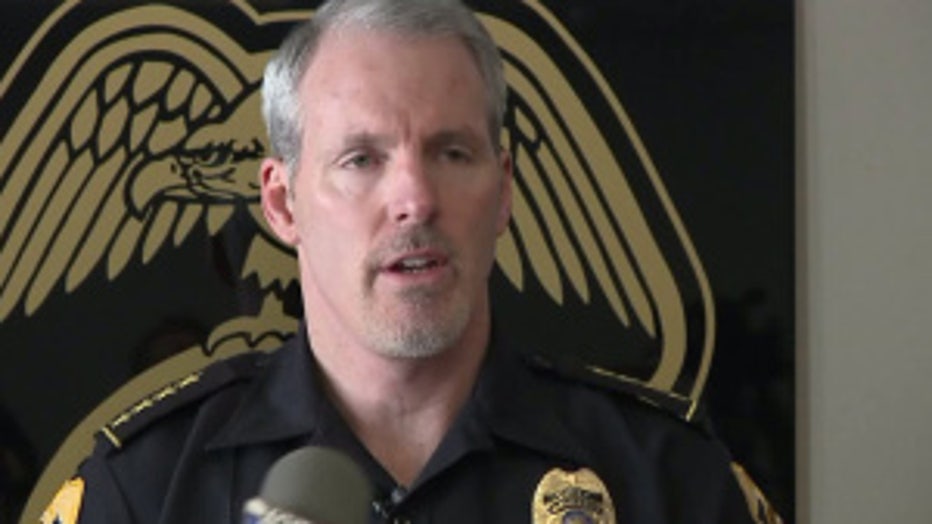 Waukesha Police Chief Russell Jack


Chief Jack indicated on Monday morning that a citizen was struck in the leg by debris from this incident. That person was treated by officers, taken to the hospital and later released.

No names of the persons involved in this incident are being released at this time. However, Chief Jack said the experience of the officers involved ranges from two years to four years of service. They are all on administrative leave -- which is standard procedure.

Chief Jack said based on preliminary information in the case, he believes the officers acted within station policy -- as they risked their lives to protect the public.

The Wisconsin Department of Justice's Division of Criminal Investigation is handling the investigation into this officer-involved shooting.

The suspect in this case is expected to face charges in the coming days.

Monitor FOX6 News and FOX6Now.com for updates on this developing story.