Water main break near I-94 and Hawley flooded roadways, closed ramps, damaged vehicles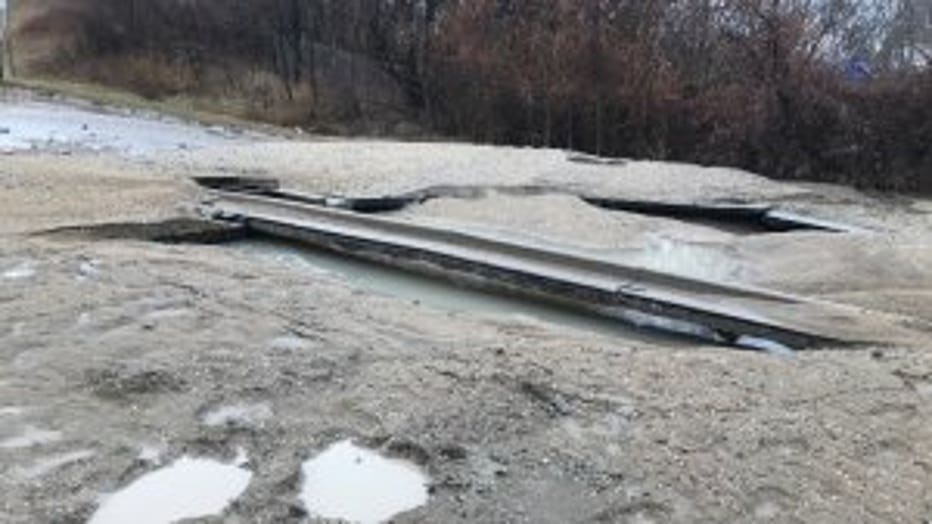 Road damage from water main break near 60th and Hawley


MILWAUKEE -- Milwaukee police and repair crews responded to a water main break near I-94 and Hawley Road Saturday, Dec. 28.

"I was woken up abruptly by, 'Look out the front window,'" said Holly Stenshaug. "Rushing water. Couldn't even walk out the front door."

Water started rushing into the roadway, prompting some to evacuate near 60th Street and Dixon Street.

"Probably five minutes and the entire thing looked like a pool," said Stenshaug.

Water in the Stenshaug's basement reached about six inches deep.

"We've got a couple friends and family coming over," said Stenshaug. "They are going to help us pump it out and then we are going to go through everything in the basement."

Crews with the City of Milwaukee's Department of Public Works closed off a valve and cleared storm drains, and the flooding subsided.

City crews did not clear drains where they didn't have jurisdiction, including a privately-owned parking lot at an apartment complex where it appeared more than a dozen vehicles were flooded.

"Early in the morning, I wake up to go out, and when I see the parking lot, it's full of flood, and so I just came out -- 50 minutes later, the water had moved rapidly and in all these places, and yeah, so the first thing I did is to move my car," said Dereje Siyam, neighbor. "Some of the cars are full of water."




Police said in an update around 3:15 p.m. officers were no longer on scene, but Hawley Road from Siegfried Place to Dana Place, along with the on- and off-ramps from I-94 to Hawley Road would be closed until further notice.




DOT cameras captured flooding in the area near the I-94 overpass at Hawley Road.

Water was eventually restored to the area around 10 p.m. Saturday.

The cause of the break is still being determined.

PHOTO GALLERY