Walker activates National Guard in wake of officer-involved shooting, subsequent violence


MILWAUKEE -- Governor Scott Walker activated the Wisconsin National Guard in the wake of a fatal officer-involved shooting in Milwaukee on Saturday, August 13th, and violence that followed.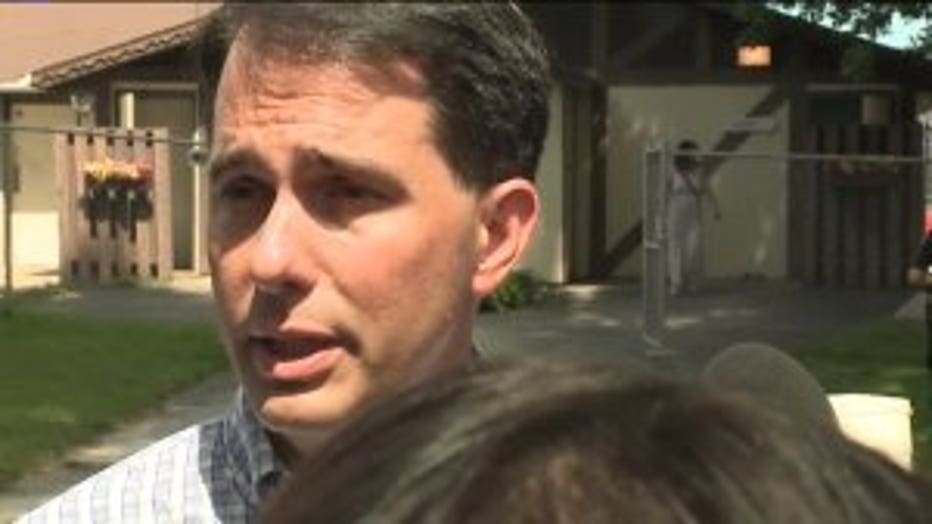 "Specifically, what this means initially is that 125 members of a Rapid Response Team -- there's a component of that rapid response that's 125 members that are of the 32nd Military Police Company. Those individuals are trained for not only a military standpoint, but they also have a law enforcement background. They were activated Sunday. They're being called up to one central site. That'll take awhile and then they'll receive several hours of training that includes rules of engagement, what their specific assignments will be if called upon and then our intention is late (Sunday night), early into the morning, they'll be stationed at an armory here within the Milwaukee area. They would be available upon request from either or the Milwaukee Police Department or the Milwaukee County Sheriff's Office. Again, our intention is that they're not immediately coming over to be on the ground or on the streets, but they would be available at this site if a request was made," Walker said in Glendale Sunday.

Walker made the announcement during a previously scheduled "Blue Day" rally in Glendale Sunday. He was joined by Milwaukee Police Association president Mike Crivello, Milwaukee Alderman Bob Donovan and others.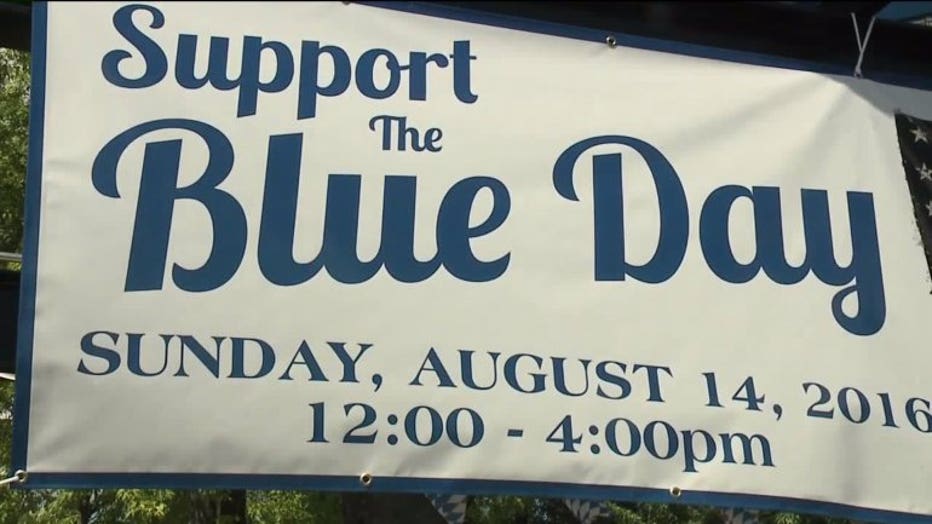 The pro-police event took on a different meaning in light of the events on Saturday.

"I think if there is any time that this city needs to come together and show support for for police and show support for law and order, it's now. The actions (Saturday night) are not at all reflective of the overwhelming majority, the silent majority of Milwaukeeans who care deeply about law and order," Alderman Donovan said.

What happened Saturday night and Sunday morning changed the tone of the otherwise casual outdoor event at a beer garden in Glendale.

"We are fortunate that we have such professional officers. They truly do care. They are going to go into the worst neighborhoods we have in this city and they are going to do the best job that they possibly can. Let me highlight the fact that any time an officer utilizes use of force, he is forced to do so by the perpetrator," Crivello said.

The initial request for National Guard activation was made by Milwaukee County Sheriff David Clarke. After speaking with Clarke, Milwaukee Mayor Tom Barrett and the Milwaukee Police Department, Walker approved the activation.

Walker issued the following statement Sunday:

"Following a request from Milwaukee County Sheriff David Clarke, and after discussions with Milwaukee Mayor Tom Barrett and Adjutant General Donald Dunbar, I have activated the Wisconsin National Guard to be in a position to aid local law enforcement upon request.

I commend the citizens who volunteered in clean-up efforts this morning. This act of selfless caring sets a powerful example for Milwaukee's youth and the entire community. I join Milwaukee's leaders and citizens in calling for continued peace and prayer.

It is also important for citizens to know that Wisconsin is the first state in the nation to have a law requiring an independent investigation anytime there is a shooting by a law enforcement officer that leads to a death. I will not comment on the specifics of the case as it is now under this investigation. I do, however, hope people will give law enforcement the respect they deserve for working so hard to keep us safe."

CLICK HERE to read the executive order.

Angry crowds took to the streets in Milwaukee on Saturday night to protest the shooting death of an armed man by a police officer hours earlier, identified by Milwaukee Police Chief Ed Flynn as 23-year-old Sylville Smith.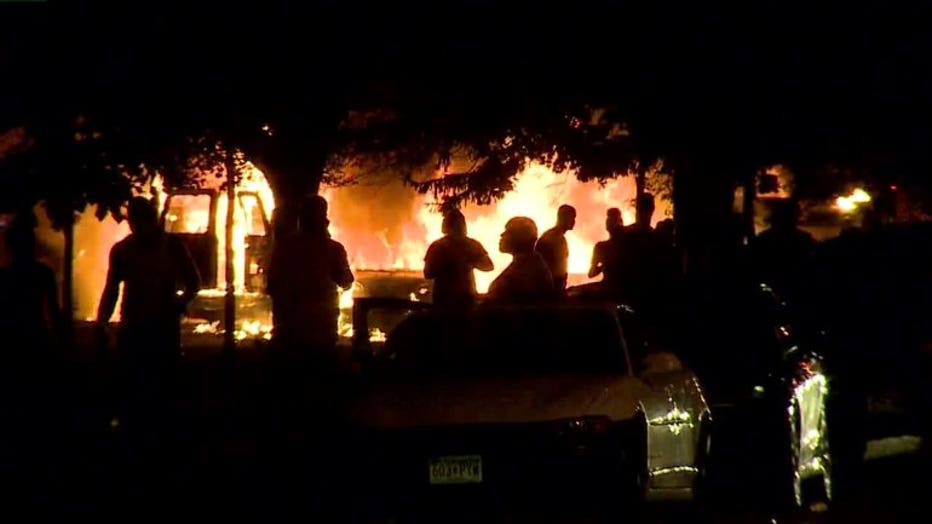 Fire burns at gas station near Sherman & Auer in Milwaukee


Protesters burned several stores and threw rocks at police in the city's north side. A total of six fires were set, and four officers were hurt. They were treated and released. Seven squad cars were damaged, and there were a total of 48 "Shot Spotter" shots fired activations.

17 arrests were made Saturday night and Sunday morning, police said.

PHOTO GALLERY



The incident started Saturday afternoon when two officers stopped two people who were in a car in the north side, according to the Milwaukee Police Department.

"I was advised it was a suspicious stop. This vehicle was behaving in a suspicious manner. It's a rental car as it turns out. We've not ascertained its status as to whether or not it was lawfully rented or stolen," Milwaukee Police Chief Ed Flynn said Sunday afternoon.

Shortly after, both car occupants fled on foot as officers pursued them, police said.

During the chase, an officer shot one of the two -- a 23-year-old man who was armed with a handgun, according to authorities.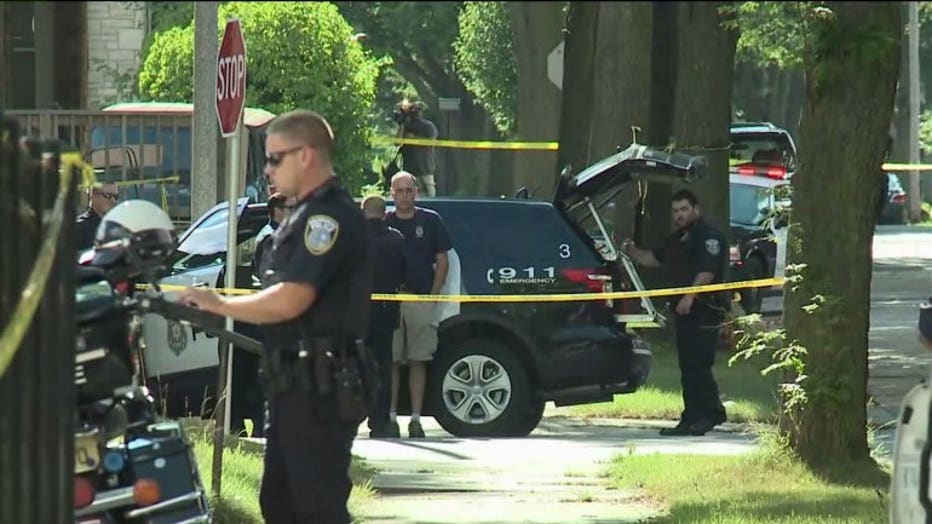 "He (officer) ordered that individual to drop his gun, the individual did not drop his gun," Milwaukee Mayor Tom Barrett said. "He had the gun with him and the officer fired several times."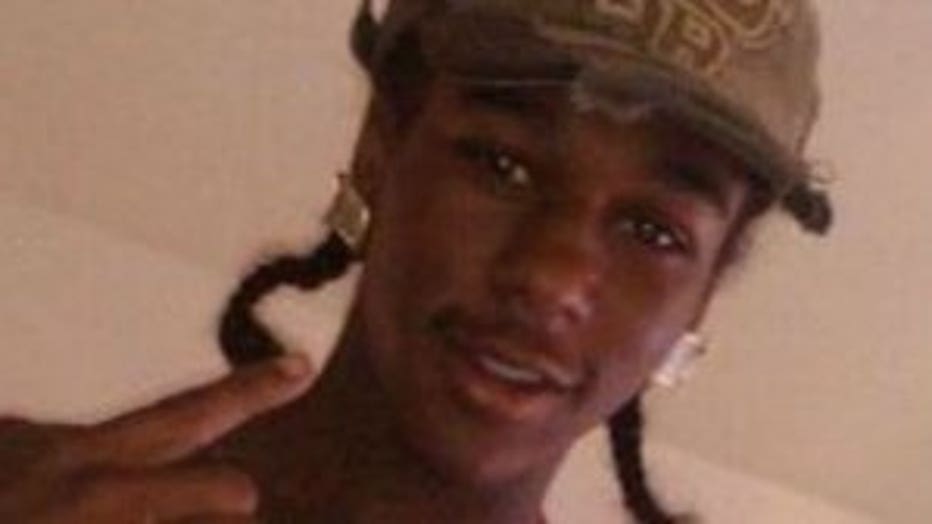 Sylville Smith died at the scene. It's unclear whether the second occupant of the car is in police custody.

Smith was shot twice -- in the arm and chest, the mayor said. His handgun was stolen during a burglary in Waukesha in March, according to police.

"The victim of that burglary reported 500 rounds of ammunition were also stolen with the handgun," police said in a statement.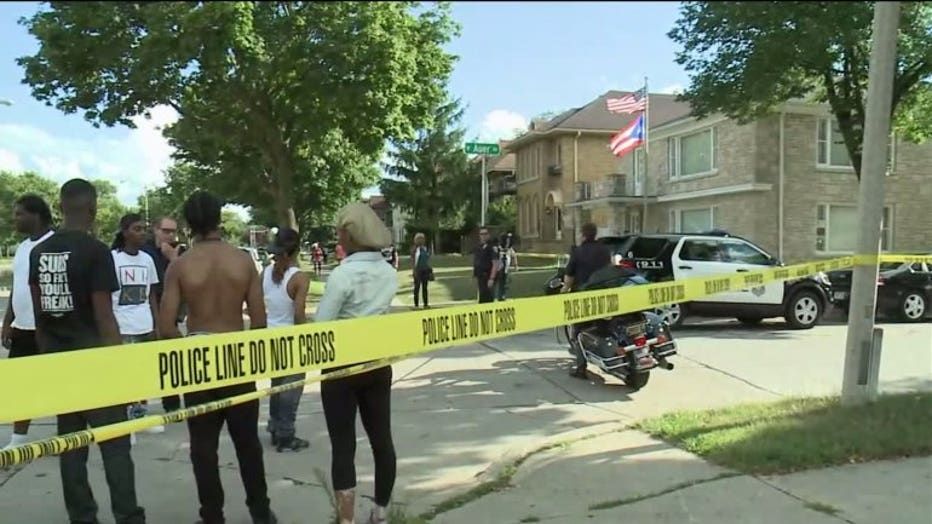 The officer, 24, was assigned to District 7 and has six years of service with the Milwaukee Police Department -- three of those as an officer.

He was not injured and will be placed on administrative duty during the investigation and subsequent review by the district attorney's office.

Milwaukee Police Chief Ed Flynn said Sunday that officer is African-American, and there are concerns for his safety. He has not been identified at this point.

At the time of the shooting, he was wearing a body camera, Barrett said.

"A young man lost his life (Saturday) afternoon. No matter what, his family has to be hurting. There was a body camera the officer was wearing. The video will be under the jurisdiction of the state of Wisconsin. I have seen a still photo extracted from that video. That photo demonstrates, without question, that (Smith) had a gun in his hand. The police officer didn't know it at the time, but there were 23 rounds in that gun. He had more bullets in his gun than the police officer had in his gun. What that police officer encountered was an individual who had a gun in his hand," Barrett said.

The body camera video is not being released at this point, as the investigation continues.

"We're going to have to weigh a couple different things. We have to weigh the public's benefit. We have to weigh the rights of the officer involved. We have to weigh the concern that DCI has to have an investigation. I suppose there are people that would say we might have to protect a potential jury pool someday, I don't know," Flynn said.

By state law, the Wisconsin Department of Justice will lead the investigation.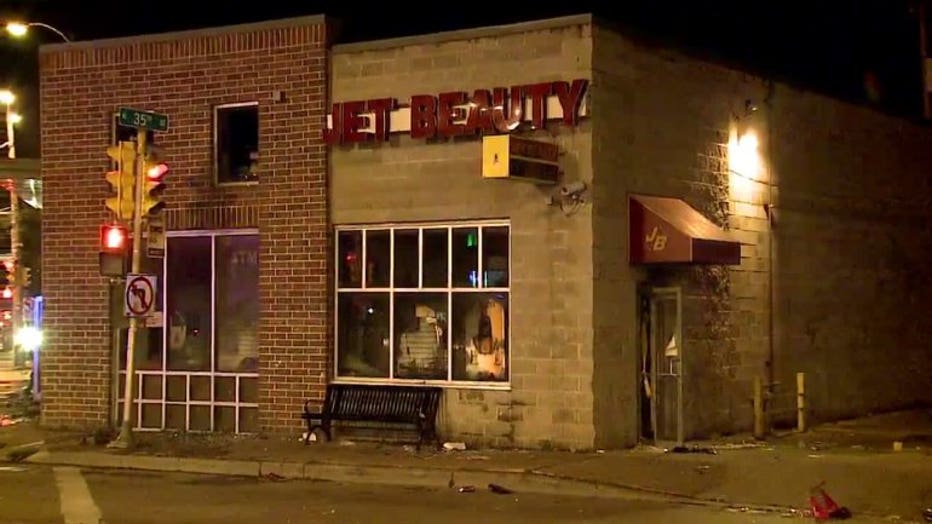 As the chaos escalated overnight, authorities implored the crowds to disperse and go home. Some used social media to urge others to come out and take part in the protests, according to Barrett.

"If you love your son, if you love your daughter text them, call them, pull them by the ears and get them home. Get them home right now before more damage is done," the mayor said.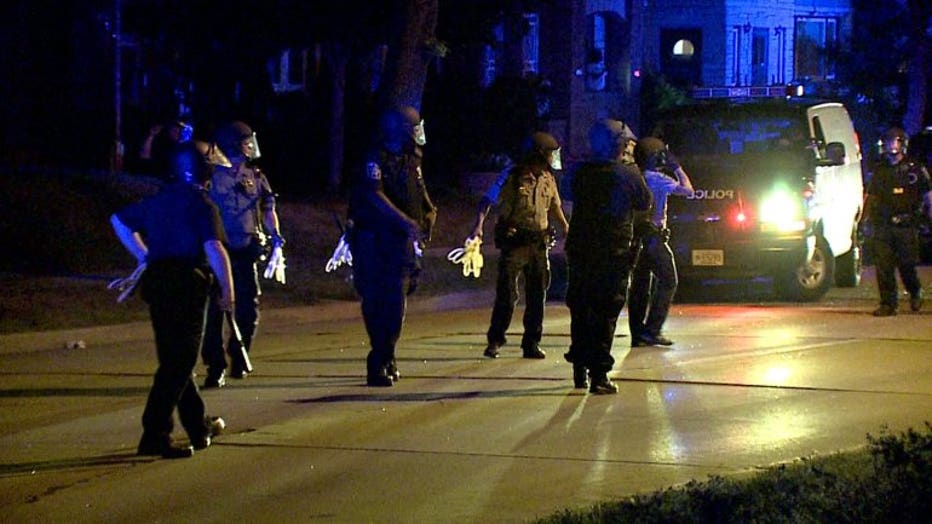 Scene near Sherman & Auer in Milwaukee


The mayor said police presence would be strong as part of an "all-out-effort" to restore order. At least three people have been arrested, he said.

The shooting occurred near the scene of a double homicide that happened this month. In the related attacks August 9, a man was shot dead while another one was fatally stabbed, police said.

"This is a neighborhood that has unfortunately been affected by violence in the recent past," Barrett said. "I know this neighborhood very very well. And there are a lot of really really good people who live in this area -- in the Sherman Park area, who can't stand this violence."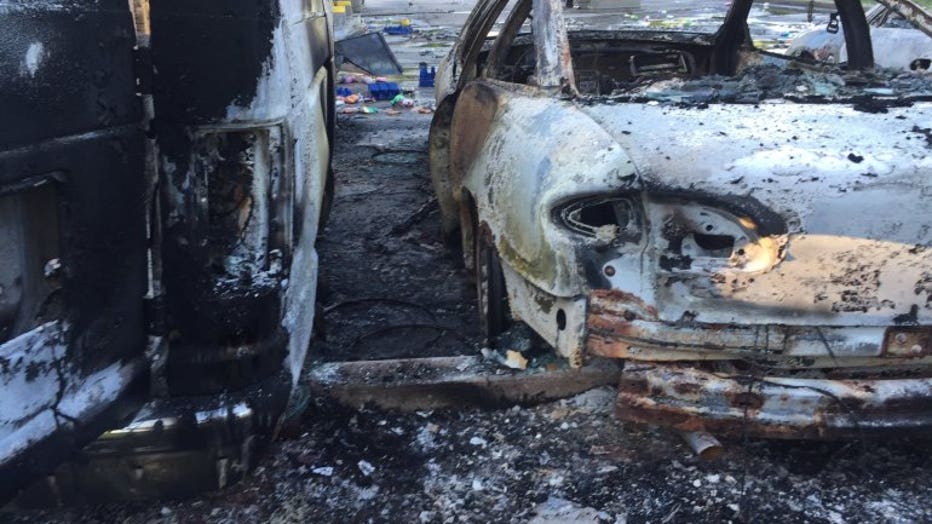 What remains after unrest near Sherman & Auer in Milwaukee


At 3:20 a.m. Sunday, police tweeted that they were restoring order and "reducing deployments."

Local officials planned to meet with church and community leaders Sunday to discuss ways to move forward.

"I hope calm will remain in this community, and we will not have to deploy the Guard," Barrett said Sunday afternoon. "This is still a very volatile situation. I'm seeking our community, the city that we love, to be calm (Sunday night) and the rest of the summer. What is that going to take? It's going to take parents making sure that their sons and daughters do not get involved in what happened (Saturday) night. I've been in every neighborhood in this city. I've been to funerals and wakes. We don't know what's going to happen if we have a flare-up like (Saturday) night. If you love your son, if you love your daughter, you love your grandchild, tell them to stay away from the area. Let's calm things down. We has a community owe it to each other, we owe it to everyone, to restore order."