Video surfaces showing possible lion in Milwaukee; Chief Flynn says "We're treating it seriously"


MILWAUKEE -- Milwaukee police say they are treating these reports regarding a possible lion in Milwaukee as "credible."

Video surfaced Tuesday showing what appears to be a big cat sauntering through a neighborhood. The woman who shot the video planned to grill out on Tuesday evening -- but with a baseball bat nearby -- just in case.




Police and wildlife officials are trying to determine what it is that the woman caught on camera.


Footprint in Kelly Brooks' yard


Kelly Brooks says a strange footprint appeared in his yard on Monday. Even stranger -- the call he got from his neighbor.

"I got the call from the neighbor saying 'hey Kelly, don't go in your backyard. It's a big animal back there and it looks like a lion," Brooks said.

Brooks admits that at first, he didn't believe it. Then he saw the video his neighbor shot.

"I'm like that's a lion, lion!  Not like a play lion -- like a lion, lion," Brooks said.

This all began on Monday night, when police took a report from an individual who saw what they believed to be a lion near E. Garfield Avenue and Palmer Street.

Police took a second report on Tuesday -- a sighting near 37th and Sarnow.

"We're treating it seriously," Milwaukee Police Chief Ed Flynn said.




Kisha Norman says neighbors told her a large cat ran up a tree.

Milwaukee police officers and DNR wardens were out in that area and did a grid search for about two hours. But they found nothing.

The search Monday night near Garfield and Palmer also turned up nothing.

The "Milwaukee Lion," as it has been dubbed, has become the talk of the city. On Tuesday afternoon, a "Milwaukee Lion" account showed up on Twitter, and "Milwaukee Lion" has become a trending topic on social media.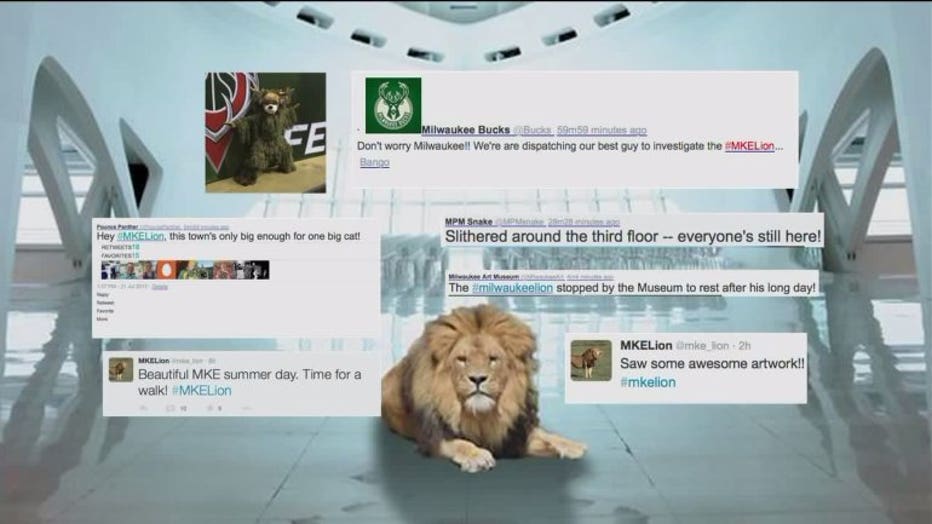 So where is this possible lion or big cat -- and where did it come from? Those are the big questions still unanswered.

Milwaukee County Zoo officials said Tuesday their animals are accounted for. Milwaukee Public Museum officials said the same -- their stuffed cats are accounted for.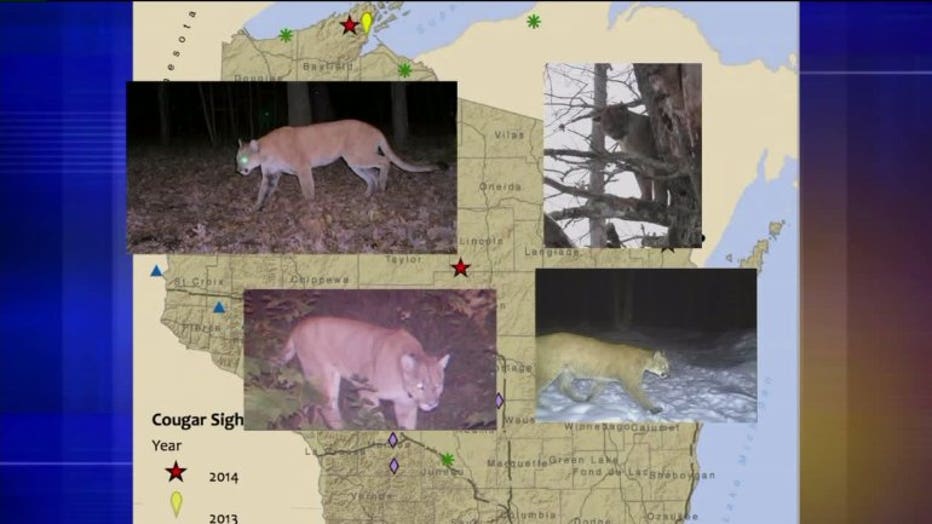 We're told big cats are not unheard of in Wisconsin. The Wisconsin Department of Natural Resources says there have been several mountain lions spotted in the state in the last few years, and they have the photos to prove it.

The DNR advises anyone who sees a wild cat should contact authorities. Do not try to approach or capture the animal.

If this is a mountain lion, also known as a cougar or puma, DNR officials say attacks are very rare. There have only been a handful of deaths in the United States in the last 100 years.

But the large cats have been known to wander. One was found in the middle of Chicago a few years ago.

If you see a large cat -- you're asked to call police immediately.

As of 9:30 p.m. Tuesday, an MPD spokesman said: "The 'lion' remains at large."




Monitor FOX6 News and FOX6Now.com for updates on this developing story.