"Very thankful:" To celebrate his fourth inauguration, Mayor Barrett takes part in 'Week of Service'


MILWAUKEE -- As Milwaukee Mayor Tom Barrett on Monday, April 18th prepared for his fourth inauguration, he said he and his staff are leading by example. Barrett is taking part in a "Week of Service" as he begins his fourth term as mayor.

"(Tuesday) morning, I will fortunately, and I'm very thankful to the people of the city of Milwaukee, be inaugurated for a new term," Barrett said.

While the start of his fourth term as mayor of Milwaukee was on Barrett's mind on Monday, the start of his work week involved the clothing off of his family's backs.

"When I mentioned this to my wife, she said, 'I think this was the outfit I wore when you were first sworn in 12 years ago,'" Barrett said.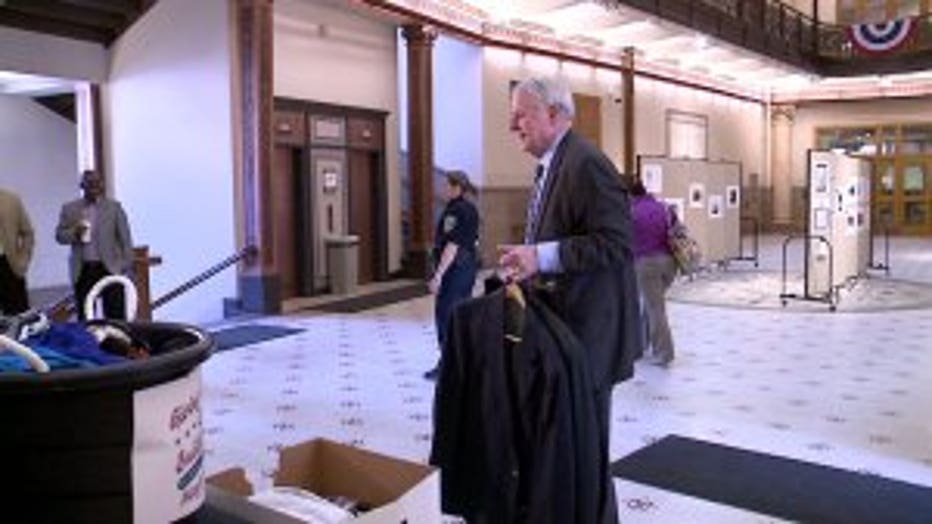 Milwaukee Mayor Tom Barrett


Barrett, at City Hall, donated clothing during the "Bottomless Closet" clothing drive.

"Everybody probably can, as they do their spring cleaning, find something that's still wearable, very wearable, or new or gently used, and bring it to individuals who are trying to get back into the job market," Barrett said.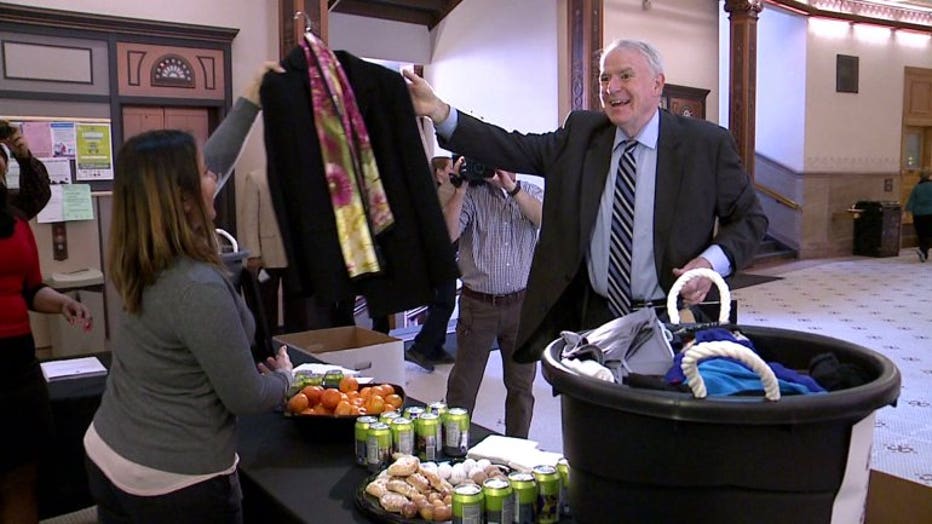 Milwaukee Mayor Tom Barrett


Barrett said the clothing donation marked the first day of "Giving Back and Building Up Week," which will involve strengthening Milwaukee neighborhoods, by highlighting some of the efforts to improve the quality of life for those who live in Milwaukee.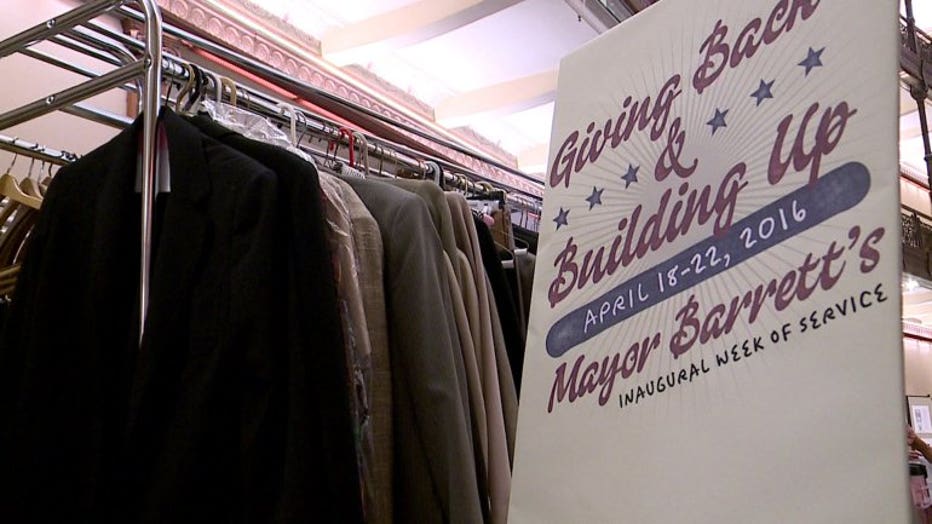 "This is the first time we've done this week. We have a lot of energy. People were sitting around the office -- we were brainstorming and we said, 'Let's devote the whole week to reaching out into the community and really helping people in different ways,'" Barrett said.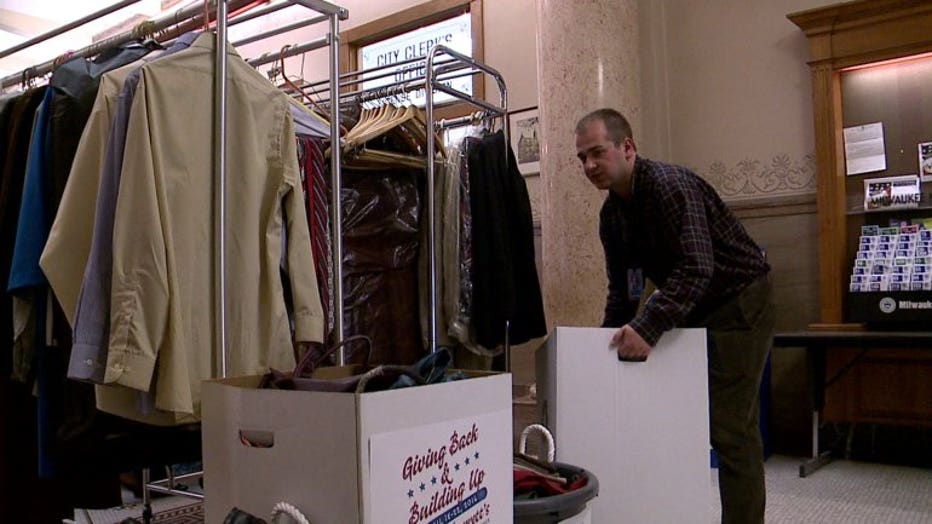 Barrett's "Week of Service" schedule will include serving a community breakfast, planting gardens and preparing kits for Milwaukee's Strong Baby program.

Below is Mayor Barrett's complete "Week of Service" schedule, as provided to FOX6 News by the Mayor's Office:

Monday, April 18

Bottomless Closet Clothing Donation Drive
7:00 a.m. – 10:00 a.m.
City Hall Rotunda 

Bottomless Closet provides work-appropriate clothing and supportive services to men and women entering or re-entering the workforce. City employees have been asked to join the mayor in supporting its mission by donating clean, gently-used or new business clothing and accessories for men and women.

Tuesday, April 19

Inaugural Oath of Office
10:30 a.m. – 12:30 p.m.
Common Council Chambers 

Tuesday, April 19

Sharing Books with Milwaukee's Students
1:00 p.m.  – 3:30 p.m.

Rogers Street Academy
2430 W. Rogers Street
K4 - 5th Grade

Carver Academy of Mathematics and Science

1900 N. 1st Street
K4 – 5th Grade

Mayor Barrett and others will read to students at various locations throughout the city.  Through this effort and his demonstrated strong commitment to libraries, Mayor Barrett hopes to instill a life-long love of reading in Milwaukee's youth.  Mayor Barrett will remind students, the library's summer reading program is just around the corner.

Wednesday, April 20

Community Breakfast at the Gathering
7:00 a.m. – 10:00 a.m.
St. James Episcopal Church, 833 West Wisconsin Avenue 

Mayor Barrett and members of his cabinet will prepare and serve breakfast to 150-250 individuals.

Thursday, April 21

Garden Planting Community Project
Locations throughout the City
Timing TBD

Mayor Barrett will be cleaning up and planting at several garden sites throughout the city using garden boxes made of reclaimed city trees. 

Friday, April 22

Strong Baby Sanctuary Kit Assembly

10:30 a.m.
Ebenezer Church of God in Christ, 3132 N. Martin Luther King Jr. Dr.

Mayor Barrett and community members will prepare kits for Milwaukee's Strong Baby Sanctuary locations. The kits – which include diapers, food, safe sleep materials and more – are used by Strong Baby Sanctuary churches as they assist new families in accessing area resources and programs to raise healthy families.

Mayor Barrett, Columbia St. Mary's, City of Milwaukee Health Department and partners began the Strong Baby Sanctuary program in 2015 to further Mayor Barrett's work to reduce Milwaukee's infant mortality rates.