Truck load strikes bridge, temporarily shuts down stretch of Highway 45


WAUWATOSA (WITI) -- A big rig with a large load struck the overpass on northbound Highway 45 at Wisconsin Ave. / Bluemound Rd. during the lunch hour on Tuesday, May 28th. That created a traffic mess for drivers looking to pass through the Zoo Interchange.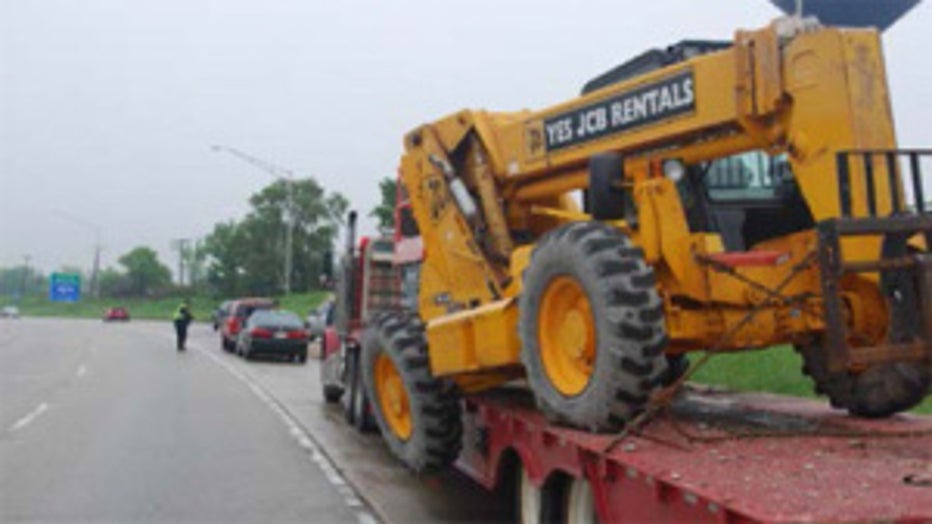 The truck which struck the bridge was a semi-flatbed that was hauling a telescoping forklift with a 30-foot boom arm. The vehicle is owned by Ideal Crane Rental of Milwaukee.

Three vehicles were struck by concrete which was dislodged from the bridge upon impact. Nobody was hurt.

There was noticeable damage to the bridge and forced the Department of Transportation to look very closely at whether it was safe for traffic.

Crews removed loose pieces of concrete from the bridge in the northbound lanes to make sure they didn't fall on passing cars.



The girders had visible damage which included broken concrete, and severed structural cable strands. The damage was cleaned up early in the afternoon. But now the Dept. of Transportation has to think about the near future.

"There was some rebar that is exposed certainly we're going to want to get back in there and put a patch over that to make sure that the steel and the metal remains strong," said Michael Pyritz of the DOT.

The driver of the truck was cited for operating a vehicle without securely fastening a load and operating a vehicle excess height without permit. Between the two citations, the driver faces more than $400 in fines.

For the record, the maximum allowable height without a permit is 13'6" and the bridge height was 15'2".



CLICK HERE to monitor the traffic on FOX6Now.com