Tony Robinson case: Thousands of pages of documents, pictures, video paint clearer picture of what happened


MADISON (WITI) -- Dane County District Attorney Ismael Ozanne on Tuesday, May 12th announced no charges will be filed against Madison Police Officer Matt Kenny in connection with the officer-involved shooting that killed 19-year-old Tony Robinson. Following that decision, thousands of pages of documents were released in connection with the investigation into the March 6th shooting -- along with pictures and video.

For the first time, we are getting a clearer picture of what happened on that Friday night in Madison.

The release Tuesday included 23 hours of video and 814 pages of reports. Many of the photographs released focus on the injuries to Officer Kenny.



Dashcam video from Officer Kenny's squad car shows him racing toward Williamson Street on March 6th -- unaware of the events that would soon unfold.

This, after three 911 calls came in on the night of March 6th from folks who reported Robinson was acting "insane" and that his behavior was "outrageous."

The first 911 call came in at 6:28 from a friend of Tony Robinson and a resident at 1125 Williamson Street, who reported Robinson was "tweaking" — chasing everyone, saying Robinson was being "really outrageous right now." The caller said he and his girlfriend were "scared." It was reported that it was not believed Robinson was armed. The caller said Robinson had "jumped in front of a car, but he didn't appear to be hurt."

Robinson was chasing the caller as they drove off, the caller said. The caller reported Robinson had punched another friend prior to the 911 call. The caller said "everyone left, things are really bad" — saying "Tony is going crazy. He took shrooms or some type of drugs." The caller said "Tony is acting insane right now."

The second 911 call came in at 6:31 p.m. The caller reported a man was attacking pedestrians and had punched the caller in the face. It happened across from the gas station on Williamson Street.

The third 911 call came in at 6:32 p.m. The caller was at the gas station across from the apartment home and reported Robinson was "acting kind of crazy." The caller reported Robinson had "tried to choke" the caller, and the caller said Robinson had tried to assault two people on the sidewalk. Robinson was reportedly roaming around, blocking traffic. He was then seen trying to break into 1125 Williamson Street.

These 911 callers were interviewed, and they confirmed the information from the 911 calls, Ozanne said.

Video released Tuesday shows Officer Kenny approach the apartment's door after arriving at the scene.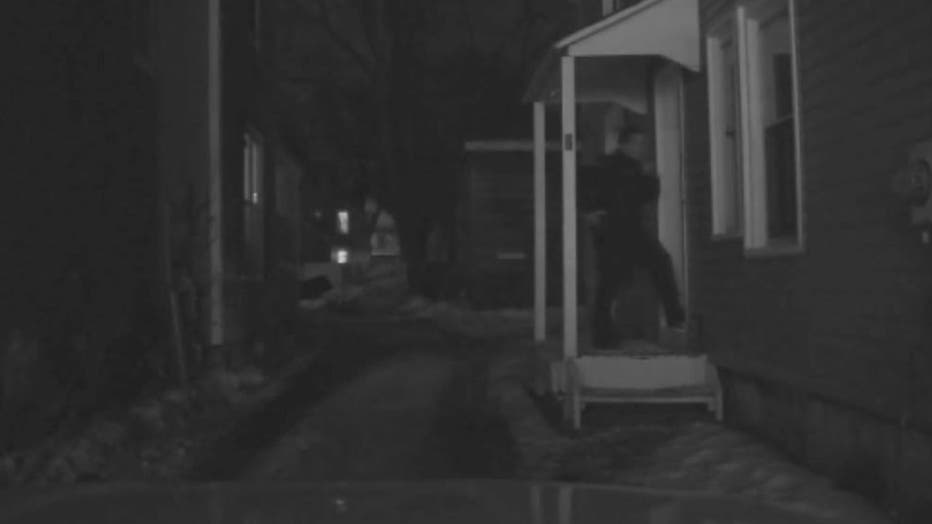 Officer Matt Kenny heads into apartment on Williamson Street


Officer Kenny's statement indicated he heard "yelling and screaming" coming from apartment #2, and items being thrown or breaking. He heard someone say "what are you going to do (expletive), and believed Robinson may have been upstairs assaulting someone. He radioed dispatch that he was entering the home, and as he went in, he drew his firearm. As he climbed the stairs, Kenny said he yelled "Madison police," and heard someone say "well, the police are here."

That's when Kenny said Robinson turned the corner and struck Kenny with a closed fist on the left side of his head — knocking him back and into the wall on his right. Kenny's report is consistent with damage to the drywall on the right side of the staircase near the eighth step. Kenny said Robinson continued to come toward him — swinging at him. Kenny was rocked back and was losing his balance on the stairs. He worried that he would be struck again and lose consciousness or hit his head falling backwards. He worried his firearm would be taken and used to shoot him and anyone else who may have been in the home. He said there were two streams of fire — one involving three shots, and the second involving two to three shots. He said he did not see anything in Robinson's hands or in his waistband. Kenny then radioed "shots fired," and requested an ambulance. He began rendering aid to Robinson before paramedics arrived and took over.

Photos released Tuesday show an indent where Kenny's body hit the drywall near the staircase. Those photos also show Kenny's injuries suffered that night -- a close-up of Kenny's face shows blood on his chin, and scrapes to his forehead, head and arm.

District Attorney Ozanne said an audio recording from a responding officer captured seven shots fired in three seconds. All seven hit Robinson at "close range," from front to back. Seven casings were recovered at the scene. Ozanne said all shots had to have been fired at the bottom of the stairs.

In all, Kenny was inside the home for about 20 seconds, Ozanne said.

Video shows Kenny exiting the home in a backwards motion -- appearing to nearly lose his balance. He was seen firing one shot (the seventh shot) while outside the home. Robinson's feet appear in the doorway after Kenny was seen exiting the home.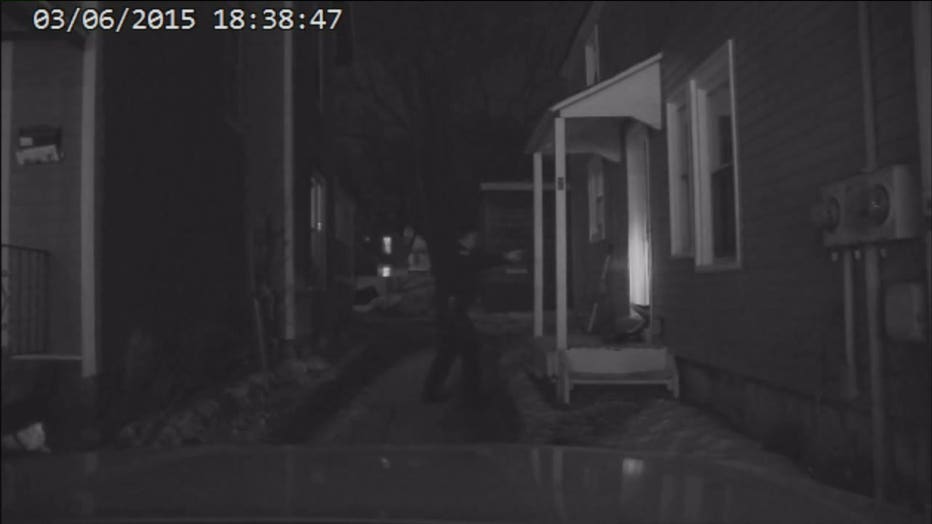 Officer Matt Kenny outside apartment on Williamson Street


As backup arrived on scene, Robinson's final moments were captured as officers worked to try to keep him alive.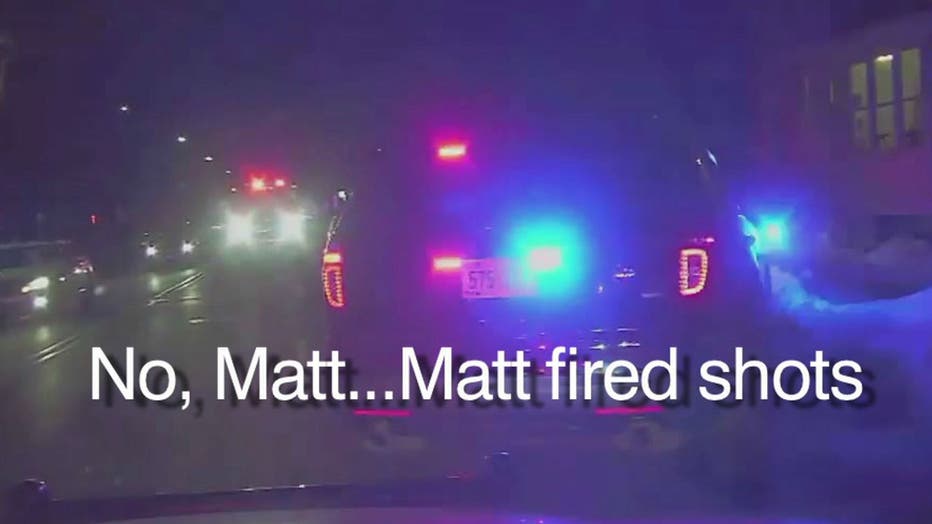 Then, the shock of the incident begins to hit the responding officers. One officer is heard saying "Was he just like this when you found him?" Another officer replies: "No, Matt fired shots. I didn't get around in time to see what happened."

Robinson was taken away from the scene by ambulance.

The Department of Justice's Division of Criminal Investigation had nine agents assigned to this case. They were able to identify seven critical witnesses who provided testimony and spoke with about 40 others throughout the neighborhood.

Only a few people told police they heard the shooting.

Reports from Robinson's friends indicated he had used controlled substances on March 6th — including mushrooms, THC (marijuana) and xanax.

"I conclude that this tragic and unfortunate death was the result of the lawful use of deadly police force," Ozanne said in announcing his decision not to file charges against Kenny on Tuesday.