Those opposed to Scott Walker's bid for president don't hold back in criticism of his policies


MILWAUKEE -- Governor Scott Walker on Monday, July 13th made his bid for the White House official, with an announcement at the Waukesha County Expo Center. This, as his critics are describing his time as governor as being filled with broken promises and a middle class that has been ignored.

Those opposed to Walker's candidacy for president and his policies held a rally outside the Expo Center prior to his Monday evening announcement.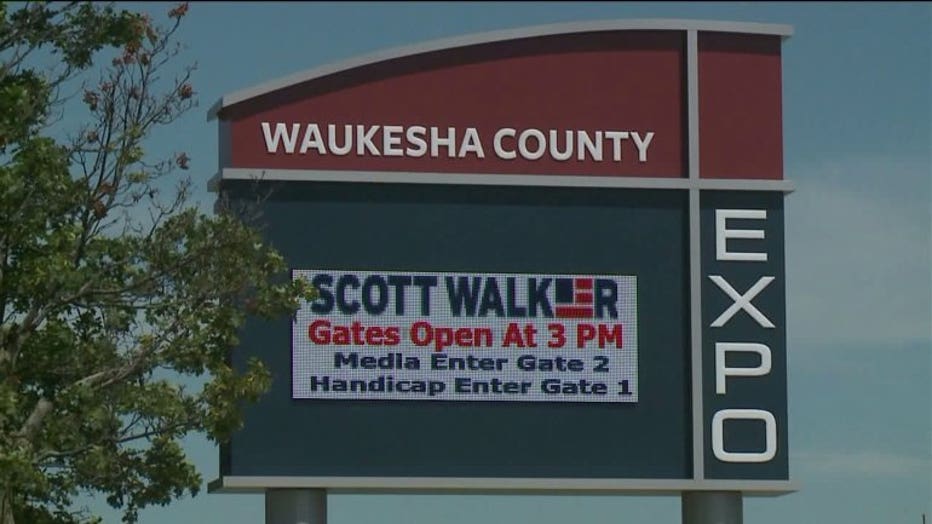 Scott Walker presidential announcement


"He`s a liar and he`s a fraud and we need a governor in our state who`s gonna care about Wisconsin. We don`t need Walker for president," Cynthia Greenwood said.

Folks with a number of organizations took part in the rally -- protesting Walker's bid for president. From union workers to immigration activists, they say Walker's track record in Wisconsin should concern the rest of the nation.

Among those protesting Monday was Maria Hamilton. Her son, Dontre Hamilton was shot and killed by former Milwaukee Police Officer Christopher Manney in Red Arrow Park in April 2014. Maria Hamilton says Walker's policies add to the mistrust between poor minorities and their government.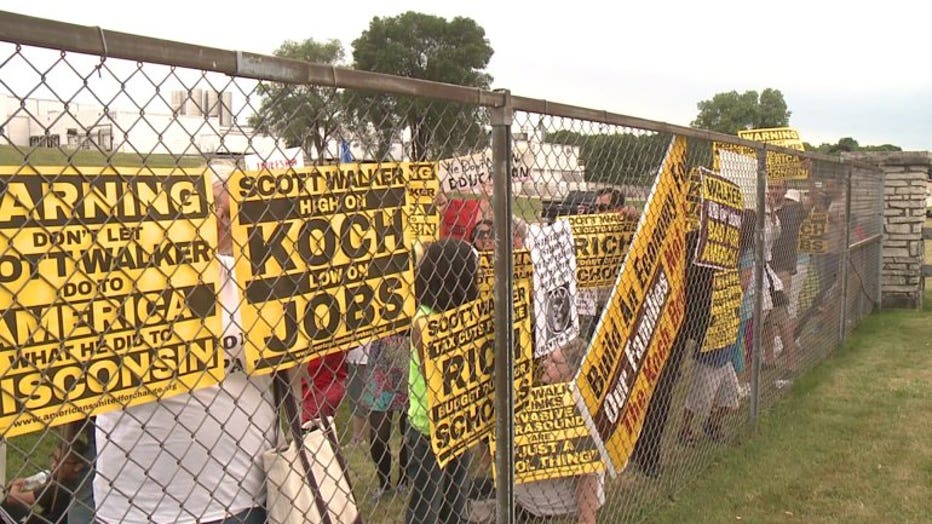 Critics protest outside Scott Walker's presidential announcement


"Scott Walker has his own agenda. Scott Walker has taken money from the taxpayers in Milwaukee. He`s taken money from our schools," Hamilton said.

Three-thousand people were expected to fill the Waukesha County Expo Center for Walker's announcement -- but these protesters stood just outside on Monday afternoon -- making sure Walker's supporters would see them as well.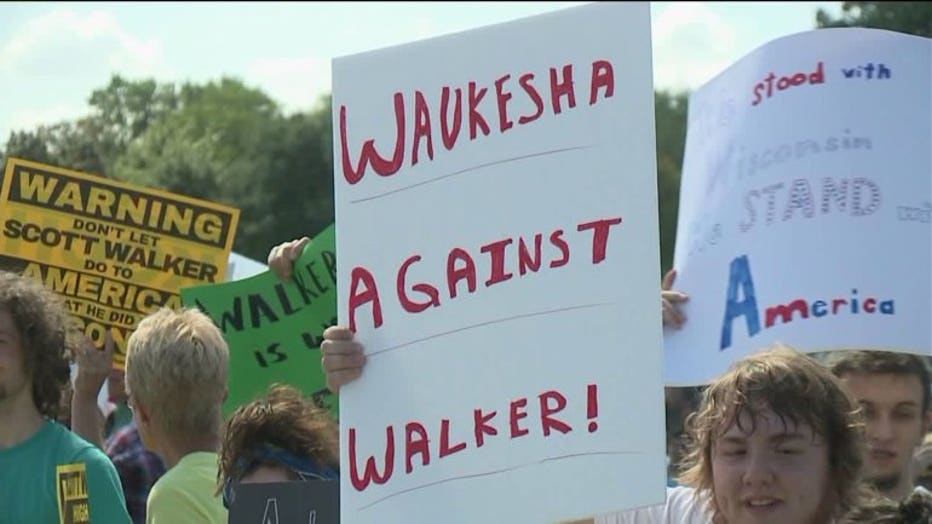 Protesters at Scott Walker's presidential announcement


Prior to the protest, the Democratic National Committee held a news conference in a hotel just up the road from the Expo Center in Pewaukee.

DNC Vice Chair and former Minneapolis Mayor R.T. Rybak says Walker's plan to grow jobs has been a failure -- pointing out that Minnesota has added more jobs in the last year per the Bureau of Labor Statistics.

"In Minnesota, what happened is we raised the minimum wage. We raised taxes on the very wealthiest Minnesotans so we can invest in things like schools and roads and healthcare and to balance the state`s budget," Rybak said.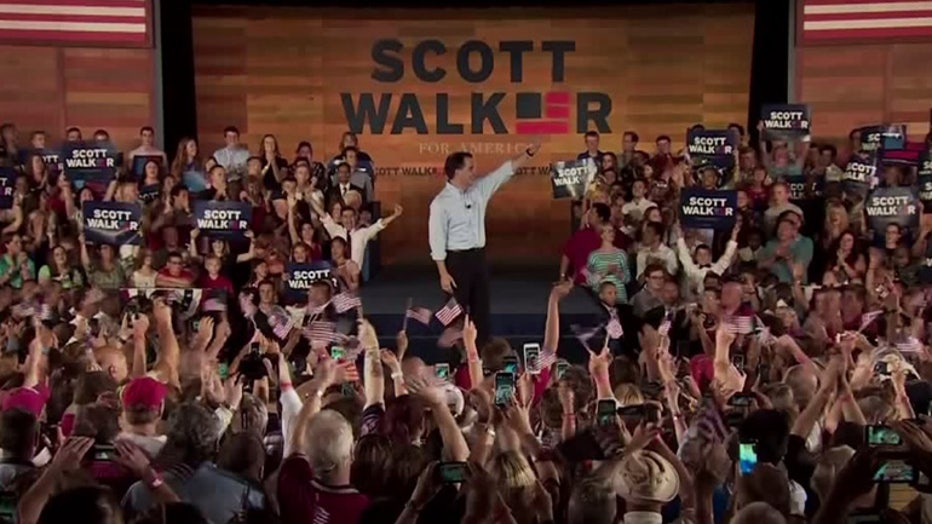 Scott Walker at presidential campaign launch


"We`ve had enough of his reign here in Wisconsin and we want Americans to know just how disastrous he would be as a president," Wisconsin Democratic Party Chair Martha Laning said.

Rep. Mandela Barnes (D-Milwaukee) had this to say:

"If you value your paycheck, if you value your weekend, your education system, your right to know, or your right to make your own healthcare decisions without politicians getting in the way, Governor Scott Walker is not your candidate."


Protesters at Scott Walker's presidential announcement


One number FOX6 News heard among the protesters was 250,000. That's the number of jobs Governor Walker promised to create during his first term. He fell short of that goal.

Opponents say it's a warning of what could happen should Walker be elected to an even higher office.

Whether their main concern is jobs, education, or immigration, the message from these protesters was the same: That Scott Walker is not the man for the job.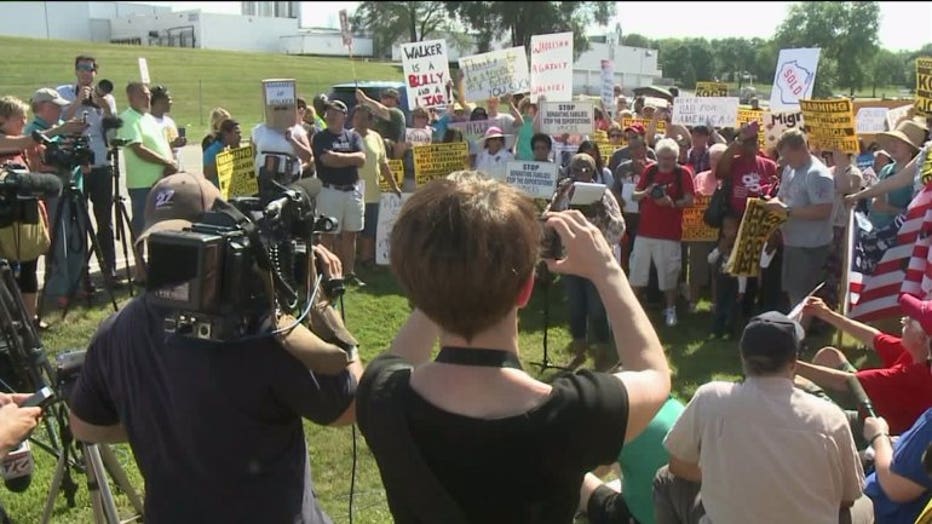 Those opposed to Scott Walker running for the presidency issued the following statements on Monday, July 13th.

Democratic Party of Wisconsin Chair Martha Laning

"Scott Walker's record in Wisconsin is one of unprecedented corruption, division, extremism and a failure to foster economic growth and opportunity.

And now, with wages in Wisconsin stagnant, job growth that's dead last in the Midwest and trailing most of the nation, a flagship jobs agency that's known more for scandal than economic development, and a $2.2 billion budget deficit created by his failed policies, Scott Walker wants to take that record nationwide.

It's clear that Walker's vision for America is one that fights against the middle class so he can win for special interests and a select few millionaires and billionaires. This is the same kind of 'divide and conquer' strategy that has Wisconsin reeling because Scott Walker has put his political ambitions ahead of what's best for Wisconsin.

Scott Walker offers nothing new and nothing fresh; he simply offers to double down on the same failed economic policies that caused our economy to crater in the first place. But Scott Walker isn't just a retread on the economy – his record of extremism on women's rights, healthcare, education, and civil rights is unparalleled in modern times and is dangerously out of touch with what a majority of Americans believe.

Wisconsin knows the real Scott Walker and the damage his brand of failure can do. We're confident the rest of the country will recognize Scott Walker for who he really is -- someone who is unfit to lead."

DNC Chair Rep. Debbie Wasserman Schultz

"With today's announcement, Scott Walker has indicated that he intends to bring his Wisconsin brand of politics to Washington, but the reality is that he's already brought the worst of Washington to Wisconsin.

"To promote adherence to his rigid partisan views and to please the special interests that have backed his campaigns, Walker has pit the people of Wisconsin against each other in contentious ideological fights. He's gutted education, refused investments in infrastructure and health care, and shuttered women's health clinics, while pushing tax policies that have overwhelmingly benefitted the wealthiest few.

"Walker promised to eliminate the deficit but his state was $2.2 billion in the red, and Walker's Wisconsin sits at the bottom in his region for job growth, while his job-creation agency is mired in mismanagement and questions about tax credits that went to his political donors.

"It's that type of divisive, ineffective politics, and mismanagement that middle class Americans don't need any more of in Washington. Walker simply has the wrong priorities for America."

One Wisconsin Now Executive Director Scot Ross

"That Gov. Walker is announcing today he is running for another political office is little surprise. He's politics incarnate - having spent almost his entire adult life doing or saying whatever he needed to win an election.

"While one of the most divisive politicians our state has ever seen touts his willingness to fight to the far right-wing he's currently courting, the people of Wisconsin are left to live with the fallout from the cronyism, corruption and incompetence of his administration."

"Under Walker, Wisconsin has the fastest shrinking middle class in the nation and lags every other Midwestern state on jobs. Close aides and associates have been convicted on corruption charges, his gubernatorial campaign remains under investigation for alleged illegal coordination with outside groups and the identities of the donors who paid for nearly $500,000 in criminal defense lawyers for Scott Walker remain secret.

"He has eviscerated the rights of workers and voters, undermined women's health care at every turn, run the state economic development agency like a piggy bank for campaign contributors and is systematically dismantling public education by making the largest cuts to K-12 public schools in state history while expanding a taxpayer funded, unaccountable private school voucher program. And Wisconsin is now in the top ten for percent of students graduating from college with crippling student loan debt.

"America, now you know."

Robert Kraig, Executive Director of Citizen Action of Wisconsin

"A Scott Walker presidency would be an all out assault on the right of Americans to control their own health care decisions and access affordable health coverage that can never be taken away. WalkerCare would take health care coverage away from millions of Americans while turning back the clock to to the bad old days when large health insurance companies could discriminate against Americans with pre-existing medical conditions."

SEIU Wisconsin State Council President Dian Palmer

"Governor Walker has divided our state and hurt already struggling working families. At a time when tensions are high and working families are struggling, the last thing America needs is an ideologue committed to a strategy of divide and conquer."

Kerry Schumann, executive director of WI League of Conservation Voters

"The Governor's track record of supporting polluters over people, putting politics in front of sound conservation practices, and blocking clean energy projects at every turn is not only the wrong direction for Wisconsin, but would be a disaster for our nation.

"The list goes on and on. It's clear that under Governor Walker's watch, polluters and special interests win while Wisconsin families lose. Gov. Walker's record will haunt him as a presidential candidate."

College Democrats of Wisconsin Vice Chair Tyler Smith

"Scott Walker's presidential campaign announcement comes as a surprise to no one -- he's been ignoring his constituents to campaign for president for several years now. In today's announcement, he's already begun his attempt to spin his catastrophic failure in Wisconsin as a success. In the next few months, he'll brush under the rug his cuts to public universities, multiple investigations, and failure to create jobs. He'll try to pander to young Americans while championing policies that hike their tuition, increase their student debt, and make it harder for them to vote. It's up to young Wisconsinites to show our peers in other states the real Scott Walker -- an out-of-touch, far right politician who brought the worst brand of toxic and divisive politics to Wisconsin.

"Since his election, Scott Walker has stopped at nothing to implement his extreme ideological vision. In doing so, he has been the worst governor for young people in recent memory. He slashed $250 million from public universities in 2011 and 2015 and consistently ignored legislation to reduce the burden of student debt for Wisconsin's over 800,000 student loan holders. He launched an unprecedented assault on women's health care by slashing Planned Parenthood funding and requiring invasive and medically unnecessary ultrasounds for women receiving an abortion.

"He ignored job creation in favor of divisive attacks on working families, allowing our state to plummet to the bottom of the Midwest in job growth and ensuring a miserable job market for new graduates. He signed voting restrictions specifically tailored to prevent young people from voting, included one of the strictest voter ID laws in the country and massive cuts to early voting hours. He fought marriage equality until the very end, even proposing a constitutional amendment to allow states to strip LGBT Wisconsinites of their right to marry the person they love.

"Behind every Scott Walker policy are the real people affected by it. There are students who can no longer afford a world-class college education due to Scott Walker's cuts to public universities. There are young women who lost their access to affordable reproductive healthcare when their Planned Parenthood clinic shut down. There are recent graduates struggling under the burden of student debt who are unable to find a job in Scott Walker's economy.

"I welcome Scott Walker to the packed clown car of Republican presidential candidates. Over the next year, College Democrats of Wisconsin will continue to show our peers across the country the damage Scott Walker has done to our state. Scott Walker can spin his failed policies all he wants, but I'm confident my fellow young Americans won't be fooled."

CLICK HERE for further coverage of this big story via FOX6Now.com.