Teen tweets apparent terror threat to American Airlines, American responds
MILWAUKEE (WITI) -- A Twitter user says she's not happy she is "all over the internet" after she apparently tweeted a terror threat to American Airlines -- and American responded.

FOX6 first learned of this story via our sister station, FOX8 WGHP.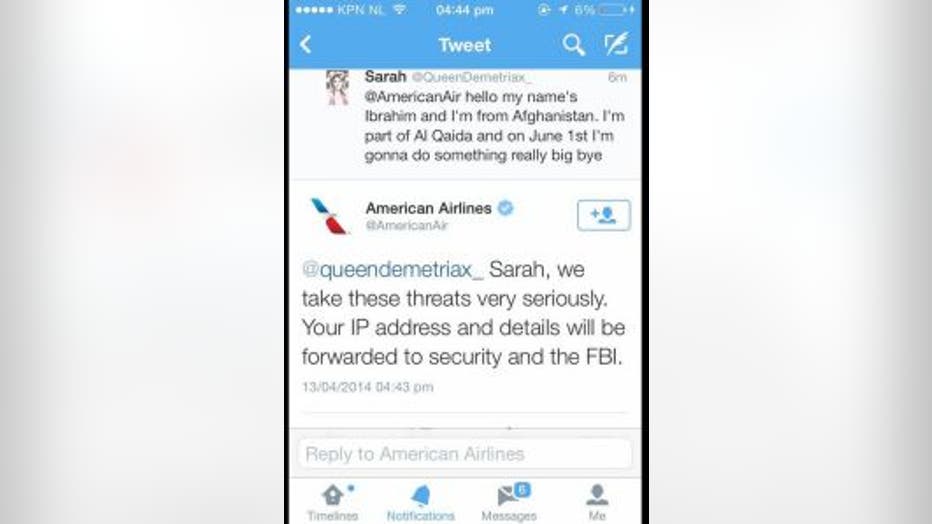 In the tweet, Twitter user @QueenDemetriax_, tweeted: "@AmericanAir hello my name's Ibrahim and I'm from Afghanistan. I'm part of Al Qaida and on June 1st I'm gonna do something really big bye."

American Airlines (@AmericanAir) responded, saying: "Sarah, we take these threats very seriously. Your IP address and details will be forwarded to security and the FBI."

After receiving the response from American Airlines, @QueenDemetriax_ tweeted: "I'm so stupid, I'm scared."

Other tweets include:




On her Twitter page, a tweet from @QueenDemetriax_ says she is 14 years old. Another tweet says she apparently lives 15 hours from the United States.




@QueenDemetriax_ has tweeted several times since the incident -- saying Sunday, April 13th: "I wanted more followers and RTs but this is not what I meant" -- also saying "Stop following me," "Stop mentioning me" and "Stop faving my tweets."




In a message posted to the "Photos and Videos" section of @QueenDemetriax_ twitter account is a screenshot of a message apparently written by @QueenDemetriax_ on Sunday.

That message says: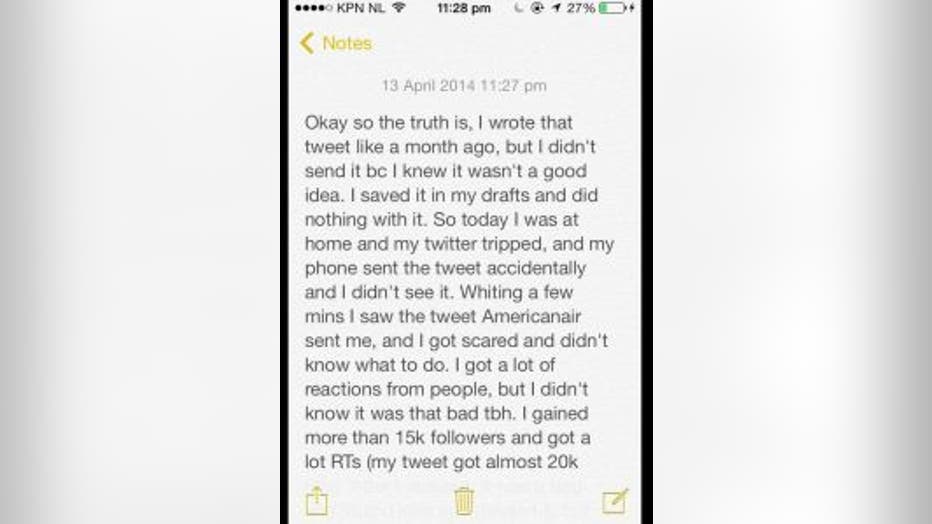 "Okay so the truth is, I wrote that tweet like a month ago, but I didn't sent it because I knew it wasn't a good idea. I saved it in my drafts and did nothing with it. So today I was at home and my twitter tripped, and my phone sent the tweet accidentally and I didn't see it. Within a few minutes, I saw the tweet American Air sent me, and I got scared and didn't know what to do. I got a lot of reactions from people, but I didn't know it was that bad, to be honest. I gained more than 15K followers and got a lot of RTs (my tweet got almost 20K RTs). After I realized, it was a bad and stupid idea, so I deleted it, but now it's everywhere. But let's make three things clear. 1) It wasn't about 9/11, 2) It wasn't about the missing plane, 3) It was an accident."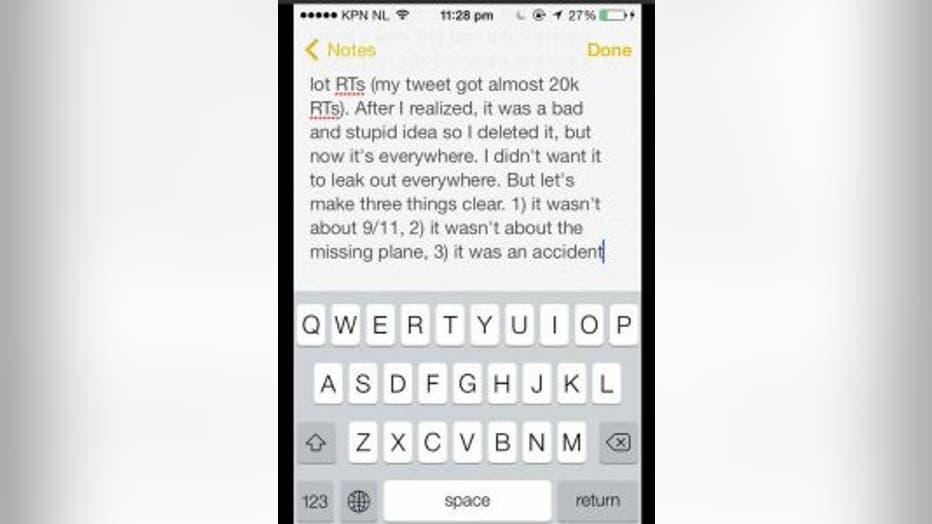 FOX8 WGHP says American Airlines deleted its Twitter response to @QueenDemetriax_, and has instead issued a statement:

"At American, the safety of our passengers and crew is our number one priority. We take security matters very seriously and work with authorities on a case by case basis."

According to FOX8, the FBI has not commented on the tweet.

CLICK HERE for more on this story via FOX8 WGHP.