Ted Cruz spoke in Altoona, Rothschild; supporters shared why he's the man for the White House


ALTOONA -- Wisconsin's presidential primary is on April 5th, and thus, the presidential candidates have turned their attention to Wisconsin. Republican presidential candidate Ted Cruz on Monday, March 28th spoke in Altoona, near Eau Claire and later in Rothschild, near Wausau.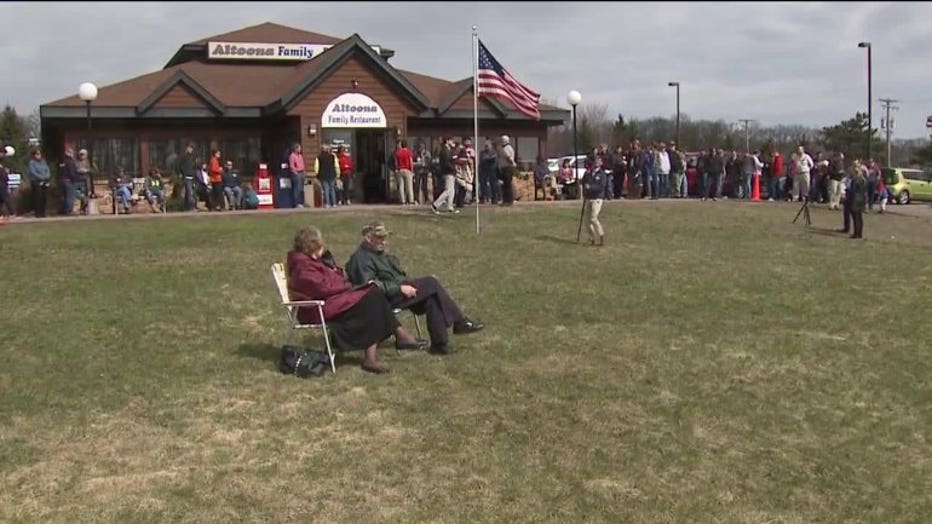 Altoona Family Restaurant


Cruz's speech in Altoona focused on stopping Donald Trump and uniting the Republican Party. Cruz spoke of policy and change, as more than 100 people listened.

It was quite the crowd at the Altoona Family Restaurant Monday afternoon in support of Ted Cruz.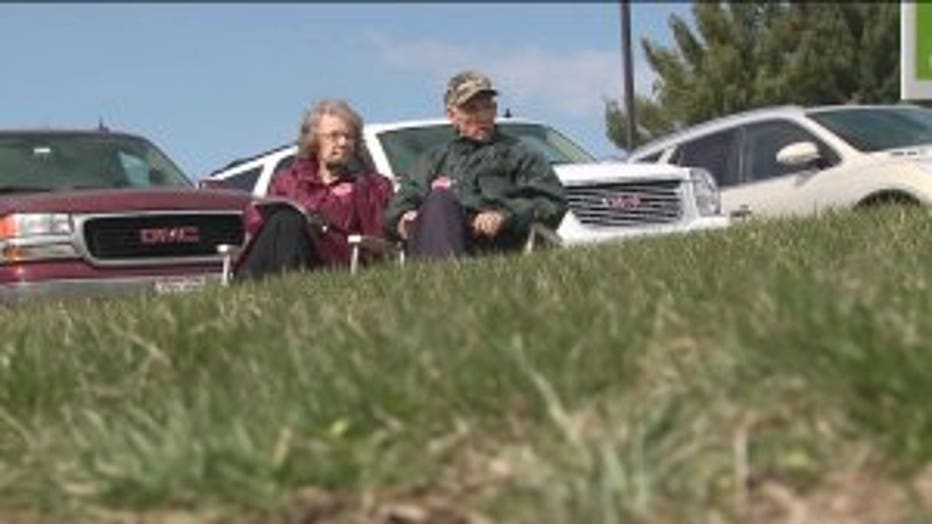 Carole and Dale Lunderville


The Lunderville family had the best seat in town.

"My husband suggested we bring lawn chairs and that was a great idea," Carole Lunderville said.

Carole and Dale Lunderville said they believe Cruz is the candidate who should serve as president of the United States.

"Both of us feel that he`s probably the man that would help turn this country around and what he says, you can take to the bank. He backs it up. It`s not just a bunch of rhetoric," Dale Lunderville said.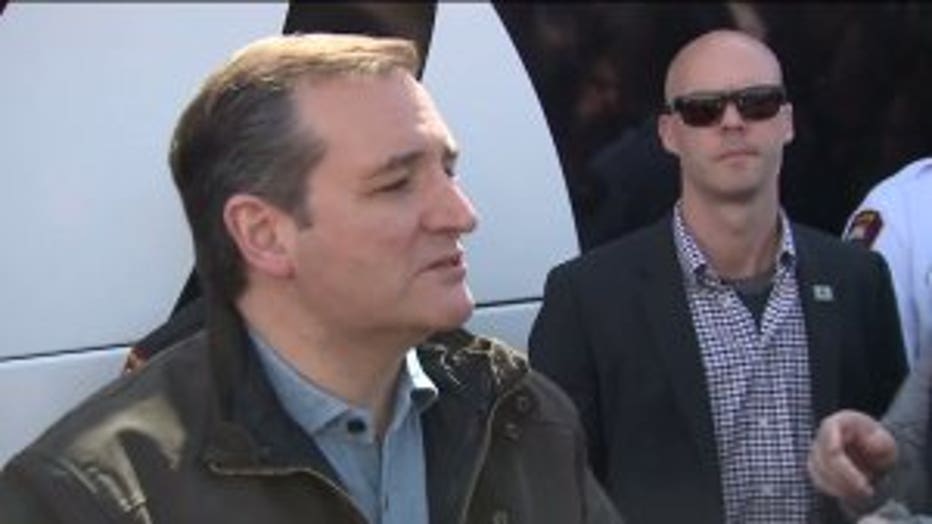 Shortly after 1:00 p.m., the "Cruz to Victory" bus pulled up and Texas Senator Ted Cruz emerged.

"We`ve been trapped in stagnation, trapped, people out of work, trapped, wages stagnating. My number one priority as president will be jobs and economic growth, bringing jobs back to America, driving wages back up again. We`re gonna see wages going up again. We`re gonna see young people coming out of school with four, five job offers. We`ll see morning again in America," Cruz said.

Cruz made his way through the crowd -- occasionally stopping to make small talk with his supporters.

Inside the restaurant, supporters said they'll vote for Cruz on April 5th because of his foreign policy.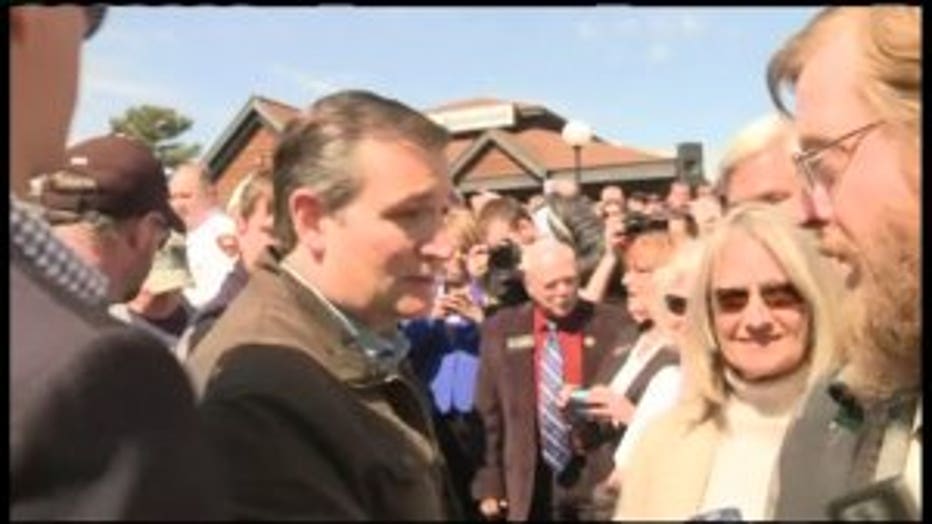 "I`m worried about ISIS is another issue and I think he is one of few candidates who can take care of the ISIS issue we have in an around the world," Josh Eby said.

"The time for political correctness is over. Enough is enough. We need a commander in chief who is focused on defending this country, on defeating radical terrorism, and utterly and completely destroying ISIS," Cruz said.

Cruz also talked about Trump attacking his wife Heidi, and said he believes the American people are sick of that, and that it has no place in American politics.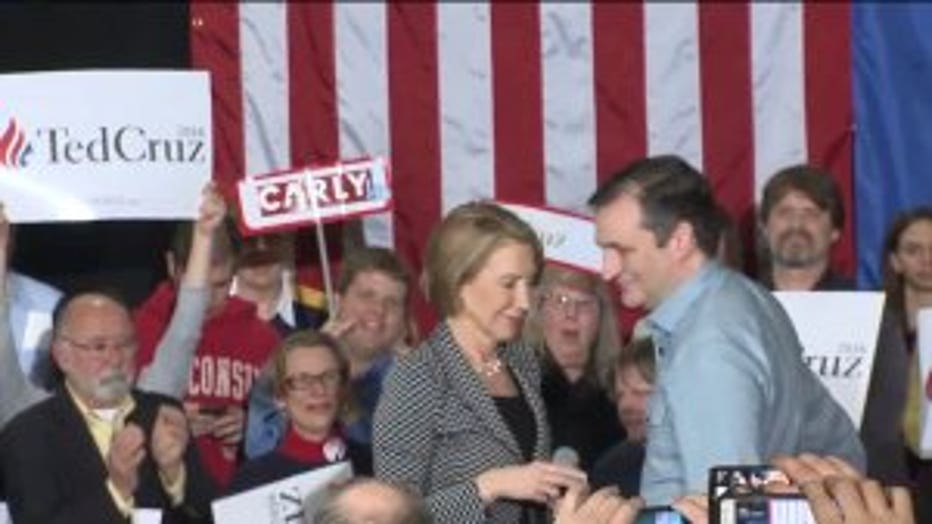 Ted Cruz and Carly Fiorina in Rothschild


Cruz later spoke in Rothschild with Carly Fiorina at the Central Wisconsin Convention and Expo Center at 10101 Market Street at 5:00 p.m. Monday. Fiorina is endorsing Cruz.

Among hundreds of supporters in Rothschild, Cruz thanked Fiorina for being there with him and quipped about Clinton being afraid of her.

"I can just see Hilary thinking about Carly and tossing and turning in her jail cell," Cruz said.

Cruz's began his speech by laying out the three issues he says this election is all about -- jobs, security and freedom.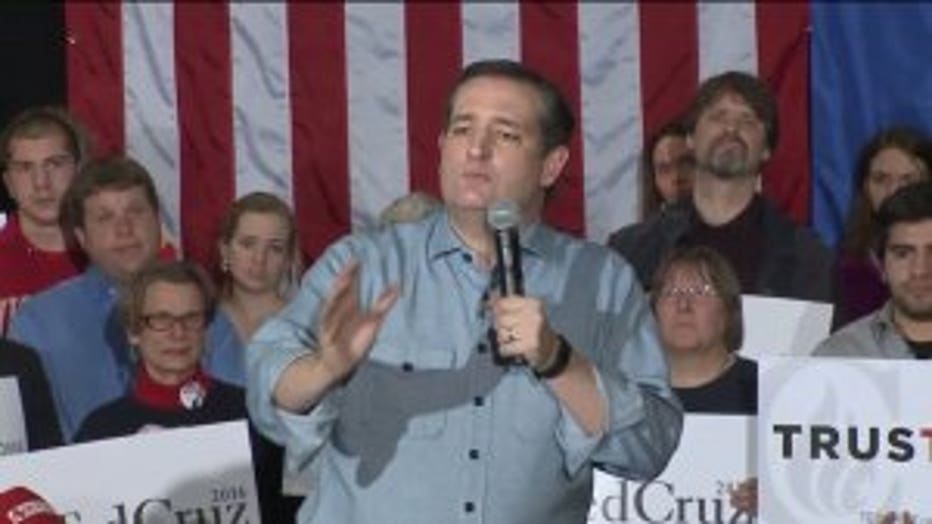 "We`re gonna repeal Obamacare, pass a flat tax, pull back the regulators, stop amnesty and we will see millions of new small businesses of new jobs," Cruz said.

"This just reaffirms my beliefs that he`ll defend the Constitution," a Cruz supporter said.

Cruz and Fiorina will host a "Jobs, Freedom and Security" rally in Brookfield on Tuesday morning, and Cruz will be in Milwaukee at the Riverside Theatre on Tuesday evening for a GOP town hall event with Donald Trump and John Kasich.

CLICK HERE for a complete and updated list of presidential campaign events in Wisconsin ahead of the April 5th election.