Stray bullet flies through Marquette dorm window, police 'made sure everyone was OK'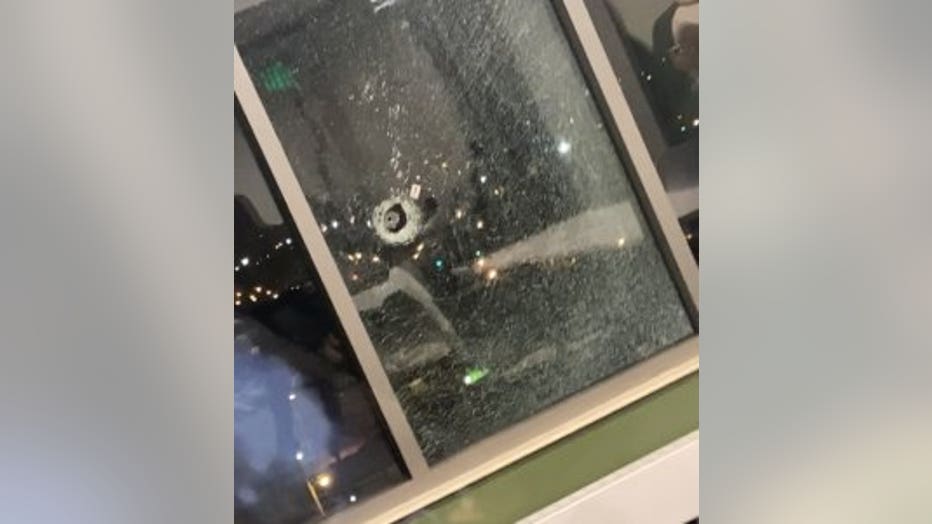 MILWAUKEE -- A gunfight on the street leads to a close call for Marquette University students. A stray bullet shattered an 8th-floor window while students studied inside.

"Two of my friends were in the study room when it happened," said Kelly Connolly, a Marquette student who lives on the 8th floor of Wells Tower. "They were just studying, and it went through the window."

The gunfire erupted around 11:20 p.m. Sunday. University leaders say shots were fired between two cars near 17th Street, north of Highland Avenue. A stray bullet flew through the air, going through this window two blocks away, and eight floors up.

"MUPD came by and made sure everyone was OK," Connolly said.

Other students on campus did not seem phased. Freshman Garrett Lowe said campus alerts are frequent.

"As far as gunshot alerts go, probably once a month on average," Lowe said.

His friend, senior Abigail Hall, said it is all part of living and learning in Milwaukee.

"Marquette is in the city and I think you will get this anywhere you go, really," Hall said.

Marquette University issued a statement saying, "No one in the building was injured" -- and "there is no ongoing threat to campus."

If you have any information, please contact MUPD immediately at 414-288-6800.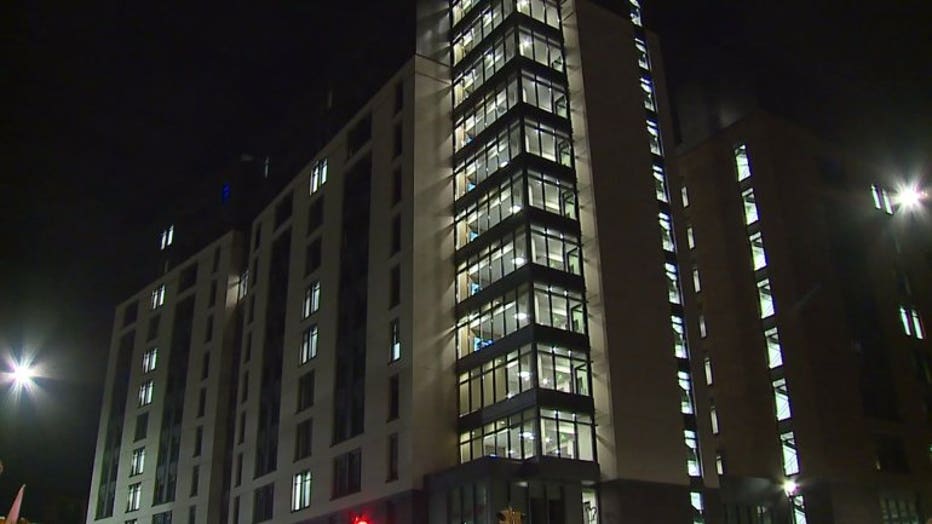 Marquette officials issued this statement:

"Milwaukee Police Department is investigating shots fired between two cars near 17th Street, north of West Highland Avenue. At approximately 11:20 p.m. on Feb. 16, an errant bullet from that exchange penetrated an eighth floor window in Wells Tower. No one was injured. Marquette University Police Department and Resident Assistants immediately went door to door in Wells Tower to check on all residents and confirmed that no one in the building was injured. There is no ongoing threat to campus.

Marquette University is grateful no one was injured. MPD is investigating the incident."

Edith Hudson, Marquette University police chief, issued this lengthy statement to the Marquette community:

"Dear Marquette community,

As chief of the Marquette University Police Department, I am providing some additional context and next steps following the safety alert incident last night, in which a stray bullet from gunfire nearly half a mile away – outside of MUPD's patrol zone – penetrated a window at Wells St. Hall at The Commons. I want to assure you that the Marquette University Police Department was on the scene immediately. MUPD officers and Resident Assistants went door to door in Wells St. Hall to check on all residents and confirmed that no one in the building was injured. Students in Wells St. Hall have been offered counseling and spiritual support. Milwaukee Police Department canvassed the area of the shooting last night and the bullet casings have been sent for testing. The Milwaukee Police investigation is ongoing, with assistance from MUPD. The entire Marquette community is grateful that no one was injured.

As campus safety is paramount, we continue to enhance safety measures, such as:




We are launching a Safety Task Force, co-chaired by myself and an undergraduate student, to review best practices and determine additional education, communication and community partnership efforts to improve campus safety. The task force will include representation from students, faculty, staff and current parents.


We are collaborating with the Milwaukee Police Department and the District Attorney's Office to discuss gun violence in Milwaukee.


We are increasing database-informed policing and are hiring an MUPD data analyst, which will help us direct patrols to high activity areas within our patrol zone.




An integral part of the Jesuit educational experience is being located in an urban community. Because of that, Marquette invests significant resources in ensuring that our students, faculty and staff feel safe and secure while on campus. MUPD has more than 80 trained professionals and sworn officers who help ensure the safety and security of campus and the surrounding neighborhood 24 hours a day, 365 days a year. There are more than 450 blue light phones around campus for students to use to summon assistance at any time and our MUPD Command Information Center provides virtual patrolling and additional "eyes on the street" through more than 1,100 TV surveillance cameras both on and off campus.

To create a safer city, we must address the root causes of violence. Five years ago, Marquette was a founding partner – along with four other major institutions located in our neighborhood – in creating Near West Side Partners, a non-profit economic development organization. Working closely with the NWSP Community Prosecution Unit — led by an assistant district attorney — NWSP collaborates daily with government agencies, MPD and community-based organizations to improve the quality of life in the Near West Side through intervention strategies that reduce crime and prevent domestic violence. Since NWSP was created, the entire neighborhood has seen double-digit decreases in crime. We will work together with MPD and NWSP leadership to continue this trend.

In addition to devoting significant time and resources to increase prosperity and address violence in our surrounding neighborhoods, Marquette remains vigilant in our protection of the campus community, and will continue to do everything possible to ensure the safety of our students, faculty, staff and surrounding neighborhood."