Sheriff's officials: Huber inmate, his passenger fled scene after crash; alcohol and speed were factors
DODGE COUNTY -- Dodge County Sheriff's officials say two people (including a Waukesha County Huber inmate on work release) were injured in a crash that occurred on County Highway P near O'Neil Road in the Township of Ashippun in Dodge County on Saturday, August 1st. Both fled the scene after the crash.

It happened around 1:30 p.m.

A preliminary investigation has indicated 27-year-old Robert Wiedmeyer of rural Oconomowoc was operating a truck, headed south on County Highway P when the truck traveled onto the right/west shoulder and went into a counter-clockwise spin.

The truck then traveled through the northbound traffic lane and into the east ditch where it vaulted and overturned.
The truck struck several trees (contact with the trees was nine feet high, Sheriff's officials say) and the truck then fell to the ground.
Wiedmeyer (a Waukesha County Huber inmate on work release) was injured in the crash, but fled the scene on foot.
A passenger in the vehicle, 26-year-old Ryan Uhrmann from rural Oconomowoc sustained injuries and also fled the crash scene.
Flight for Life and Town of Oconomowoc police assisted in the search for both occupants.
Uhrmann was located a short time later, and around 3:30 p.m., Wiedmeyer was located and taken into custody.
Both occupants were transported to Oconomowoc Hospital for treatment of injuries.  Wiedmeyer was then released to the Waukesha County Sheriff's Department.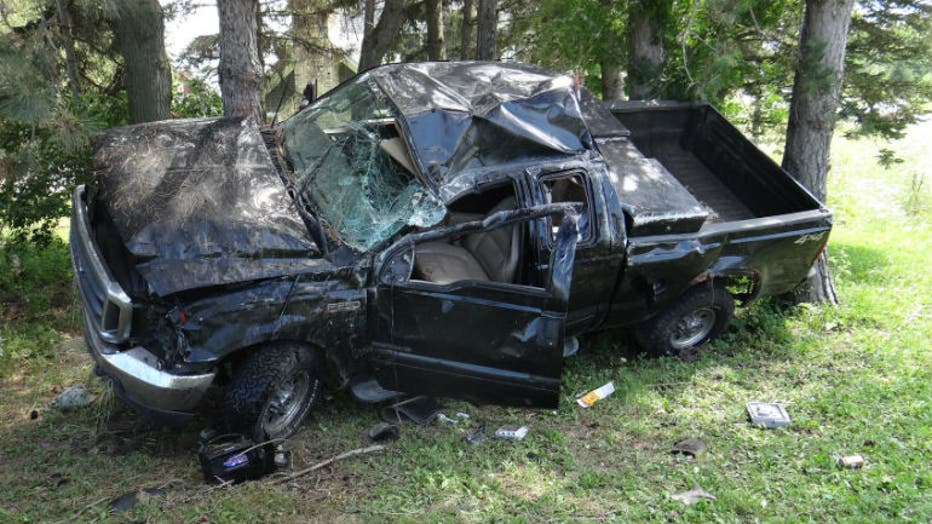 Crash County Highway P Dodge County
Alcohol and speed were factors in the crash, officials say.
The crash remains under investigation by the Dodge County Crash Investigation Team.