Sheriff's officials: Alleged wrong-way driver, fleeing police, causes near head-on crash on I-43
MILWAUKEE COUNTY -- Milwaukee County sheriff's officials are recommending charges against a 48-year-old Milwaukee man accused of driving the wrong way on I-43, and causing a crash near Good Hope Saturday night, November 18th.

According to the sheriff's office, around 10:30 p.m. Saturday, deputies responded to a call regarding a vehicle that had entered the southbound I-43 exit ramp at Silver Spring Drive, heading northbound on the ramp.  The alleged wrong-way driver crashed into a southbound vehicle near Daphne Road.

Officers from Glendale and Whitefish Bay, along with North Shore Fire officials were on scene.

A Glendale police officer first on the scene placed the driver of the wrong-way vehicle in handcuffs.

In addition to striking nearly head-on with one vehicle, another vehicle sustained damage from debris from the crash, sheriff's officials said. The victim in the head-on crash, a 31-year-old woman, was transported to the hospital for multiple injuries. Her passenger suffered minor injuries.

No injuries were reported by the occupants of the second vehicle struck by debris.

According to sheriff's officials, the alleged wrong-way driver had been trying to elude a traffic stop for speeding initiated by Whitefish Bay police when he entered the freeway in the wrong direction. He was also transported to the hospital for treatment of his injuries and a blood draw.

The sheriff's office is seeking charges of first degree recklessly endangering safety, first degree reckless injury, and citations for driving the wrong way on a divided highway and operating a vehicle/suspended registration.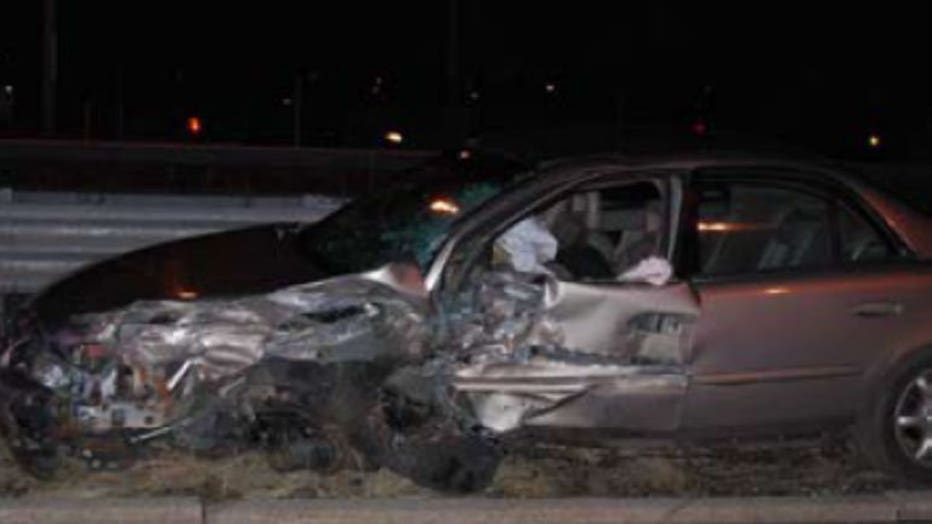 Alleged wrong-way driver causes near head-on crash on I-43 near Good Hope