Senate passage of arena funding plan involved bipartisan support, but opposition also cut across party lines


MADISON -- The Wisconsin Senate on Wednesday, July 15th passed Senate Bill 209 -- a funding plan for a new Milwaukee Bucks arena in downtown Milwaukee. The vote was 21-10 to approve $250 million in public funding for the arena. The bipartisan agreement came with some last-minute changes -- changes not everyone is happy with.

But in order to get the votes needed to pass the arena funding plan, it took some serious bipartisanship -- something we haven't seen a lot of in recent years at the Capitol. However, opposition to the plan also cut across party lines.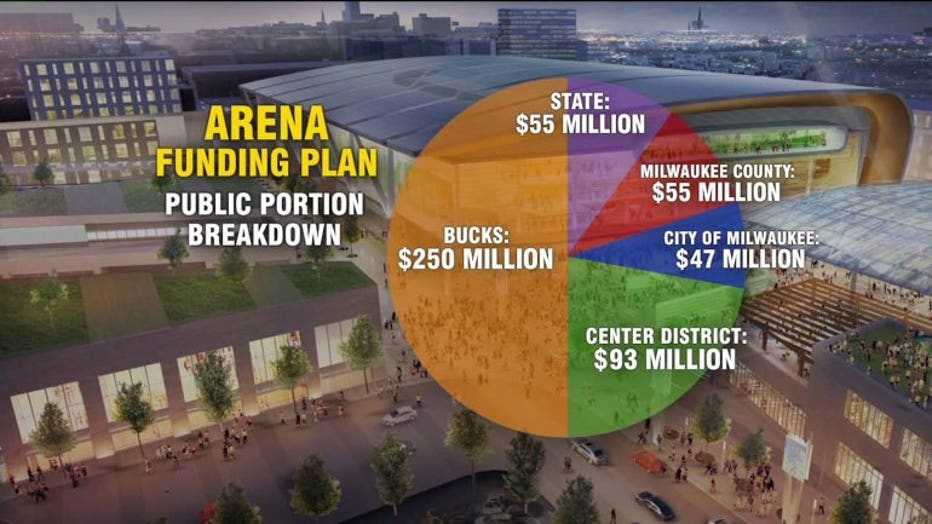 Bucks arena funding proposal


For weeks, Senate leaders said it would take the support of both Republicans and Democrats to pass an arena funding bill.

With Wednesday's clear passage, there was plenty of support on display.

"As you can see, it took a little bit to be able to get us there but in the end, we were able to do that," Senator Lena Taylor (D-Milwaukee) said.

In all, Senate support for the arena included 15 Republicans and six Democrats. Those pushing hardest for the arena say they're thrilled to have significant support from both parties.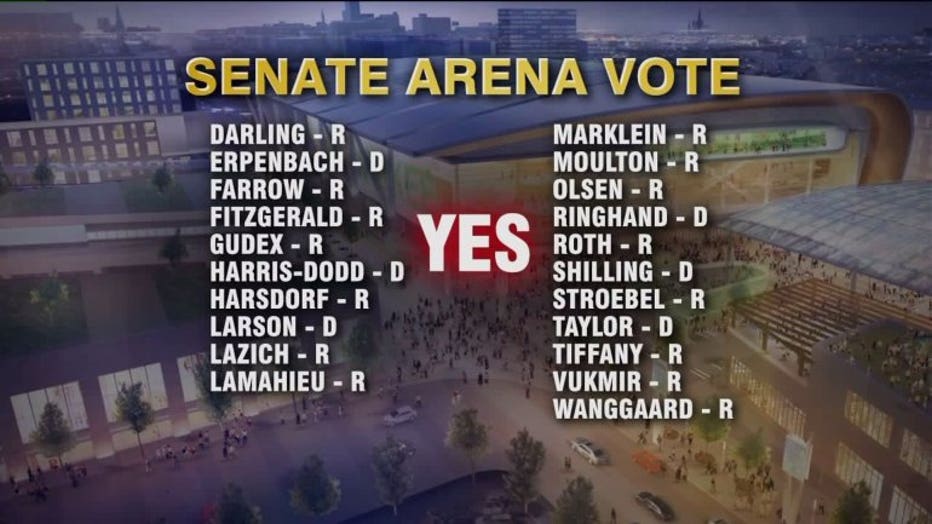 Senate passes arena funding plan


"This is great. This is a great bipartisan vote -- 21 votes from all across the state. It`s our first step to building this. We couldn`t be more excited and we couldn`t be more thankful for bipartisan leadership to get us through this chapter," Milwaukee Bucks President Peter Feigin said.

On the other hand, multiple senators from both parties were opposed to the arena funding proposal with seven Democrats and three Republicans voting no.


Senate passes arena funding plan


Nick Novak from the conservative MacIver Institute says there are a number of liberals and conservatives who oppose the idea of putting tax dollars toward a private arena -- especially one used primarily by wealthy team owners.

"There are so many other ways and so many other places you could get funding for this arena -- whether it be through the billionaire owners that own the team and are running the team, or through naming rights of the stadium," Novak said.

Senator Taylor says keeping player income taxes in Wisconsin and creating construction jobs are also ideas that one should support, regardless of political beliefs.

"We`ve at least done a deal for the arena that will allow people to go to work and to go to work for awhile," Senator Taylor said.

The MacIver Institute says the ticket surcharge makes the deal a little better as it reduces the amount of tax dollars needed for the arena.

Senator Taylor says that surcharge will reduce the overall Wisconsin Center District obligations by about $30 million.

The Assembly will take up the $250 million arena funding proposal next -- but it is unclear exactly when at this point.

Assembly leaders issued a joint statement to FOX6 News:

"We will take a close look at the new version of the bill that the Senate just approved to determine if any changes are needed.  We would like to give our members and the public time to review the updated legislation and have a bipartisan discussion.  We are optimistic that a vote on the measure will take place in the next few weeks."

The other $250 million is being paid for by the Milwaukee Bucks current and former owners.